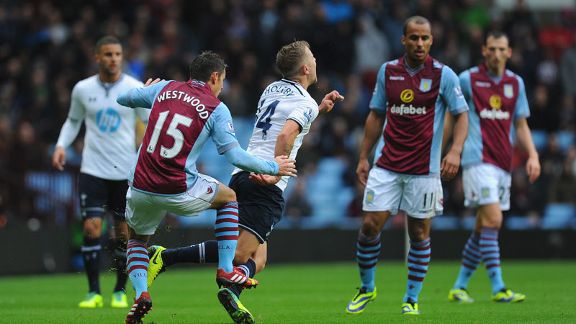 GettyImagesTottenham's Lewis Holtby is tripped by Ashley Westwood of Aston Villa.
Nothing enrages football fans quite as thoroughly as the blatant, cynical dive. Especially if it's executed to win a penalty or to get an opponent sent off. Sometimes the blood will begin to boil even if fans only suspect that someone might have made more of a mistimed tackle than the foul called for.

A week ago I was at Villa Park and the Holte End was collectively up in arms against Tottenham's Lewis Holtby after about 10 minutes, calling him names I cannot possibly repeat here. Holtby had just been hacked down by Ashley Westwood rather recklessly and was obviously in honest pain. But the Villa faithful felt he was trying to get Westwood booked by feigning a slow, agonising death and so they loudly listed some of Holtby's presumed family relations and recreational pursuits.

This moral outrage is the reason why people periodically demand that divers be dismissed outright. Some seven years ago, for instance, Kicker magazine asked the Bundesliga coaches if a dive should be punished with a red card and almost half of them said 'yes'.

The debate was triggered by the case of Sven Guenther, then playing for Jena. In November 2006, Guenther went down in Freiburg's penalty area and was awarded the spot-kick which won this second-division game for his team. After the final whistle, he admitted to having dived. The German FA decided there was a fine line between honesty and impudence and suspended Guenther for two games.

He thus became only the second footballer to be retroactively prosecuted for a dive in this country. The first, and much more famous, case concerned Andreas Moeller. In April 1995, Dortmund's midfielder committed what was widely dubbed the dive of the century.

As his opponent, Karlsruhe's Dirk Schuster, later said with hardly any exaggeration: "You could have parked a small car between him and me -- suddenly he went down." It not only won the penalty on which the game turned but quite likely also the league title, as Dortmund finished only one point ahead of Bremen. Moeller, too, was suspended for two matches.

So you can understand why some fans, coaches, reporters and even powerful pinstripes, like Sepp Blatter, will regularly suggest that a diver should be immediately sent off. The people who usually resist this idea are -- referees. During the 2006-07 debate, their spokesman Manfred Krug said: "It would put even more pressure on the referee during a game. Making a wrong decision here would be a fatal mistake. Referees shouldn't have to bear the brunt of this problem."

But of course they still have to. That's because since the summer of 1999, the rules say that "attempts to deceive the referee must be sanctioned as unsporting behaviour which is misconduct punishable by a yellow card." And sometimes this can be a player's second bookable offence.

It doesn't happen very often, though. On the first day of the 2007-08 season in Spain, Valencia's David Villa saw his second yellow card for a dive and was sent off after only 39 minutes of a home game against Villarreal which his team went on to lose 3-0.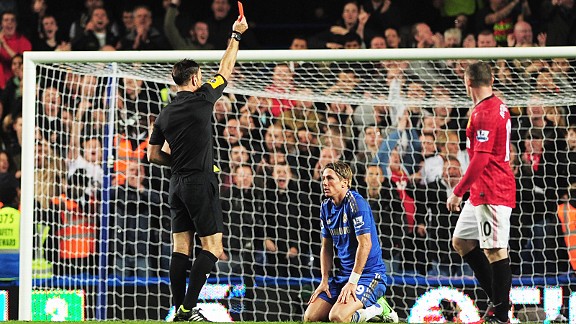 GettyImagesFernando Torres gets his marching orders for simulation against Man United
Then there's the famous Fernando Torres incident. Last year, Manchester United won 3-2 at Stamford Bridge, in part because Chelsea were reduced to nine men. One of the players who got his marching orders was Torres.

On 68 minutes, the Spaniard went down following Jonny Evans' challenge some 28 yards in front of goal. It did look like a dive and the referee brandished what was Torres' second yellow card of the game. But the more replays you saw, the bigger the doubts became. After the game, Evans said: "At the time I didn't feel like I'd made contact but I've seen it again and there was a bit of contact."

Evans added that he felt there wasn't enough impact "to bring him down," but most observers thought the decision was very harsh. About as harsh as booking someone twice in the first 12 minutes of a game even though he hasn't committed a single foul.

This is what happened in Hannover on Saturday. After 10 minutes, the referee awarded visiting Hoffenheim a penalty. It was a correct decision, but you needed slow-motion replays to be absolutely sure, so you could understand why some Hannover players were unhappy with the referee. After the penalty had been converted, former United and Rovers striker Mame Diouf said something to the official and was booked for dissent.

Barely two minutes later, Diouf ran into Hoffenheim's penalty area and went down under a challenge from 18-year-old Niklas Suele. The referee booked Diouf again, this time for diving. It was the fastest sending-off for two yellow cards in Bundesliga history. It also seemed dubious.

There was no foul in the tackle and, yes, Diouf was probably hoping this challenge might earn him a penalty. But there was also plenty of contact and it was almost impossible to tell whether the striker lost his footing or whether he could easily have kept his balance.

In any case, the referee's decision poisoned the atmosphere in the stands and on the pitch, by and large ruined the game as a sporting contest and heavily influenced the outcome. That is quite a lot of weight resting on what is, and will always be a matter of interpretation.

It's not as if football suffers from a shortage of judgment calls. Just think of the handball rule, another case where the referee's task is not just to judge what he sees but where he also has to ascertain someone's intention.

Think of Diouf and all those disgusted Hannover fans the next time Blatter says divers should be sent off. Or think of the referee in charge of the game between RUSG Quevy and RSC Templeuvois in the Belgian fourth division back in February.

At one point, the visitors' 35-year-old defender, Julien Lecomte, went up for a ball, was hit in the head by an elbow and went down in the box. The referee was so convinced that this had been a dive that he booked Lecomte -- while the player was being carried off the pitch, having lost consciousness.