Per primed as in-form Gunners face Dortmund
Ahead of Arsenal's Champions League tie with Borussia Dortmund at the Emirates, Raphael Honigstein talks to Gunners centre-back Per Mertesacker.

Raphael Honigstein: Is playing a German team in the Champions League a special match for you?

Per Mertesacker: Yes it is. We had Dortmund two years ago, Bayern last year, now Dortmund again. It's a different feeling, especially if you fly to the away games and are back home. In 2010-11, we played well at home to Dortmund and won 2-1. We'd like to repeat that kind of performance. Dortmund players have become a very important part of the national team and I'm looking forward to lining up against them.

RH: There's been a lot of talk about Mesut Ozil's influence but if you look more closely, your good run actually started with the 2-0 win at Bayern Munich. Was that game a turning point for the team?

PM: It started with the defeat by Tottenham. That's when everyone asked themselves: 'How is this season supposed to end?' But after the Munich game, we started believing that we could finish in fourth position. The idea was to gain some confidence in the match at Munich, and it worked. We won against the future Champions League winners and nearly knocked them out. That strengthened belief in the team.

RH: It's noticeable that Arsene Wenger kept referencing that win.

PM: He likes using statistics from time to time and to talk about turning points if he thinks the team needs more motivation or a bit of direction in terms of the mentality. Saying it in public is part of that. "We beat Bayern in Munich -- who managed to do that?" That's sometimes enough to give players a push, enough to tell them: "We are strong as a unit". After Munich, we realised that it was really the case.

RH: But Ozil has made a difference.

PM: Of course he has. He's got a special feel for space and for the right pass. You can see -- he can go long, or start a triangle. The players know: you can play with him. He's a player who functions immediately. That kind of talent cannot be bought. He plays the way that Arsenal have always been playing so I wasn't worried about him at all.

RH: What about Mathieu Flamini? As a defender you probably appreciate his input more than anyone.

PM: He's a type of player who gives a lot in terms of covering space. He's always in the right place at the right time. Dangerous situations are nipped in the bud before they arise, and attackers can't run at you with the ball. These are the situations that no defender likes, when you're isolated. With Flamini, it was important that he knew the club and the team. He was able to have an impact immediately. He's also loud, communicative, in a positive way. That's good. It gives you the confidence to talk more on the pitch when you see others are also at it. Mathieu doesn't need a captain's armband to do all that. His performance is one of the factors responsible for our good start.

RH: Do you find yourself doing a lot of organising at the back? Wenger has been very complimentary about you in that respect.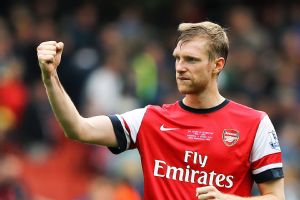 Ian Walton/Getty ImagesPer Mertesacker has taken on more of a leadership role in Arsenal's backline.
PM: There are basic defensive principles that we all have to adhere to, but they need to be filled with life -- otherwise it can't work. The manager gives us direction but you need to take responsibility and communicate a lot on the pitch. It's really important that you work as a unit in the back four, that there's no one who thinks in a different way or defends differently. You need four bosses at the back. One is not enough. We're always in focus when things go wrong and can't afford to make any mistakes.

RH: Would you agree that both the team and you and have come a long way since you first played against Dortmund in September 2011?

PM: Absolutely. At the time, I was very busy sorting out my own form. I didn't look at the bigger picture. It wasn't an easy first year for me. I made mistakes, misjudged situations. You ask yourself: 'Will I be able to settle down and establish myself over a long period of time?' Just when I thought I was getting there, I hurt my ankle and didn't play a single game at Euro 2012. In hindsight, that might have been a good thing; however, I went into the season fully rested. I managed to concentrate on the important things and it's worked out well.

RH: And Wenger has backed you, despite the difficult start.

PM: That's quite unusual at this level and I'm very grateful to him.

RH: Now Arsenal are playing the kind of football that hasn't been seen for years at the Emirates. You can sense the confidence.

PM: That's what happens when you go on long runs without losing a game. As a team, we have an identity, but you need confidence to do yourself justice. Otherwise, you will never win ten away games in a row. We're now at a point where we don't compromise on our principles during a match. We don't start hitting long balls 15 minutes before the end -- we continue to play around the penalty box until we find the opening. That's Wenger's mantra: Stay true to yourself in a football sense. One example, if we're 1-0 down and start throwing men forward, he says: "No, I want us to play how we play -- until the end, with full belief. Don't start running about up front and look for flick-ons."

RH: We have seen you do just that, however.

PM: (laughs) It's true. I later realised he didn't want me to. During the game, you don't always see his gestures from the touchline.