Surprising Rafinha is Bayern's big winner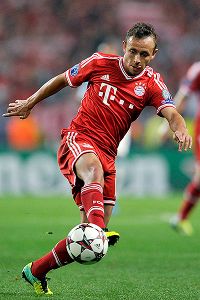 AP Photo/Clint HughesSurprising Rafinha is Bayern Munich's big winner this season so far.
Thiago Alcantara, the new signing from Barcelona, would have made the early running. Mario Gotze must have had high hopes to be the biggest winner of the season, too -- the 21-year-old was bought for 37 million euros from Dortmund at the (indirect) behest of Pep Guardiola. The Catalan wanted Neymar, of course, but in Gotze he got the next best thing, an attacking midfielder who can play wide or as a false nine.

And you could make a good case for Arjen Robben. Before the summer, many thought that the brilliantly individualistic Dutchman would be one of the first victims of Pep's revolution. The opposite has happened. The 29-year-old was one of the first players to adapt to the tactical tweaks of the new regime and has kept his automatic starting berth, a few rests notwithstanding.

The aforementioned trio would all have expected to get onto the shortlist for the biggest winner of the season (thus far) award at Bayern Munich before the campaign started. But one quarter in, there could only one winner: Rafinha. The Brazilian right-back was heavily linked with a move back to Schalke 04 in the summer after featuring very little in Jupp Heynckes' treble-winning season.

But he stayed, and became an unlikely mainstay in Guardiola's new(ish) system with two high, but narrow, full-backs. Rafinha has played in nine out of 12 competitive games over the full 90 minutes and featured for Bayern in the penalty win over Chelsea in the Supercup, too.

"I'm surprised by his performance, he's a super player," Guardiola said two weeks ago. President Uli Hoeness also praised the 28-year-old as a "top professional" who never complained about being on the bench.

It's true that it took Guardiola moving captain (and right-back) Philipp Lahm into a central midfield position for Rafinha to become a regular in the starting lineup. But he's seized the opportunity better than anybody could have anticipated. So is he surprised by how well things have worked out?

"I'm not surprised, because I've always worked very hard to be ready to perform," he told ESPN FC. "But I would say that I'm very happy about the current situation. As a professional, you don't want to work hard for nothing. You want to be on the pitch, to help your team, and show that you're there because you deserve to be."

Rafinha admits the squad took some time to fully understand Guardiola's ideas. "It was a bit complicated," he said. "It took us a month and three to four games to play the way he wants us to." The beauty of the different position of the wide midfielders in the new system is that it ultimately makes their lives much easier and thus brings out their attacking side. (For a detailed tactical analysis, albeit in German, it's worth looking at this instructive piece from a Germac tactics blog.

Firstly, it increases possession for Bayern even more, and thus reduces the chances of the opposition putting pressure on the Bavarian's defence. Rafinha and David Alaba are involved in fewer one-on-one situations as a consequence, and the scope for costly mistakes is decreased.

"Guardiola loves possession and he hates it when the others have the ball," Rafinha explained. "It's great playing that way, I really like it, because we always have one or two men extra in midfield."

In the system, he spends up to 70 percent of the game as a de facto midfielder, close to Lahm but with a licence to go further forward. It's not so much that the full-backs see more of the ball -- players in that position often touch the ball most often in the modern game -- but it's the fact that they play very centrally and thus have much more passing options, as well as space to three sides ahead of them that makes a big difference. Rafinha, who's always been solid, if somewhat unspectacular, since moving from Serie A club Genoa in 2011, has never looked more like an accomplished player.

The former Schalke 04 defender doesn't just credit Guardiola's tactics for the nearly perfect start to the season. "It's real fun working with him, he talks a lot to the players and gives you a good feeling," he said. "But we have also added more quality to the squad, as well. The new players are great, they make us even stronger."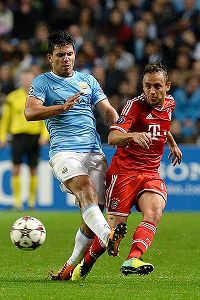 AP PhotoRafinha helped Bayern Munich school Manchester City in the Champions League.
Bayern's impressive dismantling of Manchester City in the Champions League (the Germans won 3-1 at the Etihad) showed just how much the side have progressed already. "When you can dominate such a strong opponent, it gives you tremendous confidence," Rafinha added. "Especially since it wasn't a perfect game. The last seven, eight minutes we had problems."

It might be too early to say that Bayern are better than last season, but Rafinha thinks the team might be able to have success "similar" to that of the treble if they continue to perform at this level.

The Brazilian is out of contract in the summer, so his burst to prominence could not have come at a better time; even if Lahm moves back to his natural position to the right, Guardiola's rotation policy will probably see his continued involvement. The last piece of Rafinha's personal puzzle is a call-up by Brazil.

"I'm not one to talk about these things, I don't like making speeches," Rafinha said. "I want to prove my point on the pitch. If my good work gets recognised and I make it to the World Cup, it's obviously a dream come true, but if it doesn't happen, I won't be bitter. You can only play as well as you can. Everything else isn't up to me."