Four burning questions for 2013-14 Bundesliga season
1. Will Pep Guardiola bring in continuity or dressing room upheaval at Bayern Munich?

Pep Guardiola's fans have hailed him for the building of the world's greatest team (Barcelona), while his detractors have dismissed him as an extremely lucky manager who found himself in charge of the best player of his generation in Lionel Messi as well as an equally superb supporting cast (Xavi and Iniesta) on his first day at work.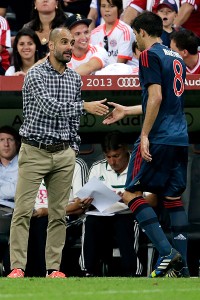 VI Images/Getty ImagesPep Guardiola's challenge at Bayern will be to find playing time for players such as Javier Martinez with an oversupply of midfield talent.
What has been missing from this debate, however, is an appraisal of the amount of "constructive destruction" -- as his friend and former Barca treasurer Xavier Sala-i Martín calls it -- that Guardiola brought in his wake in 2008-09. The two big but jaded stars, Deco and Ronaldinho, were culled from the squad, along with seasoned Brazilian midfielder Edmilson; Guardiola promoted youngster Sergio Busquets in his place. All in all, only striker Samuel Eto'o, keeper Victor Valdes and defenders Rafael Marquez and Carles Puyol were left of the starting XI of the 2006 Champions League final, which Barca won 2-1 against Arsenal.

Barcelona were crying out for this radical change after two disappointing seasons, and in Pep, they found the right man to deliver it. This Bayern team is very different. As Guardiola himself noted in his first news conference in June, the 2013 treble winners might need a bit of careful tweaking; in other words, an evolutionary approach, not much more. Neither the club itself nor the dressing room sees the need for wholesale alterations, let alone "constructive destruction." The enthusiasm for the coach's new ideas is thus tempered by the fear of the consequences some of these new ideas could bring.

Guardiola is both blessed and cursed by an oversupply of midfield talent after the arrival of Mario Goetze and Thiago Alcantara. So far, his plan has been to provide extra jobs for them: Javier Martinez has been played as a centre back, Thomas Mueller, Xherdan Shaqiri and Franck Ribery as deep-lying strikers. But these measures have naturally infringed on hitherto regular starters in defence and in attack. Finding space for Toni Kroos, Goetze, Thiago and Bastian Schweinsteiger in central midfield will remain a challenge, still. And we haven't even mentioned Luiz Gustavo (likely to be sold), Emre Can (sold to Leverkusen), Jan Kirchhoff and the highly rated teenager Pierre Hojbjerg yet.

Without any League Cup games and DFP Cup replays, the provision of enough playing time for everyone in the 18-team Bundesliga is tricky, the demands of the UEFA Supercup (final versus Chelsea) and the FIFA Club World Cup (in December) notwithstanding. Guardiola will have to find a way to keep everyone happy -- or hope that the club will support him when it comes to marginalising the dissenters and unhappy benchwarmers. And here it will get political. It's one thing to upset forward Mario Mandzukic -- who knows that his successor (Robert Lewandowski) has already been chosen -- quite another to diminish the role of fan favourite Schweinsteiger or to limit the chances of Germany's golden boy Goetze.

Bayern's sheer quality is such that it should prevail in the league regardless of any dressing room sensibilities. But it won't be plain sailing, that's for sure.

2. How good is Borussia Dortmund?

The Bundesliga and Champions League runner-up had a very good summer. Contrary to much speculation, Jurgen Klopp's team managed to avoid a sellout; Mario Goetze's defection south after Bayern triggered the €37m exit clause was the only significant departure. In Henrikh Mkhtaryan (Shakhtar Donetsk) and Pierre-Emerick Aubameyang (St. Etienne), the Black and Yellows have signed two excellent creative players; and want-away striker Robert Lewandowski has shown no signs of playing any worse even though Dortmund blocked his move to Bayern. Greek defender Sokratis is a useful addition, too.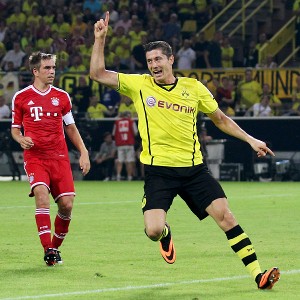 Boris Streubel/Getty ImagesRobert Lewandowski isn't playing like someone who spent the offseason seemingly wanting to leave Dortmund.
The team is perhaps still a little light at the back -- regular right back Lukasz Piszczek is out for a few more months -- but there is little doubt that the 2011 and 2012 champions will push Bayern much closer than last season, when they ended up 25 points adrift. Tactically, Klopp wants to play even quicker and more aggressively -- he wants to revert back to playing a radical version of the turnover game after slowing things down ever so little in the past campaign.

Dortmund has never been able to keep up that kind of intensity in the two most important competitions -- Bundesliga and Champions League -- at the same time, so it remains to be seen if something will have to give again, and where. But last year's domestic inconsistency is unlikely to be repeated, certainly not to the same extent. Dortmund looked lean and hungry in the 4-2 defeat of Bayern in the German Supercup, and a positive start to the season will continue to build momentum. The Bavarians' dominance will encounter a robust challenge -- if attacking midfielder Marco Reus, arguably the single most important player for his team's fortunes in the whole league, can stay fit.

3. Will Leverkusen and Schalke defend their positions?

The tough competition for Champions League spots over the past decade has often had an adverse effect on the Bundesliga's chances in Europe. There was too much fluctuation behind -- or ahead -- of Bayern, so no other team was able to grow into an international power. Hamburg, Bremen, Stuttgart or Wolfsburg flirted with greatness only intermittently. Dortmund has now changed that landscape. It will regularly benefit from UEFA's riches for as long as Jorgen Klopp is in charge. And in Leverkusen (third last season) and Schalke (fourth), the Bundesliga might well have found two more sides that can make up a "Big Four" that will be tough to crack by their rivals for years to come.

The Royal Blues have a fine squad that was able to negotiate a tricky season (managerial change, prolonged CL activity) successfully, and what's more they have added 18-year-old midfield prodigy Leon Goretzka to their ranks. The size of the club and its fan base is on a par with Dortmund, so there's no reason why it shouldn't continue to develop into the third power in German football.

Leverkusen is much smaller and needs to lean on its owner, the pharmaceutical company Bayer, for financial support. The excellent scouting network and relatively pressure-free atmosphere at the club have been conducive to good results, however. 04 sold Andre Schurrle to Chelsea, but brought in Heung-Son Min (HSV) and Robbie Kruse (Dusseldorf) -- good business.

Aside from their strong squads, both sides can also continue to rely on the weakness of the competition. Freiburg and Frankfurt, the two overachievers in 2012-13, will have to deal with the distraction of the Europa League, along with VfB Stuttgart. The Swabians head a list of "sleeping giants" in the league. Former powerhouses Hamburg and Werder Bremen should do much better, too, but probably won't. What about Borussia Monchengladbach, who came fourth in 2011-12? The Foals were tipped as dark horses by Klopp ("they're strong") and have one of the best coaches in Lucien Favre. A lack of creativity from open play -- Favre prefers the counterattack -- remains problematic though. This leaves only 2009 winners VfL Wolfsburg. But they still suffer heavily from the bloated squad that former manager Felix Magath inflicted on the club.

Leverkusen and Schalke are therefore both in strong positions to continue their good run -- and to eye more progress internationally.

4. What will happen to Uli Hoeness?

The Bayern Munich president -- arguably the most powerful man in German football -- is facing criminal court proceedings after having been charged with tax evasion. The extent of his alleged misdemeanor will become apparent only when the trial starts in September. Its outcome couldn't be more important for Bayern and the Bundesliga on a whole. A jail sentence is not only a distinct possibility but would also end Hoeness' 34-year reign in the league. A suspended sentence could well have the same consequence, if Bayern's blue-chip sponsors and minority shareholders (adidas, Audi) get nervous. Even an acquittal might not be enough to reinstall him; much of his power was based on being perceived as honest and a no-nonsense talker.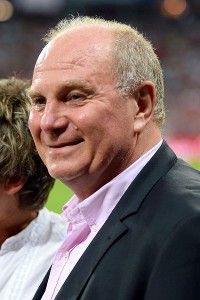 Stuart Franklin/Bongarts/Getty ImagesUlie Hoeness's legal woes may include fallout for Bayern Munich.
Either way, Hoeness' standing in the game could be severely damaged. And his departure from the scene would certainly hurt Bayern dearly. Hoeness, 61, has been the key driver behind the club's rise in recent years, and internally, his paternalistic approach has been a much-needed counterweight to the more ruthless approach of chairman of the executive board Karl-Heinz Rummenigge, sporting director Matthias Sammer and various managers. (And the fallout from Pep's changes might make some "arm-round-the-shoulder" necessary, too.) The transformation of Franck Ribery into a card-carrying Bayern stalwart, for example, has been largely down to Hoeness' delicate touch.

A Bayern without him is the stuff of nightmares for the Reds' supporters. Hoeness would no longer be there to defend them against (perceived) enemies near and far with forceful media statements, and more worrisome, the club's fabled backroom stability would be severely threatened by the power vacuum he'd leave behind. There's a sense in Munich that an earthquake is about to hit the city.