The more football we see, the less we really know?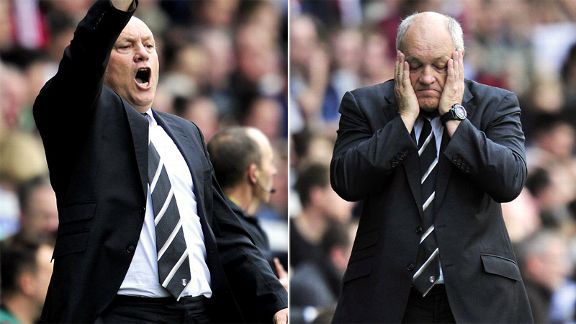 Getty ImagesDepending on who you ask, Martin Jol is a great manager or hyped to be much more than he's worth. But do we even really know?
Over the past few days, I have often thought back to a Twitter debate I had with my colleague Martin Lipton of the Daily Mirror when Martin Jol took over Fulham in 2011.

"Great coach" -- or something to that extent -- Martin tweeted. I replied that I had once thought the same but had changed my mind once I had heard (indirectly) from a couple of Hamburg players who had worked under him and were far less complimentary. Martin then mentioned Jol's success at Tottenham as a counter-argument. It was a fair point, and he could have mentioned the Dutchman's season at Hamburg, too. In 2008-09, Jol had taken the Bundesliga side to the semi-finals of the UEFA and DFB Cup plus they finished fifth in the league. Hamburg haven't qualified for European competition since.

What's more, Jol had come across really well off the pitch in his previous jobs as well. He was engaging, funny and intelligent. You sensed that the players responded to his genial manner. To conclude, he had everything a great coach needed -- charisma and good results. As I said, I too had been convinced that Jol was one of the best in the business. There was simply no evidence to the contrary, but then a chance meeting with a German agent in the summer of 2010 changed my view.

The agent had no axe to grind with the Dutchman and indeed stressed that both he and a couple of his players at Hamburg had enjoyed working with him. But Jol, he said, had not impressed his players in actual coaching terms. He hadn't made any particular mistakes but also didn't introduced any particular good ideas either. Jol, said the agent, had mostly left the players to their own devices. He didn't believe in minute tactical coaching but was essentially happy to pick a squad, pick a formation and then motivate the side. It's true; one can do a lot worse than that. But to my surprise, this all came down to a rather basic, old-school approach. In other words: nothing special at all.

Simon Kuper and Stefan Szymanski, the authors of Soccernomics, have shown that football managers are to an extent overrated. Jol's Hamburg side was full of very good players like Vincent Kompany, Jerome Boateng, Ivica Olic and Piotr Trochowski -- his Tottenham team wasn't bad either. Perhaps it's only logical that his considerably less-talented Fulham side are struggling. But they shouldn't be struggling this much.

If league results closely correlate to players wages as Soccernomics has shown, the Cottagers should be smack bang in the middle of the Premier League table. (They had the 11th highest wage bill in 2011-12.) In Jol's first season they came ninth, doing slightly better than anticipated. Last year they finished 12th and this season, they're 17th again. Providing their wage bill hasn't gone down significantly, Fulham are much worse than they should be. No wonder that Jol is under pressure.

But I'm not mentioning all of this to show that I was right and that Martin was wrong. My point is a different one: what this example has driven home to me is just how big the disconnect is between media coverage and the actual knowledge of a manager's training ground work. There's never been more football on television or more intelligent debate online, on radio and in print. But closed training sessions in the Premier League, as well as a culture of omerta, have taken us to the point where we have never known less about what's actually going on in the dressing room and in the practice sessions. (Things are slightly more open on the continent, generally speaking.)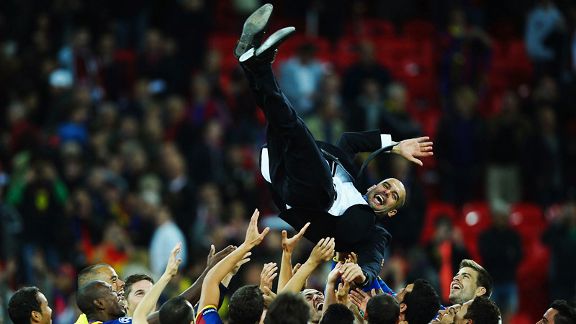 Laurence Griffiths/Getty ImagesIt's entirely possible that few managers are as progressive or innovative as we think. Pep Guardiola is one, given what he accomplished at Barca.

Sure, we can judge managers on results, performances, post-match conferences and on their nous in the transfer market but after that, it gets complicated because there's no reliable information.

A handful of managers get their teams to play in an obvious, highly specific style -- think Jose Mourinho's first Chelsea squad, Tony Pulis' Stoke, Marcelo Bielsa's Athletic Bilbao or Pep Guardiola's Barca -- so you can see their hard work on the pitch. Others are good at making clever impact substitutions. But we have little idea what most of them do, because neither they nor the players tell us.

You'll find that only managers with a chip on their shoulder or those who feel insecure will openly talk about their tactics in great detail. The good ones keep quiet -- because they don't want to divulge trade secrets -- and as for the bad and lazy ones, those who don't turn up at the training ground at all from Monday and Thursday, also keep quiet -- to pretend that they're guarding important secrets.

Because there's no real external scrutiny and because many Premier League clubs still don't employ sporting directors who can evaluate a coach's work, football remains an industry in which it's possible to get away with mere pretense. I know of one coach who made a point of never speaking to his Premier League team. He left everything to his subordinates and effectively told the players that they had to coach themselves on the pitch. His pre-match team talks consisted of banalities like "play with intelligence." One foreign player could see that the season was heading for disaster but couldn't bring himself to speak out. He didn't want to be seen as a trouble-maker. The club was duly relegated but when I asked him to go on the record after he'd moved to another club, he declined. The manager was a nice man, he explained. He didn't want to hurt him.

Occasionally players will brief about outrageous dressing room behaviour from managers, but these are very rare cases -- think of Paolo Di Canio at Sunderland -- where the trust between squad and coach has broken down completely. What you don't hear or read about is the much more common, low-level incompetence or dereliction of duty, about a top four manager never bothering video analysis, for example, or another one only buying players from one particular agent he's very close with (yes, that's a euphemism). Players and officials feel it's wrong to talk about these matters and without sources, journalists can't write about them. And even if they do, these pieces are invariably sourced from off-the-record conversations and are thus seen as unconvincing by readers. Their natural instinct is often to suspect bias, both from the writer and/or his informants.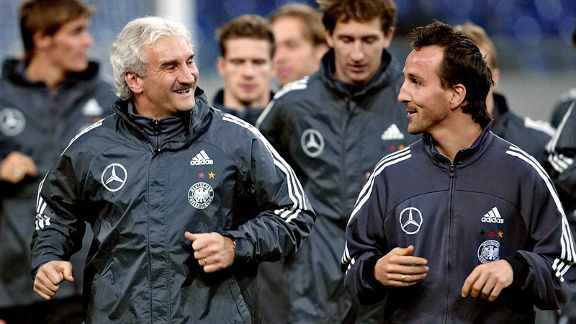 FRANCK FIFE/AFP/Getty ImagesRudi Voller's tenure with the German national team did little to push the team forward but no-one dared speak out.

Furthermore, there's an interesting psychology at play. Supporters are happy to debate whether a coach is good or bad but they will refuse to believe point blank that the man entrusted to lead their club might simply do very little. It's like the emperor's new clothes in reverse: many look for intricate patterns and tactical layers in matches that aren't there. Or to put it more precisely: they might be there, but will only have come about by pure accident as a result of the complex interactions between players on both sides -- while the manager had, say, spent his entire team talk banging on about "mentality."

It took a book from Germany captain Philipp Lahm to reveal what many had known but never openly discussed: Rudi Voller, the Germany manager who had taken the team to the World Cup final in 2002 but crashed out in the first round at the Euros two years later, had done almost nothing by way of proper preparation with his squad. He'd pick his best XI, set them up in a shape and then hoped the players would take it from there. No player complained about it until long after he was gone. No journalist wrote about it since everyone liked Voller and appreciated his efforts. He himself probably knew that he wasn't a great manager in a technical sense.

Barring a fundamental change in the rules of media access or the dressing room culture, we -- meaning reporters and supporters alike -- will remain largely in the dark. Football, you sense, wants it that way; it doesn't like the attention before and after the final whistle.

I wish there was an uplifting conclusion to draw from all of this but if anything, it looks as if the gathering of real information will become even more difficult in the future. The best I can do is leave you with a warning. The next time you see a nice, well-spoken manager on TV, ask yourself what you really know about the way he works.