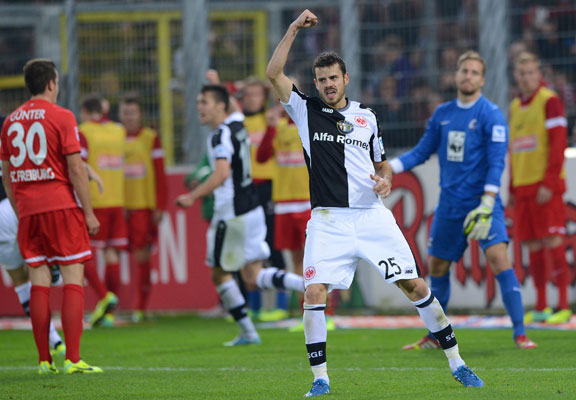 GettyImagesTranquillo Barnetta celebrates after Eintracht Frankfurt take the lead through Christian Guenter's own goal.
There were 26 minutes left on the clock in the Sunday evening game when Eintracht Frankfurt wing-back Constant Djakpa crossed from the left. No forward was near the goalmouth, yet Freiburg goalkeeper Oliver Baumann tried to intercept the cross with his left foot.

• Schaaf: Bayern, Leverkusen share the spoils

Baumann's attempted clearance didn't get very far. It hit Freiburg's onrushing defender Christian Günter. From Günter's right knee, the ball rebounded into Freiburg's goal. I clenched my fist and quietly said, "Yes!"

Now, it's not as if I'm a fervent Frankfurt fan or passionately dislike Freiburg. And I'm aware of the fact that it was bordering on indecency to celebrate such an ugly, unlucky own goal. But the statto in me couldn't resist. Because the instant the ball hit the back of the net, a historic and highly unlikely streak had been extended.

When Frankfurt took the lead, I looked at a piece of paper that was lying next to me on the table. There were many numbers, letters and dates jotted down in my sometimes hardly legible handwriting. The most important line read: "63/64 -- 6 -- KL-MS."

It may look cryptic, but it's very simple. On the sixth matchday of the 1963-64 season, the Bundesliga's inaugural campaign, Kaiserslautern and Münster played against each other. The reason I didn't put the result down in writing was that all the games listed on my sheet of paper had finished with the same scoreline anyway: 0-0.

For half a century, this October 1963 game between Kaiserslautern and Münster was noteworthy, because never again would it take so long -- six rounds of games -- until a league encounter failed to produce any goals.

How long is six rounds? Long. Even staving off the inevitable scoreless draw for five rounds is pretty rare. In the 50-year history of the Bundesliga, there were only four seasons when the first 0-0 came as late as matchday five.

Normally, one of the first three rounds of games will produce the first scoreless draw. There were even two periods (1969-1972 and 1977-1980) when the first scoreless draw came on the very first day for four years in a row.

You guessed it: This year, there hasn't been a single scoreless draw so far, even though we have already played eight rounds of games -- almost a quarter of the season.

When you now consider that there were only 16 teams in the Bundesliga in 1963-64 -- which means that, round for round, there was one fewer potential 0-0 back then -- you have to say that the old record has not just been broken but pulverised.

So, why hasn't there been a scoreless draw so far? Naturally, luck and chance play a major role. On the very first day, Bremen's 1-0 winner away at Braunschweig came only eight minutes from time, so this match could have easily finished scoreless. And on matchday four, the only goal of the game between Nürnberg and Augsburg was scored in the 84th minute.

But there's also the most obvious explanation of all. We have yet to see a scoreless game simply because people are scoring too many goals. The first eight matchdays have produced 238 of them, for an average of 3.31 goals per game.

Those of you who are familiar with my traditional end-of-season column, which looks at the goals-per-game averages in Germany, England, Spain, Italy and France, will be aware that 3.31 is a massive figure. For those of you who don't quite know what to make of the number: In the past 20 years, the highest goals-per-game average in those five big leagues has been 2.98 (racked up by the Bundesliga in 1996-97).

Of course we won't finish the season with an average of 3.31 goals per game. That number has to drop, and it will drop, because even cracking the 3.0 barrier is unheard-of in a big, competitive league in the modern age. It's a noteworthy figure, nonetheless.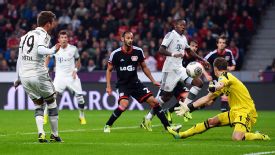 GettyImagesLeverkusen goalkeeper Bernd Leno keeps Bayern at bay during the weekend's 1-1 draw.
In fact, it could easily be even higher. Both Dortmund and Bayern, the two clubs with the most fearsome attacking departments, wasted chances by the truckload on the weekend. Gladbach's coach, Lucien Favre, called it "a miracle" that his team kept a clean sheet against Dortmund, while Bayern's director of football, Matthias Sammer, said that "under normal circumstances" his team would have scored seven goals at Leverkusen instead of just one.

But "chances" is a good cue. Of course, such a goal deluge can have many causes, from penalty-happy referees (there is indeed a debate about an increasing number of penalties for handball) and the presence of whipping boys who concede tons of goals, to simple statistical outliers, meaning deviations from the norm that have to be expected.

Yet it seems we can rule out most of these factors. For instance, the team that has conceded the most goals, Hoffenheim, is also the team that has scored the most. So let's instead look at the chances created. According to the scoring-opportunity charts regularly published by Kicker Magazine, the Bundesliga teams have had a total of 886 opportunities so far. Dortmund created the most (87), Braunschweig the fewest (29).

One year ago, in 2012, the teams had only 785 chances during the first eight rounds of games, according to Kicker. Back then, Bayern had the most (76), Düsseldorf the fewest (19). In 2011, the first eight matchdays produced 746 scoring opportunities.

Football doesn't easily lend itself to numerical analysis and -- who knows? -- maybe the Kicker writers' definition of a chance has become more generous. But it does seem that in the Bundesliga, which has always been the most goal-hungry of the big leagues anyway, attacking is currently very much en vogue.

Of course, Bayern and Dortmund have always moved forward, but even Braunschweig, widely regarded as hopeless relegation fodder, don't put everyone behind the ball, but rather try to play football.

Perhaps Hoffenheim right-back Andreas Beck spoke for the majority of his colleagues last week. After his team had come back from two goals down to draw 3-3 with Schalke, Beck said, "We don't want to change our game to earn a narrow 1-0 win. We prefer this -- pedal to the metal and delivering a real fight."

It makes you look forward to the next matchday, when Hoffenheim play Leverkusen at home. But there is also Bremen vs Freiburg. The last eight games between these teams produced 37 goals. But for me, the crucial encounters are Frankfurt versus Nuremberg and Augsburg vs Wolfsburg. Last season, these two matches both finished 0-0.