Sky's the limit for Bayern as Pep's changes click
It was statistically Germany's best week ever in the Champions League, with all four teams registering wins. Schalke's laboured 1-0 result at Basel was worth the same number of points as the last-minute 2-1 victory for Leverkusen versus Real Sociedad and Dortmund's 3-0 demolition of Marseille.

But Bayern Munich winning 3-1 at the Etihad against Manchester City felt bigger than that. It was undoubtedly the result of Matchday 2 and may turn out to be the result of the entire group phase -- at least from Bayern's perspective.

City showed many of their old's failings under new coach Manuel Pellegrini. There's nothing wrong with the idea to defend in two lines of four against a possession-based side -- Bayern, lest we forget, employed the formation with great effect in their 4-0 win over Barcelona in last season's semifinal -- but the home side looked uncomfortable without the ball.

With their physical power at the back and through the middle plus their technicians on the wings, Man City are built for getting edgy 1-0 wins at Stoke and 3-0 victories at home against defensive sides. Without possession, they -- and leading figure Yaya Toure in particular -- have a tendency to lose themselves (and their concentration) on the pitch. And unlike Pellegrini's Malaga, City don't press in unity either -- at least not yet. It will be interesting to see whether Pellegrini will change that, or if he concludes that it's not the right strategy for the kind of players at his disposal.

- Jolly: Hart's hurt dooms City
- Debate: Is Hart England-worthy?
- Brewin: City crushed
- Curtis: Blues steamrolled by Europe's best
- Schaaf: Bavarians boss it

While the result serves to show how big the gap to Europe's elite remains for the Abu Dhabi-owned club, it might not actually matter that much in the grand scheme of things. Pellegrini will still qualify from the group, and he'll have nearly five more months to get the team ready for the round of 16. City won't be favourites against too many of the group winners, but remember: The favourites don't always win in knockout rounds.

City will almost certainly not be as far behind the opposition as they were against the title holders Wednesday night. A big part of playing well translates to the opposition playing badly, and that's exactly what happened here. Pep Guardiola's team forced City into mistakes. They were poor, but mostly in relative terms. Edin Dzeko, Sergio Aguero, Fernandinho and Jesus Navas remain good players. (I'm less optimistic about Micah Richards.)

Also of note is that City can't face Bayern again, nor another Premier League team, in the next round. Only Barcelona monopolize the ball as much as the Bavarians, so City are likely to see more of it and automatically play better. With a bit of luck, Joe Hart might even recover his form in time.

From the Germans' perspective, however, this was a very big deal. A mere four weeks ago, there were serious worries that Guardiola would not only fail to improve last year's treble winners but might actually take them down a couple of notches with a flurry of tactical experiments and strange personnel decisions. Bayern looked shaky in those early games, with quite a few players expressing bemusement. You could sense that they weren't fully sold on their new coach's ideas. Even if you allow for an element of media hyperbole -- extreme headlines often amplify pretty moderate criticism -- the doubts surrounding the new regime were real.

Yet Bayern's utter dominance against City has turned this debate on its head. Now, the indications are that Guardiola has found a way to reprogram the combination and pressing machine that Louis van Gaal and Jupp Heynckes built (with a bit of involuntary contribution from Jurgen Klopp) to achieve an even more impressive end product.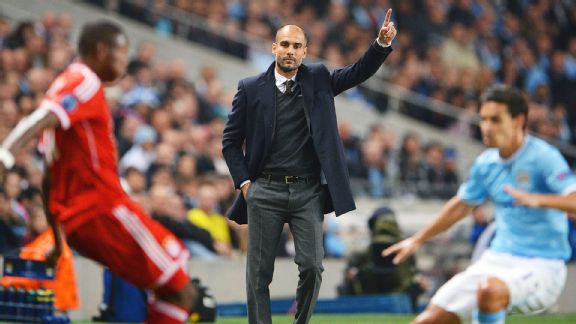 Michael Regan/Bongarts/Getty ImagesDespite initial concern about Pep Guardiola, it appears that his Bayern side is finally understanding and implementing his ideas.

Before we look at the details, it's worth pointing out two important factors that have made that success possible.

The first one is pragmatism. Guardiola realised that a 4-1-4-1 formation puts too much pressure on the sole defensive midfielder, especially if said midfielder is not an expert in that position. Instead, Bayern have effectively started playing a 4-3-3 without the ball. The players in the half-positions are now just that little bit deeper, making the side less prone to counterattacks in situations when pressing can't be used high up the pitch.

The personnel has also made a difference. In the absence of the injured Javi Martinez, Philipp Lahm has proved the ideal replacement with his ball-winning and excellent passing abilities. Bastian Schweinsteiger has more freedom to roam and get into the box just ahead of him alongside the supercultured Toni Kroos, who has become the playmaker. Meanwhile, Thomas Muller, Guardiola has understood, can't play in these positions.

The second factor is practice. President Uli Hoeness has revealed that Guardiola is a workaholic who spends hours on end working with the players and working out everyone's position on the pitch. As a result, Bayern have come to implement ideas much better than at the beginning. As ever in football, nothing convinces players more than a system that brings results, and you can see how the belief has grown in line with the understanding of Guardiola's changes.

Looking back, you can see Bayern's evolution since 2009. Van Gaal made them into a possession side, but the Dutchman neglected the defensive stability and insisted that players kept to their positions rigidly, which made it easier for opponents. Heynckes brought a more balanced approach as far playing without the ball was concerned. He also allowed his front players to interchange positions and crucially got them to play a pressing game in 2012-13.

Guardiola's new idea has been to move the fullbacks into a high, but often narrow, position when Bayern attack so as to increase the numerical superiority in central midfield even further. This has worked exceptionally well because left-back David Alaba is used to playing as a central midfielder for Austria and because Rafinha isn't getting involved in as many one-on-ones.

Also, Bayern have become even more fluid, with the three central midfielders changing positions constantly. Steady spells of possession give them a chance to fill in for one of the three attackers as well, all of whom are also free to switch. Schweinsteiger even played as centre-forward for a short spell in the second half against City.

Both Manuel Neuer and Guardiola insisted that Bayern could still play better, though. It's a little frightening to think that they could be right.