Teenagers become the new veterans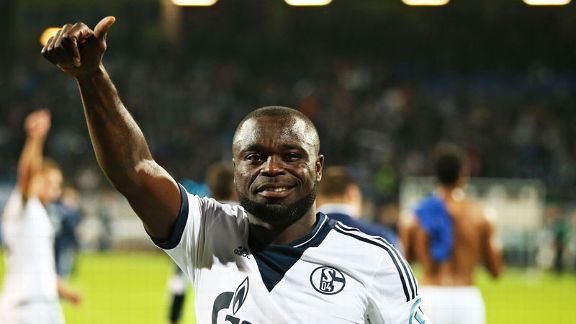 GettyImagesGerald Asamoah made the return to Schalke last week at a ripe old age.
A week ago, during a Cup game away at third-division Darmstadt, Schalke made a late substitution that led to quite a few headlines. In injury time, winger Jefferson Farfan came off and was replaced by Gerald Asamoah.

The reason for the headlines was that Asamoah, a club icon, had been re-signed in the summer to work as an apprentice in Schalke's marketing department while seeing out his active career with the reserve team in the fourth division. Now he was making a first-team comeback, three years and four months after his last league game for the club.

However, there was another reason why Asamoah's appearance was noteworthy -- it came a week before his 35th birthday. Once, not so long ago, this detail would not have raised many eyebrows. But modern football has well and truly become a young man's game.

Did I just say 'young man'? 'Teenagers' would be more like it. Also playing for Schalke against Darmstadt were Leon Goretzka and Max Meyer, both 18. And another 18-year-old was sitting on the bench, the talented defender Kaan Ayhan.

Of course there are still experienced players in the league, men like Hertha's Levan Kobiashvili (37) and Bayern's Daniel van Buyten (36). Mainz's Czech right-back Zdenek Pospech is even still a regular at 34 years of age. But more typical is that 17-year-old Timo Werner is now a starter for Stuttgart, or that Niklas Stark, at 18, is a mainstay in Nuremberg's midfield.

There are no two ways about it: that old football staple -- the seasoned veteran -- is a dying breed, at least in Germany. In the last ten years, the average age of a Bundesliga player has sunk from 27.6 to 25.3. In the current season, Dortmund, Hoffenheim and Freiburg have all fielded at least one starting XI that had an average age of 24.0 or younger.

One reason is surely that the modern game has become so physically taxing that young legs have an important edge. As early as 2010, national coach Joachim Low pointed out that "our team at the World Cup was four-and-a-half years younger than our Euro 2008 team and you could see that we were physically able to play at a higher pace than two years ago".

And it's not a coincidence that Borussia Dortmund perfected their aggressive counter-pressing game in 2010, when the team's age had sunk to an almost ridiculous level. (In the deciding game, away at Bayern, the starting players were on average 22.3 years old.) Because it's not just that young players can run more and run longer.

"Younger players simply need less time for regeneration," Low said in October 2010. "There are excellent players who are older than 30. But generally speaking, I believe it's an advantage when the team is young and capable of developing. That's why I think it's sensible to try to lower a team's average age. But there are also coaches who bank on experience, because experience means cleverness to them."

A position where most coaches used to prefer experience is the goalkeeper. Jens Lehmann still played in the Bundesliga when he was 39; Oliver Kahn retired only at 38. More than half of the 20 oldest players to ever appear in the Bundesliga are goalkeepers. (Though the record is held by an outfielder: Klaus Fichtel was 43 years and six months when he kicked his last ball for Schalke.)

At first glance, this still seems to be the case. Four of the five oldest Bundesliga regulars or semi-regulars in the current season are goalkeepers: Alexander Manninger (Augsburg, 36), Heinz Mueller (Mainz, 35), Raphael Schaefer (Nuremberg, 34), Timo Hildebrand (Schalke, 34). But even in goal, the trend is no longer the veteran's friend.

Consider that the No. 1s in Hannover and Bremen are 24 years old; the goalkeepers in Freiburg and Frankfurt are 23; the regular shot-stoppers for Gladbach, Hoffenheim and Leverkusen are all only 21.

Of course you don't have to run an awful lot between the sticks. And regeneration isn't a problem either, unless we're talking about coming back from an injury. So what gives the young goalkeepers such an advantage that it more than cancels out the veteran's experience?

"The position has become a lot more complex, the demands made on goalkeepers have increased," Andreas Koepke explains on the German FA's website. "The back four are pushing further and further upfield. That helps us to close down space when we're defending. But it means the goalkeeper has to intercept the long balls, so he has to be better schooled as a footballer. It's no longer enough to command the box or the penalty area. A modern goalkeeper is expected to initiate counter attacks."

The obvious concern is if maybe we're overdoing it and have -- with our proverbial efficiency -- only replaced one negative extreme with another. After all, Otto Rehhagel's famous dictum maintains that "there are no old or young players, there are just good or bad players". As early as last summer, Leverkusen's captain Simon Rolfes voiced criticism of the development, although he might have been fearing for his job, as he's now 31.

"It seems as if everyone in Germany is currently saying: the main point is having young players, because then we'll have the team of the future," Rolfes said. "But a club also needs short-term success, otherwise you could simply field your Under-19 team." Young players, Rolfes seemed to argue, are fielded mainly because they are young, which means clubs think more about the future than about the present.

It sounds like a valid point. But some recent events in the Bundesliga suggest otherwise.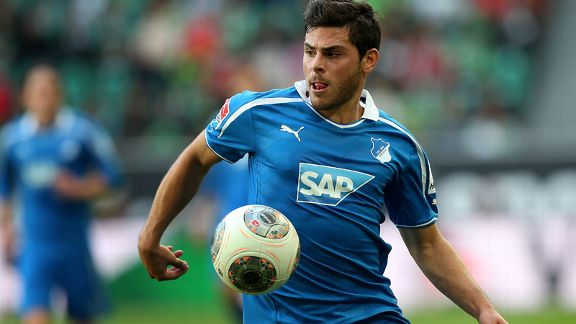 GettyImagesYoung Kevin Volland is what counts as 'experienced' now
Hoffenheim climbed up the league pyramid largely with young players. In their promotion season, 2007-08, they even pulled off the incredible feat of fielding a team that had an average age of exactly 22 years (away at Cologne, with three games left in the season).

But then, a couple of seasons ago, the club felt that they couldn't take the next step with youth alone, so they began to sign experienced players such as Tim Wiese, Matthieu Delpierre, Edson Braafheid, Eren Derdiyok or Igor de Camargo. They not only failed to take the next step, they almost got the club relegated.

When Markus Gisdol took over -- in April and with Hoffenheim in 17th place -- he went back to the club's original philosophy and decided to trust youth, precisely because he needed short-term success.

Now, six months later, Hoffenheim regularly field the youngest team in the league again (the average age is often below 24), while the expensive veterans have to train on their own, separate from the rest. It might be a cruel solution to the problem, but it's also deeply symbolic.

And so Hoffenheim's version of the seasoned veteran is now striker Kevin Volland. "This is my fourth year in the professional game," Volland says. "So I guess you could say that I've got a bit of experience." Nine weeks ago, he turned 21.