Bert van Marwijk tasked with stabilizing Hamburg


For a club in "existential" crisis (captain Heiko Westermann after the 2-0 home defeat by Werder), the mood was remarkably relaxed at Bert van Marwijk's first news conference as the new Hamburger SV coach Wednesday. There was even outright laughter when the Dutchman described compatriot Rafael van der Vaart as "a lover."

"You mean, a lover of football?" intervened HSV press officer Jorn Wolf. "Yes, of course," answered van Marwijk with a wide grin, when Wolf cheekily added "we can't talk about anything else." (Van der Vaart, in case you missed it, has been a regular in the German tabloid press since breaking up with wife Sylvie and getting together with Sabia Boulahrouz, the former wife of ex-HSV defender Khalid Boulahrouz.)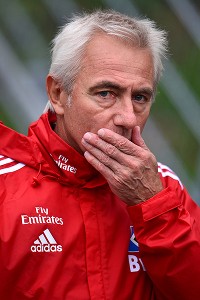 Stuart Franklin/Bongarts/Getty ImagesBert van Marwijk feels like the right coach for Hamburg's current situation.
As far as first impressions go, the 61-year-old struck all the right notes. Many German observers remembered him as a dour, often sour-faced man from stints at Borussia Dortmund (2004 to 2006) and in charge of the Bondself (2008 to 2012) but van Marwijk looked relaxed Wednesday and came across extremely good-natured. "Of course the situation is not good, it's bad. We are 16th and have conceded the most goals in the Bundesliga, but I enjoy the challenge," he said calmly. "I like the pressure. And it's not about taking away pressure from the players. Teams need pressure. But you have to be realistic."

We'll never know if van Marwijk really was the club's first choice, as sporting director Oliver Kreuzer insisted a couple of days ago. Last week, Kreuzer had also said that van Marwijk was "only one of a few candidates." There's a suspicion that former Werder coach Thomas Schaaf might have been the preferred option of the board but in van Marwijk, they have appointed a man who looked ready to bring order into the chaos. "I like attacking football," he said, "but I also like organised football. My challenge is to teach them to defend like a team, that will lead to stability and quiet."

Kreuzer explained that the club had wanted a German speaker with Bundesliga experience, but van Marwijk could offer more than that: specialist knowledge. Bremen-based paper Weser-Kurier made the excellent point that he could be seen as a coach with a taste for "highly difficult tasks," maybe he was even "a masochist." Dortmund, the paper recalled, were close to financial ruin when van Marwijk was in charge and as Dutch national manager, he had to reconcile the traditionally great expectations with the traditionally bad atmosphere in the dressing room. "In that sense, it's a logical step for him to now take over one of the greatest nursing cases in European club football," reporter Hendrik Buchheister wrote.

The battle-hardened former midfielder immediately proved his ability to deal with media brouhaha, too. Bild had speculated that his position was already compromised following a gaffe in the run-up to his official confirmation -- van Marwijk had received a text message that stated everything was agreed and proceeded to break the news on Dutch television, before the supervisory board had agreed to his appointment. "Not a problem," said van Marwijk, and it was hard to disagree. The other alleged bone of contention, his unfulfilled wish to appoint former Dortmund and Germany midfielder Andreas Moller as opposition scout, was also cast aside as pretty irrelevant. "I wanted to bring him here but the club said it wasn't possible (for financial reasons)," explained van Marwijk without a hint of bitterness. "That's OK. Maybe he can come in the future." His openness and all-round "Unaufgeregtheit" (failure to show any undue excitement) killed this topic instantly.

Clubs in trouble often hire coaches who are totally different to their immediate predecessors. This one is a good case in point: van Marwijk is a seasoned operator, while Thorsten Fink was a young hopeful, unproven (and appearing slightly out of his depth) in the Bundesliga. But not every reactive move is a bad one. Van Marwijk's profile "feels" right in the current, pretty desperate circumstances.

What about his football, though? Interestingly, he admitted to not having come to any conclusions yet ("I need to get to know the players first"). Van Marwijk did express a preference of the classic Dutch 4-3-3 system but also added that tactics were always dependent on the players available. Hamburg don't have too much quality in wide areas, so they're unlikely to play with wingers. And van Marwijk, it should be remembered, is not a classic, dogmatic Dutch manager in the Louis van Gaal mould, either. Quite the opposite. As he's shown in his time as Bondscoach, he's got little time for aesthetic ideals. He's an arch-pragmatist, to the point of encouraging the kind of cynical football that blighted the 2010 World Cup final.

All of this actually bodes pretty well for a Hamburg team who need to grind out results and worry about anything else later. "It's important to get out of the relegation zone as quickly as possible," van Marwijk said.

It's hard not to see him succeeding in that. The team, for all their troubles, are decent enough for a mid-table finish. They actually finished seventh last season, despite losing 14 games. Confidence in the new man, who signed up for a two-year deal with an option for a third, would undoubtedly be higher if it weren't for the Netherlands' disastrous performances at the Euros last year. Riven with in-fighting, Oranje were a broken team in Poland and the Ukraine, also in a tactical sense: there was no cohesion between their talented forward line and the less than stellar defence. Van Marwijk won't have that particular problem, since all departments are united in mediocrity. There aren't any particular big egos, either, and only one star player in Van der Vaart.

Chances are the team will be able to rally behind van Marwijk's paternalistic calmness.
Whether he's the right man to finally wake up this sleeping giant of German football and return it to its rightful place at the top of the Bundesliga tree is, of course, a different matter entirely. Even though commentators will mock him for his insistence that Hamburg should "normally compete for places 1-6," he is entirely right, as far as the size and traditional stature is concerned. Hamburg's problem has been that they haven't enjoyed anything that assumed normality for a long time. If van Marwijk can stabilise the situation and prepare the club for the next man -- who will invariably be younger and an ambitious type -- his appointment will be the first big decision the board have got right since fatefully deciding against hiring a certain Jurgen Klopp in 2008.