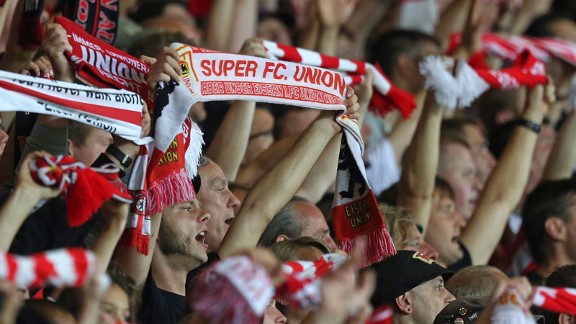 GettyImagesUnion Berlin fans show their support for their side against Fortuna Duesseldorf.
On occasion I get messages from people seeking help. For instance, a while back a Chelsea fan called Neil wrote: 'I'm still mulling over which Bundesliga team to follow.' I suggested Schalke because I've found it helpful if the colours of your club at home and your team abroad match. But I think Neil ended up picking Nuremberg.

Anyway, this is not a question exclusive to foreigners. Many German fans also like to have a second club they can support, perhaps in another league or region. There was a time when many Germans had a soft spot for Hamburg, because team captain Uwe Seeler was the most popular footballer throughout the 1960s. In the following decade, of course, almost everybody adopted Borussia Mönchengladbach.

Over the last couple of years, a most unlikely club has become very attractive for quite a large number of fans over here, although they do not necessarily have to be German.

"The weird thing about Union Berlin is that they have become fashionable," says Jacob Sweetman, a Briton who lives in the German capital. "They should be the most unfashionable football club in the universe. They represent that old-fashioned, working-class eastern side of the city. They also represent the borough of Köpenick. It's a weird place, the old town that got the story of the Hauptmann von Köpenick [a famous impostor], which is the only reason anyone's ever heard of Köpenick in the first place. Union are sort of stuck out in a forest and particular the older fans do represent that."

This very idiosyncratic and very, very Berlin team which has only a single trophy to its name -- a Cup win back in the days of the GDR -- has become so inspirational that the biggest German football monthly, 11 Freunde, made them their cover story back in March. As if it weren't unusual enough to devote the cover to a second-division club, 11 Freunde didn't even choose a strong image (one rule in publishing says you have to have faces on your covers), and went with just a Union patch and the words: 'An example to everyone?'

The reason for Union's popularity is not so much what happens on the pitch, though this could be about to change and we'll come to that. The reason is that this club has a fairly unique relation with its support. "The fan-driven thing is what Union are all about," Sweetman says. "They have worked incredibly hard to be the representatives of new fan culture. They went out of their way to make sure that when they reconfigured the ground at the start of the season the away fans had a proper terrace behind one of the goals. They even make sure that the away fans are looked after! That's what has attracted so many people to Union."

Sweetman is one of them. It may be unusual to ask an expat about a German club, but he is not quite your average Englishman living in Berlin. Sweetman is one of the founders of No Dice magazine (the name is a long story), an excellent English-language publication that mainly covers amateur football in Berlin. "We go way down," he says. "Ian, our photographer, he's been going to the church league. He went to about 260 games last season. It's insane, to be perfectly honest.

"But that's where the interesting stories are. You have these old clubs kicking around in the sixth, seventh, eighth division, with all this history behind them. You can trace all this stuff. It's fascinating. There's so much history here, in Berlin."

Yet the club that really captured his imagination is not an amateur club. )Although back when Sweetman fell in love with Union, they were.) In 2006, they had just been promoted back from the fourth division and had also survived yet another dramatic financial crisis. This club has turned almost going bankrupt and being saved by fans into an art form.

In May 2004, the supporters raised enough money to secure the club's license for fourth-division football through a campaign called 'Bleed for Union'. This catchphrase was not meant metaphorically. One element of the campaign was that fans donated blood to Berlin hospitals and then gave the money they received from the blood bank to their club. That's a major reason why Union were still alive and kicking in the third division by the time Sweetman moved to Berlin.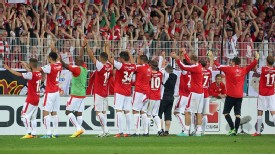 GettyImagesThe Union team celebrate with their adoring fans.


"I didn't really know what to expect when I went along to Union for the first time," he remembers. "But then it was standing, it was drinking, it was smoking – it was gloriously old-fashioned. The stadium was a mess, though. They didn't have a roof. But nowadays what I notice more is that it's about community. This is one thing that football in Berlin does well – it really does represent its community."

Which is why Union addressed the matter of the ground being a mess in a communal way. In the summer of 2008, the club decided to finally modernise the stadium, the Alte Försterei (Old Forester's House -- not for nothing did Sweetman say that Union are stuck out in a forest). Money was still tight, and so the fans simply built the ground themselves. Literally – more than 2,000 Union supporters invested 140,000 working hours to create what is now widely regarded as the most beautiful football place in Berlin.

It holds 21,700 people, but there are only 3,800 seats. The rest is terracing, because that's what the fans wanted. "At their general meeting last year, the chairman was asked why the price of beer was going up," Sweetman says. "And he said: 'Well, we can only charge more for beer or for tickets. And we're not going to charge more for tickets.'"

On Friday, almost 20,000 were on hand to see Union's home game against Fürth, who played in the Bundesliga last year. Union went into the match as league leaders, opened the scoring in the first half and wasted a great chance to make it 2-0 seven minutes after the break. Then the roof (which they now have) fell in and Fürth eventually won, 4-2, to reclaim first place.

But it's a long season, as they say. Many experts think that Union have a real chance to reach the Bundesliga. Some fans, though, wonder if being promoted would be a good thing. It's one of many aspects in which Union resemble St. Pauli, because a sizeable part of that club's fanbase also had misgivings about promotion back in 2010. (As it turned out, those misgivings were not entirely misplaced.)

"Pauli is a much more political beast," says Sweetman. "Union say: 'We leave our politics at the door'. The roots of the clubs are slightly different, but in terms of fan representation they are similar."

However, the Bundesliga would not just be a steep challenge, but also a wonderful opportunity for Union. "The club certainly see it as the ultimate way to sell the idea of being a football club based on its fans," he concludes. "And I think this is hugely important for football in general in the 21st Century. So I think the Bundesliga would be a beautiful advert for the club. If more people can hear the story of the building of the ground and then see this beautiful modern stadium with terracing, well, I can't see how that can be a bad thing."