Dortmund end year with bitter taste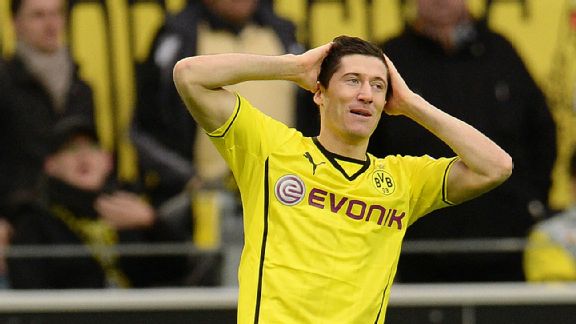 PATRIK STOLLARZ/AFP/Getty ImagesThe chances were few and far between for Robert Lewandowski and Borussia Dortmund, who fell 2-1 to Hertha Berlin.
Dortmund slipped up again, this time 1-2 to Hertha Berlin, and after a third consecutive loss that sees them with only one win out of their last six games, a record that looks more like a team battling against relegation than a Champions League spot. As a result, Dortmund will finish third or fourth at the end of the first half of the Bundesliga season in what has been a very unsatisfying campaign thus far.

- Report: Borussia Dortmund 1-2 Hertha Berlin

Everything was set for a magical afternoon in Dortmund, opening with a great presentation on founding father Franz Jacobi who created Borussia Dortmund with 17 other men 104 years ago.

The game started very brightly for Dortmund; they looked energetic and full of life. Hertha didn't do well to find their way into the game and Marco Reus put the home side ahead after a brilliant pass from Sebastian Kehl after six minutes. Reus took advantage of 18-year-old substitute goalkeeper Marius Gersbeck who rushed out of the goal but left Reus enough of an angle on goal to put it away calmly.

However, later in a similar situation, the young goalkeeper was able to deny Robert Lewandowski, who isn't in scoring form for a few games now.

And then everything turned against Dortmund.

Strong Hertha forces Dortmund kids into errors

Hertha BSC played strongly and deserved the win. Jos Luhukay had his tactics bang on with the pacey Samir Allagui who started ahead of Brazilian Ronny and later produced the match-winner.

The team from the capital played bravely, defended aggressively and put every Dortmund player under pressure. And the way in which Hertha's players were always tightly marking -- almost standing in the BVB player's shoes -- deserves a lot of credit.

That is how it happened to Erik Durm, who couldn't control a ball near the halfway line. Allagui was lurking for errors and pounced as he ran into acres of space and fed it to Adrian Ramos, who put it away without much trouble for Hertha's opener.

Right before the end of halftime, 18-year-old Marian Sarr attempted to dribble as last man against Allagui, who once again put the pressure on the Dortmund defense -- the back pass to Sarr of course a result of Dortmund not finding a way to pass it forward -- and Allagui ran past Roman Weidenfeller to score the 2-1 winner.

Of course, one cannot be really mad about the mistake. Sarr was playing in just his third game for the first team and his first game in front of a 80,000 crowd in the Dortmund stadium. The poor lad couldn't contain a few tears after his mistake, but his teammates immediately tried to console him.

Injuries and the results

When Kevin Grosskreutz was shifted into center back position replacing Sarr next to Sokratis Papastathopoulos, it was already the eighth center back pairing of the season -- the loss of both first choice center-backs Mats Hummels and Neven Subotic has and will continue to affect the squad. A lot of goals Dortmund conceded were results of individual mistakes.

But sadly, one has to look at the offense. Today BVB lacked the cohesiveness to create real chances against a well-organized Hertha defense, who absolutely relied on keeping Dortmund away from their own goal in the second half. Hertha did not have a single chance in the second 45 minutes, but they kept Dortmund's chances down to a single shot by Jonas Hofmann.

Usually, this is the part where I complain about the poor chance conversion, but today I can't even do that, as there were no chances that could have been scuffed.

You cannot blame Dortmund's mentality. The fighting spirit is still very good and you get the feeling the boys in black and yellow give everything they have. But after a long first round with so many injuries -- especially Ilkay Gundogan -- and hardly any rotation results in mental fatigue.

Reus, Lewandowski and Henrikh Mkhitaryan all played under their capabilities in the final third of the Hinrunde. The lack of a real playmaker is showing in these games as there are hardly any through balls or ideas to bring any of the above mentioned players into action. Nuri Sahin's vertical passes sadly lack precision as well, so there is not much left where some magic could come from.

Good news

The good news is this: It's winter break now. The injured players will come back into the squad plus maybe a few additions in the transfer window and Borussia Dortmund should return to old strength in 2014. As Juergen Klopp said after the game: "This loss will take time to digest now, but we have pick ourselves up and 2014 has the chance of becoming the best Borussia Dortmund year ever."

If this isn't something to look forward to, I don't know what is.

2013 was a great year for Borussia Dortmund and only the last few months weren't as good as I had hoped. But overall, I leave the year on very good note and look ahead to a positive future.

One last thing --It makes me a bit proud to say that Borussia Dortmund's fans didn't turn on their team for one second, even though the last three home games all were lost. Looking to Leverkusen, where a few whistles went against the home side last week, even though it is their best season ever so far, makes me realize that there is something special about Dortmund.