Dortmund stumble in Hoffenheim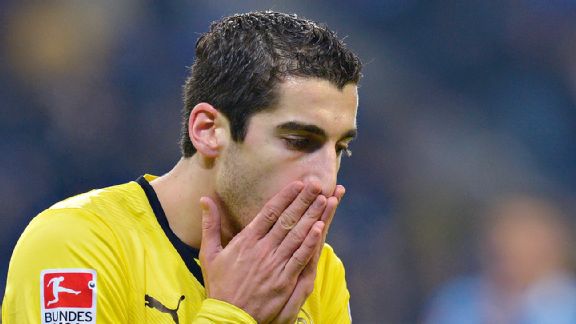 Thomas Kienzle/AFP/Getty ImagesHenrikh Mkhitaryan and Borussia Dortmund were left to rue many missed chances in the second half at Hoffenheim.
Borussia Dortmund couldn't recover from going 2-0 down early and only managed to equalize over time in a very physical game that could see them possibly lose more ground to second-placed Bayer Leverkusen.

- Report: Hoffenheim 2-2 Borussia Dortmund

Champions League hangover

Juergen Klopp wanted to avoid this headline, but in the end it was impossible not to mention.

On German pay television Jens Lehmann made an interesting point, saying that it is a disadvantage for Dortmund that they always have to travel after Champions League games and that it would be bad for their freshness. But at least this can be seen as an advantage for Champions League games, where Dortmund has arguably been successful so far.

It has to be said that the draw wasn't down to fatigue as much as I had feared. Only Marco Reus was visibly not fully focused and hasn't been in form for some time now. It is not understandable why Klopp gave him a start as the cries for Jonas Hofmann in the starting line-up increase among the Borussia Dortmund fans.

Hoffenheim played feisty, with a lot of fouls at the beginning to put down a marker. They fought well and won more second balls than I'd care to see. In the end, a Dortmund corner led to Hoffenheim's goal, as two Hoffenheim players could take on two defenders. Hoffenheim may have the worst defense in the league, but they play fairly well in attack. It was Roberto Firmino who put Sven Schipplock into play, who chipped it over Mitchell Langerak after 17 minutes.

Another fast break brought the second goal for Hoffenheim after 37 minutes. It was Kevin Volland who was at the end of a well-worked combination that took advantage a lack of understanding on a Dortmund backline that had never played together before.

Same procedure as every week, Juergen!

It is a German tradition to watch "Dinner for One" (also known as "The 90th Birthday") with Freddie Frinton and May Warden -- with the catchphrase "Same procedure as every year, James." As New Year's Eve approaches, it is already ringing through my head while watching Dortmund.

Borussia Dortmund wasted chance after chance after chance... after chance.

It is just so frustrating to see such great footballing moves and plays not getting the deserved crowning of a goal on a weekly basis. Yes, every team wastes chances, but Dortmund is so famous for it that it has already been mentioned during a Russian league game.

Klopp said after the game: "We played good football today, but the finishing was below average. We also could have won 7-3 today, but I could feel that my team wanted the win at all times during the match."

After all these years of poor chance conversions, it is still really tough to find reasons for this poor finishing, but it can't be just poor luck, can it?

Two goals against the worst defense in the game plus one of the worst goalkeeping performances I've seen in a long time just isn't good enough for the team's aspirations.

Before Dortmund went 1-0 down, there were only two good chances to take the lead, including one chance which was ruined by yet another flick-on that was cleared. Sometimes you have to wonder if, for Dortmund, shooting on goal when a goalkeeper is in the way is disallowed.

It was on display even as Dortmund made it 2-1 as Hoffenheim's keeper Jens Grahl horribly fumbled the ball after an easy pick from a corner kick. Pierre-Emerick Aubameyang finally smashed it in, but only after Robert Lewandowski wasted a chance.

Nevertheless, new hope for the second half was installed, as Hoffenheim's defense is well known for a good collapse every now and then.

Oh, Schieber

In the second half Hoffenheim was far less dangerous than in the first half, as Erik Durm had an enormous game and managed to shut down almost every attack that came down his side. In light of Durm's current form, it won't be easy for Marcel Schmelzer to come back into the side. There is now pressure on the German international.

Dortmund of course created a plethora of chances, as they tried everything to win the game -- which is maybe one of the positives here: BVB can still play football rather well and their determination and spirit to win a game is still unbroken -- it was just the all-important final touch that let them down once again resulting in more dropped points.

Lukasz Piszczek made the only exception in the second half, as he headed the ball at Grah, after a gorgeous cross from Nuri Sahin, and converted the rebound to equalize.

Both Henrikh Mkhitaryan and Reus also had excellent chances to score, but in the end it was Julian Schieber who missed the open net from seven yards out, after Mkhitaryan beautifully managed to dribble his way past Andreas Beck on the touchline and laid it back.

In the end, only frustration remains, as Borussia Dortmund really should have taken three points from this game. At least nobody got injured.