Late drama puts Dortmund top of the group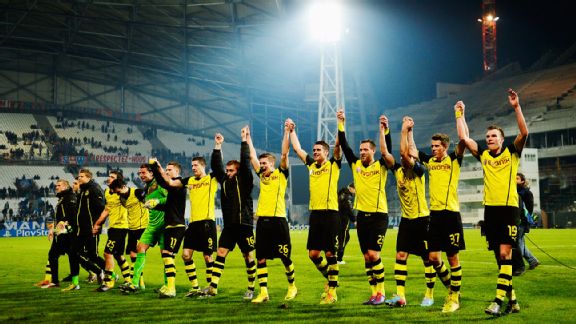 Dennis Grombkowski/Bongarts/Getty ImagesKevin Grosskreutz' late goal ensured a happy ending for Borussia Dortmund.
And so, Borussia Dortmund win the tightest Champions League group of all-time. Never before has a team failed to progress with 12 points. Napoli's beating of Arsenal gave Dortmund the opportunity to finish on top, but getting there cost an awful lot of nerves.

Here are three things on Dortmund's 2-1 win at Marseille...

A good debut in defense

In a crucial game, 18-year-old center back Marian Sarr made his professional debut for Borussia Dortmund. It was a brave decision from Jurgen Klopp, who toyed with the thought of deploying Swiss army knife Kevin Grosskreutz in the middle, but as I can say with hindsight: It paid off.

When Robert Lewandowski put Dortmund 1-0 ahead after four minutes, I thought this was going to be a nice relaxing game of football. But boy, was I wrong. Barely ten minutes later and Marseille were level thanks to Souleymane Diawara, after Roman Weidenfeller misjudged a set-piece situation and went flying past the play.

- Read: UCL wrap
- Report: Dortmund through via late winner

Though Diawara only had a tap-in, he was actually offside. Marseille hadn't really much to offer going forward, but luck game them a chance to stun Dortmund.

To say it upfront: This was a terrible game. Dortmund are clearly tired and lacked the composure to really be forceful in the final third.

The story of the first half was Dortmund having room to operate but being unable to take advantage of Marseille's high line. It was just utterly frustrating to watch every through-ball getting blocked and BvB not stringing passes together in space they usually can exploit so entertainingly.

And they even gained a good advantage when Dimitri Payet was sent off after two yellow cards in quick succession, one for a foul and the other for a very cynical dive. Though the French side were left a man down for over an hour, considering stoppage time, die Schwarzgelben couldn't just kill off the game in the first half and it was up to Klopp to brief his team during halftime and show his boys how to do it better.

Mother of all chance-wasting festivals

I must admit, I feel like my life expectancy decreased rapidly because of Wednesday night's game. It felt like Dortmund were cursed. Everything seemed to go against them, especially when Napoli went ahead against Arsenal -- I thought the Europa League was inevitable.

I know, I know. Never give up, never say die. But when you concede an unlucky goal and miss several absolute sitters (Robert Lewandowski missed an open net), you kind of start doubting the universe and believe that higher forces are conspiring against you.

Borussia Dortmund should have won the game comfortably with all the chances they had in the second half -- after all, Jurgen Klopp did his job rather well and his side came out of the dressing room with grit and determination. They finally found the passes and connections to get behind the Marseille defense. Yet the final ball was always a bit imprecise and the finishes were just appalling. Frankly, I lost count how many times that Marco Reus alone could have put the ball away -- instead, he will soon be hired by the New York Giants for their field goal unit.

Admittedly, the pitch was not in the best shape and there were a lot of wobbles that made it even harder to break the physical Marseille defense down, who were just waiting for counter attacks but were rather harmless and didn't commit much forward. So it was just a question of Dortmund getting another goal or not.

And as time progressed it seemed more and more unlikely. More chances went begging and the agony increased, as my hair slowly adopted a silver shape. But I guess, there had to be some silver lining.

Kevin Grosskreutz, Fussballgott

Yes, he is a hero. He is living the dream. The kid from the yellow wall that is now playing in front of it and very successfully at that. He is not as technically talented as the likes of Reus or Mario Gotze, but he has unbelievable stamina and fighting spirit, plus his ability to play in literally every position. But none of it mattered when he slipped while taking a shot in the 87th minute after Julian Schieber's lay-off.

It wasn't controlled, nor was it powerful, but the arc on the ball and the wobble just in front of Steve Mandanda was enough to find the back of the net. Everything else is history. Grosskreutz ran into the stands with his arms lifted, celebrating the goal with the supporters. My heart palpitations were replaced by relief.

But of course Marseille tried to fight back and the four minutes of stoppage time took forever. When the referee blew the whistle it was confirmed: Dortmund progressed into the knock-out stages of the Champions League despite their harshly decimated squad. And since Napoli managed to defeat Arsenal, Dortmund came out ahead in the tightest Champions League group ever, a fact that fills me slightly with pride. Plus, that the draw for the next round might be a bit easier now. Might.

Mats Hummels posted on Facebook after the game: "I'm done."

Yes, now you know how it feels to cheer for Dortmund on European nights. Very exhausting.

On that note, BvB rescued their season and can use the extra money maybe on the transfer market to bulk up their squad a bit. After all more depth can't hurt, can it?

But even without new additions and the likes of Ilkay Gundogan and Mats Hummels soon to return, Dortmund should be a completely different animal in 2014.