Final hurdle for Dortmund before knockout rounds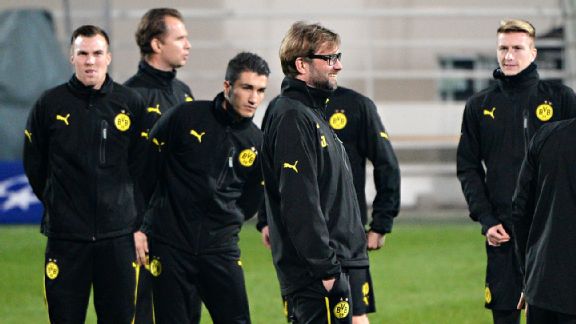 Anne-Christine Poujoulat/AFP/Getty ImagesJuergen Klopp's Borussia Dortmund come into Wednesday's Champions League tilt versus Marseille on the heels of a Bundesliga loss to Bayer Leverkusen.
The final match-day of the Champions League takes Borussia Dortmund to the Stade Velodrome where they take on Olympique Marseille for the "most important game of the Hinrunde" -- the first half of the season -- as Robert Lewandowski put it on Sunday.

- Report: Bayern CEO praises BVB model

As injuries pile up, Dortmund need a win to ensure qualification for the knockout stages of the UEFA Champions League, but will be keeping one eye on SSC Napoli, as BVB only has to mirror their result to go through.

As a Dortmund fan, one can take a bit of glee out of the fact that German television station ZDF is showing this game on free TV instead of their rivals Schalke 04, with the argument, that the fate of last year's Champions League's finalist is more interesting than the fate of Schalke.

For Dortmund, it wouldn't be the end of the world to go into the Europa League, but to maintain the predicate "good" in speaking about the season so far, rather than "okay", the black and yellows need to progress. With the prospect of a fit squad for the second half of the season, another deep run in Europe isn't unrealistic, but first this injury-ridden side must drag it over the group stage finish line.

Players missing on both teams

Not only losing to Bayer Leverkusen, but also losing Sven Bender and eventually Nuri Sahin while doing so was a tough pill to swallow for Dortmund boss Juergen Klopp.

Bender, who was the makeshift center-back alongside Sokratis Papastathopoulos, will definitely miss. The search for the second center-back might point to Sebastian Kehl, who is an option, but the prospect of Kehl in central defense doesn't fill any BVB supporter with confidence.

Klopp gave Koray Gunter and Marian Sarr a spark of hope, as both youngsters traveled to the Cote d'Azur. "It is a very different situation now, than a few weeks ago, since both played a few games by now. They weren't real options because they both came off injuries and suspensions and lacked playing time, but now they are."

It is of course still a risk to throw either the 19-year-old Gunter or the 18-year-old Sarr into a very crucial Champions League game, but sometimes bravery may be rewarded -- especially since Kehl hasn't exactly covered himself in glory and has been prone to errors as well.

Sahin is also more than questionable for this game. Luckily his injury isn't severe and he should be fine for Saturday, but at the moment time is running against him as noted by Klopp: "He can walk pain free, we'll see he can also run pain free. If he can play, he'll play, but we won't risk anything."

But Marseille are also struggling with injuries and suspensions. They will be without their midfield dynamo and mastermind Mathieu Valbuena and pacy attacker Andre Awyew due to injury, as well as central defender Nicolas N'Koulou and pivot Jacques-Alaixys Romao.

Four first choice players missing for Marseille might even out the personnel problems for Dortmund.

Psychology

Luckily for Dortmund, Marseille aren't on a purple patch of form. They didn't exactly find a way to cope without Valbuena and Awyew as they lost both their last games in Ligue 1 without creating a single goal.

So they might focus on their domestic league, where they play Olympique Lyon next, rather than a dead rubber game in the Champions League, right?

I'm not so sure. After letting their coach Elie Baup go after the 1-0 home defeat to FC Nantes, they will play under interim coach and usual director of sports Jose Anigo. A psychological boost might occur from such a thing, as well as players feeling the urge to lay off any complacency.

Also Marseille president Vincent Labrune went on quite the rant in the dressing room after said loss against Nantes. A bit of extra motivation for the players, who probably don't want to see off their Champions League campaign with zero points.

And since there isn't really anything left to play for other than honor, Marseille's players might go into the game with their minds freed. As you can see, the natural pessimism of a football fan can construe all kinds of scenarios and reasons for why it might go wrong for BVB.

Looking at the positives

But enough of being all doom and gloom about this game. Yes, there is a lot on the line for Dortmund, but reaching the knockout rounds is still a very possible thing. And here is why:

Oliver Kirch -- He is a good option to have as defensive midfielder, as he showed against Saarbrucken. He can replace Kehl if Dortmund's team captain plays in central defense and play alongside Sahin or Henrikh Mikhitaryan in defensive midfield.

Dortmund's great quality to bounce back after tough losses -- The Napoli game is the latest proof of that. After a 3-0 loss to Bayern Munich, BVB was able to dust off their shoulders and come back strong in the Champions League. The same can be expected on Wednesday.

Experience -- This young Dortmund side have definitely matured in three years of Champions League football. Also Klopp has learned his fair share on European nights and already said that there is no reason to run into the infamous open knife.

Arsenal -- The on-form team from London still has something to play for and are not easily beaten by Napoli, who are not in their best form themselves and have to rely on the magic that comes with playing at home.

4-3-3 -- It was Leverkusen's preferred system and Marseille will probably also shape up with three holding midfielders, but so can Dortmund.

Playing with Jakub Blaszczykowsk, Mkhitrayan and Kevin Grosskreutz behind an attacking Marco Reus, Robert Lewandowski and Pierre-Emerick Aubameyang attacking trio doesn't sound too bad, does it?