Bayer beat Dortmund to become chief challengers to Bayern
In a heated game against Borussia Dortmund, Bayer Leverkusen took an early 1-0 lead and managed to hold on to distance themselves from BVB by six points. Dortmund now find themselves level on points with Borussia Monchengladbach in third place, already 10 points behind league leaders Bayern Munich.

The Leverkusen spider web

Looking back at the game's statistics it would appear to be a heated match with seven bookings and two sendings off, yet while first half was intense, it was fair.

Dortmund found their feet quickly, but after five minutes Leverkusen began to make their mark and slowly gained the upper hand, with Sami Hyypia's tactics proving to be the better. Both teams prefer reactive football but with Dortmund's job to drive the play at home in the Westfalenstadion, Leverkusen gained the advantage.

Leverkusen mostly played a passive game in the first half and defended at the edge of their box when Dortmund were in possession. However, with selective pressing they also managed to gain the ball high up the field from time to time and also profited from Dortmund's lack of passing accuracy all over the pitch.

It was always Leverkusen's top priority to cover Nuri Sahin and cut off BVB's distribution, and in doing that, in addition to rushing with two attackers on Dortmund's centre-backs, the visitors forced the goal.

Heung Min Son slotted home what was to turn out to be the decider after 18 minutes and that set the tone for the rest of the game.

Leverkusen could then do what Leverkusen do best: lurk for mistakes and capitalize with vertical play. With Dortmund pushing high up the field, leaving 40 yards behind their backline, the likes of Stefan Kiesling and Son had acres of space to run into.

If it wasn't for Son's lack of clinical finishing the game could have been over in the first half.

When in possession, Leverkusen had a far better way to play around Dortmund's pressing, but when Dortmund gained the ball, Leverkusen formed a spider's web that tightened as Juergen Klopp's team went higher up the pitch.

Dortmund couldn't manage to play the ball quick enough; there was no real vertical momentum for them as Leverkusen clogged up the middle of the pitch with their three holding midfielders.

No space, no party

It is worrying how ineffective Henrikh Mikhitaryan is against defensive minded opposition. Leverkusen were excellent in not allowing Dortmund space to run in. In games like these the absence of Ilkay Guendogan is really telling. The spark is missing, because Sahin just isn't really delivering vertical passes to set up attackers.

And operating with long balls just wasn't an option, as the Leverkusen squad are taller in almost every position and could win most of the decisive headers.

Leverkusen managed to not allow Dortmund any space in the final third and were good in cutting off passing options. It was probably one of Leverkusen's best games, while it was one of Dortmund's worst.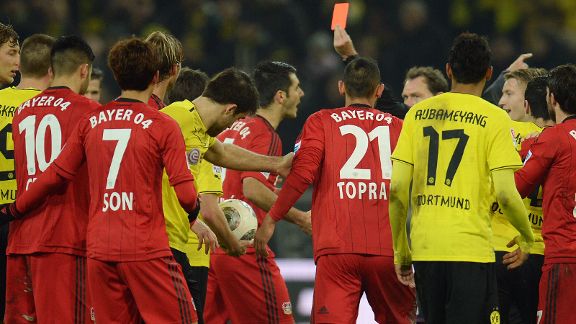 GettyImagesLeverkusen's Emir Spahic is sent off in a heated second half against Dortmund.
Heat after half-time

In the second half, Leverkusen focused on the defence, while Dortmund continued to frustrate endlessly in their attempts to create chances.

The referee had a rather lenient first half and it came back to haunt him after the break as the players felt they could get away with too much and it all got too physical.

A lot of harsh fouls went in. Leverkusen went way over the top with some tackles; challenges that looked extra spectacular on the wet pitch. When Jens Hegeler scythed down Jakub Blaszczykowski in the 58th minute, emotions started to rise.

With a lot of niggly fouls, Leverkusen had the cleverness to suffocate a lot of promising attacks; Simon Rolfes did an especially good job with a few tactical fouls. And when Emir Spahic went in with both feet on forward Robert Lewandowski, Dortmund feared the worst. However, luckily, the Pole could play on.

From that moment on the game turned ugly. Leverkusen were too busy kicking anything that wore black and yellow and trying to waste time and went down to ten men after the aforementioned Spahic had been sent off for lashing out at Mikhitaryan. It brought back memories of the Europa League game against Sevilla a few years back.

Injury problems continue

Dortmund are having really rotten luck at the moment. First Sven Bender, then Nuri Sahin: both defensive midfielders injured their ankles during the game and their loss is probably more of a blow than one to Leverkusen. With the very important Champions League match against Marseille ahead, it is anything but ideal and a frustrating night became more frustrating.

The icing on the cake came when Sokratis Papastathopoulos lost his cool and got sent off as well. Have fun building a defence and a defensive midfield in the next few weeks Kloppo!

A win against Marseille is all that counts now. The title race is over, but second place can still be reclaimed in the second half of the season.