Dortmund defeat feisty Mainz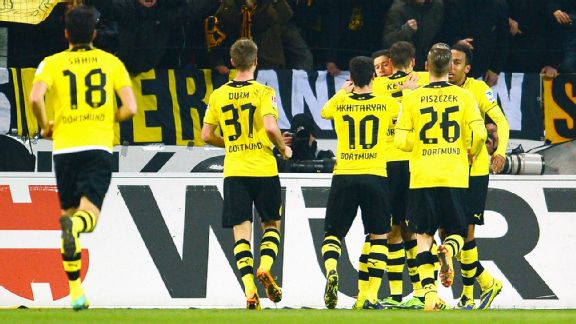 Dennis Grombkowski/Bongarts/Getty ImagesIt was a struggle but Borussia Dortmund shook off a slow start to down Mainz.
It was maybe a case of Champions League hangover, but Borussia Dortmund needed around 70 minutes to really find their way into the game at Mainz, but in the end, they scraped out a 3-1 win on the road that was hardly brilliant, but very important.

- Report: Mainz 1-3 Borussia Dortmund

Rotation!

Yes, Juergen Klopp rotated. Henrikh Mkhitaryan and especially Nuri Sahin got a well-deserved break -- for the first 45 minutes. Klopp changed his usual 4-2-3-1 formation to a 4-3-3; Lukasz Piszczek played his first full 90 minutes since the Champions League final and instead of the Mkhitaryan-Sahin playmaking duo, Kevin Grosskreutz and Jakub Blaszczykowski played alongside Sven Bender in front of the backline. Yet before the match, Klopp said that it wasn't his plan to make the game a defensive struggle despite a defensive lineup devoid of creativity.

Mainz out-Dortmunded Dortmund

And this was basically the story of this match.

The lack of pressure after the Napoli game was noticeable, as die Schwarzgelben didn't embody too much of a presence on the pitch. Mainz took full advantage and took the game to Dortmund. This was especially the case in the first fifteen minutes as the match was completely controlled by Mainz, who won two-thirds of their challenges in the first half -- combined with Dortmund's abysmal passing success rate of around 68% after 25 minutes. It was only Mainz's lack of individual quality upfront that kept BVB in the game. There were a few early half chances and shots out of the second row, but nothing Roman Weidenfeller couldn't manage.

Mainz coach Thomas Tuchel once again proved that he can motivate his team. They pressed Dortmund hard and forced them into areas of the pitch where they could outnumber and gain possession, especially on the right side where they possessed the ball plenty while Dortmund players were run ragged in a red funnel.
It was a great team performance by Mainz and a lackluster one from the Westphalians in the first half and that forced Klopp to make all three personal adjustments by the end of halftime, a record for Klopp who had never used all three substitutions by halftime as Dortmund manager. To boot, Sahin was brought in for Bender after just half an hour to reinstall a bit of control and distribution into the game.

I don't know why Jonas Hofmann still doesn't get a start in such a game. He is a player whose biggest asset is a clean pass, no matter the range. A bit of pressing resistance can never harm against a side like Mainz who are a bit of a mini-Dortmund.

Back to square one in halftime

Klopp restored his 4-2-3-1 system by bringing on Mkhitaryan and Kehl at halftime for Reus and Blaszczykowski after the break, yet it didn't really change much. Mainz was still the team with more grit and more determined to get something out of the match and played as brave as ever. Yet there weren't too many chances created out of play, as both teams tried too much through the middle and lacked precision in the final third. It looked like it may end in a scoreless stalemate.

After 65 minutes or so, Dortmund finally realised that they had to step on the pedal to get something out of this game. Meanwhile, Mainz trying to out-Dortmund Dortmund experienced the very same issue BVB often has at the end of the game: They ran a bit out of steam. It's sometimes only marginal, but a step less while aggressively pressing can make a big difference as new angles open up for the opponent. Klopp's side could finally occupy Mainz's half for a bit and put the pressure on, yet they couldn't create too much.

The game of set pieces

A free kick can change everything and that it did when Pierre-Emerick Aubameyang struck from around 21 yards out to pin a perfect shot inside of the left post leaving goalkeeper Loris Karius no chance whatsoever.

You could feel that Mainz were struck by the goal, yet they didn't give up and they were rewarded when Piszczek pushed Yunus Malli over in the box to give away a penalty.

It was a very unnecessary and clumsy challenge because Weidenfeller could have collected the loose ball easily and it allowed Mainz to come back into the game via Maxim Choupo-Moting's conversion.

But Dortmund didn't hesitate too much and put the pressure back on a tiring Mainz side who lost possession too often in their own half by clumsy passes and the guys in black and yellows could capitalize on it.

A dream pass from Robert Lewandowski was directed to the feet of Aubameyang, who rounded the keeper, put the ball on target and then turned around to celebrate. However, the ball didn't go in because Elkin Soto had cleared the ball of the line with his hands. A red card and a penalty that Lewandowski put away without too much trouble was the result.

Yet, Mainz were down to ten men but they weren't defeated. They still threw everything they had at Dortmund and when Johannes Geis's free kick just went whiskers wide, my heart skipped more beats than the one of a teenager who bumps into his crush at the school cafeteria.

Borussia Dortmund played the last ten minutes as professional as they could, trying to bury the ball at the corner flag whenever they could. In the end, there were slight irritations as Dortmund won a penalty through Erik Durm in the dying seconds of stoppage time. Mikhitaryan took the ball and wanted to convert it, yet Lewandowski re-adjusted the ball on the penalty spot to Mkhitaryan's dislike -- a consoling pat on the back from Sahin while Lewandowski hammered it in. Final score 3-1.

The victory for Dortmund was hardly deserved, nor was the performance convincing. Nothing unusual though; it is important to still win these kind of games to stay in touch with the top of the table ahead of the Leverkusen clash.