An odd loss that didn't really hurt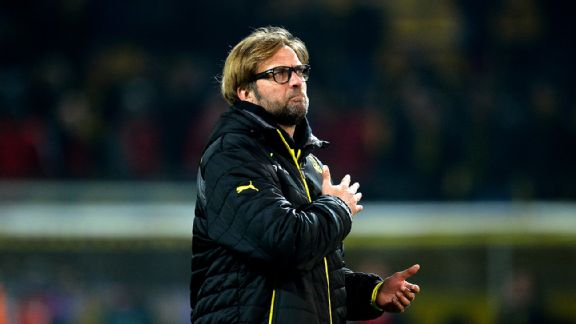 Lars Baron/Getty ImagesDespite a 3-0 loss to Bayern, Borussia Dortmund manager Juergen Klopp can take solace in the play of his makeshift back line.
It was maybe one of the oddest games I have ever experienced. Borussia Dortmund lost 3-0 at home to a team that hardly anyone likes amid the western parts of Germany and fell seven points adrift of the league leaders. Yet when the final whistle was blown, I felt hopeful and quite frankly, okay.

Usually a 3-0 loss to Bayern Munich -- which also was the third consecutive loss for Dortmund -- would sting and depress. This time it felt a bit different.

- Honigstein: Flexible Bayern find way to win
- Uersfeld: Three things: Dortmund vs. Bayern
- Report: Borussia Dortmund 0-3 Bayern Munich

Lowering expectations beforehand was probably the reason why I left the game in good spirit. With basically the whole first choice back line being out, the worst had been feared.

Groundhog Day

It wasn't really the case of Pep Guardiola's team running berserk at BVB's makeshift backline. It was in fact an old friend that was the cause for the loss: Inefficiency in front of goal -- one of the team's favorite instruments to torture their fans. My feeling of hope after the game probably came from the fact that Dortmund could stifle Bayern at times. Beating them was not impossible by any means.

It was very much a close game and the scoreline hardly resembled it. FC Bayern, of course, had the greater amount of possession, but BVB created the better chances for the first hour of the game. While having better scoring opportunities throughout the game is nice and reassuring, not converting them is just as worrying. The lack of composure in front of goal has become a real problem for Dortmund -- having lost the last three matches isn't a coincidence.

Roman Weidenfeller addressed the issue after the game: "We played a very good game for over 80 minutes and it was possible for us to win the game, but sadly we didn't take our chances. We lack determination upfront and it takes us too long to get a shot away. Too often we lay the ball off another time instead of going for the shot."

Reus and Mkhitaryan out of form

Apart from the lack of determination, there are clear signs that Marco Reus is not in his best shape. The lack of rotation upfront has maybe cost him vital stamina -- especially mentally, Reus doesn't look too sharp at the moment. Klopp's pacey style requires quick decision making. A lot of promising opportunities went begging because Reus was too hesitant or simply making the wrong call. The rather misplaced shot straight on Manuel Neuer summed up the last several weeks for Borussia Dortmund's left winger.

While Mario Goetze decided the game at the other end with a very composed finish, Henrikh Mkhitaryan sank his head when he was subbed off in the 71st minute. The Armenian finds himself struggling on the whole. He hardly provides key passes anymore and loses possession while attempting to dribble in a too leisure a manner, which slowly upsets the crowd.

His goal-scoring rate isn't as prolific as fans hoped and his understanding with Robert Lewandowski leaves a lot to be desired. So it's not surprising at all that Borussia Dortmund have only scored one goal in the past three games.

At least defense is not an issue

On a more positive note, BVB's defense looked fairly solid given the circumstances. That Bayern Munich would eventually create a chance -- and maybe even convert it -- was not too far-fetched. In the end, risking everything combined with resignation after defeat sealed the deserved victory for Bayern.

But overall, Erik Durm filled in well for Marcel Schmelzer. Manuel Friedrich looked a bit shaky at the start, but for a guy who has played only four matches in 2013, he managed fairly well.

Sokratis Papastathopoulos is arguably BVB's best signing of the season so far. He is a no-nonsense defender who seems to be made out of steel. He was Dortmund's best player on the pitch yesterday and hardly made any mistakes. His calm presence on the pitch gives hope for future tasks.

In conclusion, one can say that problems upfront are always easier solved than sorting out issues in defense, especially with the amount of individual quality BVB has to offer in attack.

Leaving the game in good spirit

The fact that Juergen Klopp's team could give the best team in the world -- which Bayern Munich seem to be at the moment -- a really close fight for the greater part of it and weren't too far off from deciding the game in their own favor made me hopeful in looking ahead to Tuesday, when Dortmund faces Napoli in a far more important match than the one on Saturday evening. Now it feels like Dortmund still have a very good chance of coming out ahead.

And even more importantly, the way Borussia Dortmund's fans reacted to the result should fill everyone who supports the black and yellows with pride and joy.

The way the yellow wall sang for their team long after defeat was sealed is simply glorious. It is often claimed, but last night it was proven: Dortmund fans value full effort more than the result.