Dortmund embarrass themselves in Hamburg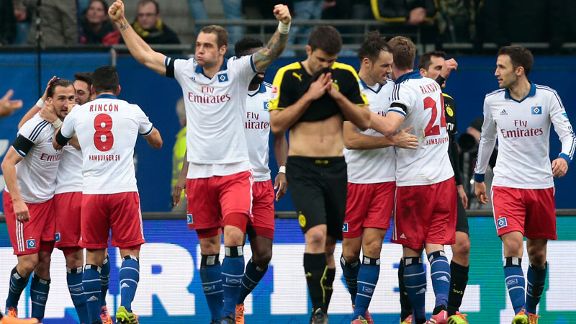 GettyImagesMilan Badelj celebrates as Hamburg turned it around against Dortmund.
An arrogant Dortmund side missed out on a great chance to get a nice cushion on fourth placed Schalke, as they embarrassed themselves against a revitalized HSV and lost 3-0. Was it the Saturday 15.30 kick-off jinx? It seems a bit like it, but in all seriousness, this wasn't the reason for the loss.

Mirko Slomka, newly installed coach at the Northside after Hamburg had lost the last six games in a row, made six changes to the starting line up. And it was also a very special day in Hamburg: The death of the legendary massager Herrmann Rieger was mourned with a great choreo and maybe this helped the team to up their fighting spirit.

The game started with a few hard tackles by the HSV players, earning themselves a bit of respect. Juergen Klopp had warned that would happen, but his team didn't learn and, as so often before a Champions League game, they seemed complacent. It almost seemed like arrogance as they never really tried to pick up the pace; like a car driving down a ramp, they inched their way forward.

Meanwhile Hamburg's confidence was growing and, with grit and heart, they just bullied their way into the game. Dortmund didn't fight back; they didn't fight at all. And they couldn't make any quick transitions, because they were never really focused. Bad first touches all over the place made it really easy for Hamburg to regain possession in midfield and what seemed especially arrogant was that either Robert Lewandowski or Henrikh Mkhitaryan -- but also Nuri Sahin and Pierre-Emerick Aubameyang -- all took too much time on the ball.

It was like Dortmund completely underestimated Hamburg's defensive effort and that players would actually attack them if they were in possession. It was lacklustre and, hence, not many great chances were created. Not managing to score against the worst defensive side in the league speaks for Hamburg's mentality; it also speaks for BVB's lack of spirit.

Hamburg lifted

Just before half-time, Hamburg opened the scoring. It was a deserved lead, two BVB defenders let Pierre-Michel Lasogga score from inside the box and Aubameyang couldn't do anything against the charging header of Petr Jiracek.

A reaction after the break was expected, but Klopp made the wrong call. He brought on Marco Reus for Sven Bender, putting Kevin Grosskreutz in the double pivot, but this didn't work out at all. Dortmund were already losing most key battles in the middle of the pitch during the first half.

The goal to make it 2-0 encapsulated the whole game in a nutshell: Robert Lewandowski received the ball, took a bad first touch and lost possession; Nuri Sahin couldn't regain the ball and only one pass to Lasogga was needed to unlock the whole defence. Marcel Schmelzer kept the HSV striker onside, who then kept his nerve in the one-on-one with Weidenfeller and tucked it away calmly.

In the end Dortmund were lucky to finish with 11 men, as Aubameyang kung-fu kicked Tolgay Arslan in the face, as he went up for a header. It wasn't a hostile kick and Aubameyang was shocked himself that it happened, but it could have easily been a red card.

Hakan Calhanoglu then added insult to injury with a goal in added time to make it 3-0. The 20-year-old German played very well today and ran his socks off, while he maybe scored the goal of the season, or at least good contender for it. With the seconds ticking away he hit a free kick from 40 yards out into the net. The ball took a funny dip and landed in the corner; Weidenfeller, completely surprised, underestimated it and looked like an awkward toad jumping on the spot, but never managed to stretch it to reach the ball before it nestled in the back of the net.

Day of the comebacks

It was the day of comebacks: in three games on Saturday, teams came from behind to take a win or at least a draw, but sadly, BVB wasn't one of them. Trailing 2-0 from the 59th minute, you would think a side like Dortmund could still manage at least a draw. But nothing like that happened: Dortmund created exactly two good chances to score, but Rene Adler made two great saves, after that it was all Hamburg again.

In hindsight Klopp should have rotated, as his first team just embarrassed themselves. Robert Lewandowski in particular shouldn't have started. He told the press after the game that he went into it with a cold -- this is why Marvin Ducksch came on for him after 70 minutes -- but in that case Aubameyang or Ducksch, or anyone but Lewandowski, should have started. Sadly, Klopp doesn't seem to trust Ducksch enough to start him from the beginning.

On top of that, Reus will miss out against Nurnberg in the next match, as he vented his frustrations on the referee and got his fifth yellow card to ensure he will be suspended.

It was just not Dortmund's day.