Dortmund seeking return to old home form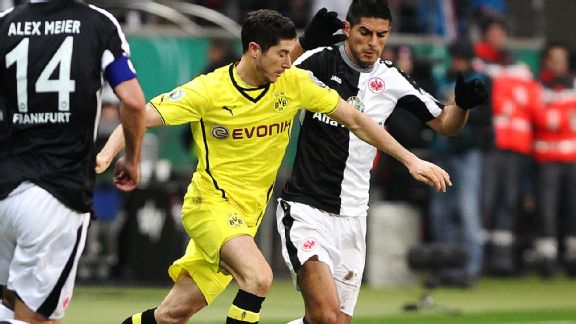 Daniel Roland/AFP/Getty ImagesDortmund striker Robert Lewandowski gets to renew acquaintances with Frankfurt defender Carlos Zambrano on Saturday.
Borussia Dortmund seek to continue their good run of form in an attempt to break the home losing curse. Tides have turned for BVB, as they have won three straight matches progressed to the DFB Pokal semifinal against Eintracht Frankfurt on Tuesday -- ironically, the same opponent who they will face again in league play on Saturday.

- Report: Bayern could face BVB in cup final

On par with Hitzfeld

It is a special game for Juergen Klopp, not only because it is rare to prepare a team for the same opponent twice within one week, but also because he could draw level in all-time Bundesliga wins with Ottmar Hitzfeld -- one of Borussia Dortmund's legends, who famously won back-to-back championships and the Champions League with the club. Klopp is on 110 wins, Hitzfeld on 111.

Klopp, of course, is already a legend in Borussia Dortmund's history books, but surpassing another Hitzfeld mark just underlines the greatness of Klopp's era at der Ballspielverein.

This 111th win would also mean that Dortmund would have put a stop to their home-record-slump. Usually the Westfalenstadion is a fortress, but the last four games at what the fans refer to as "Temple" weren't really great. Three defeats and one draw isn't really what Klopp imagined and he wants to see his side make amends on Saturday at noon.

The recent records speak in Dortmund's favor, as they now have beaten Eintracht Frankfurt three times in a row. The last two home games were very comfortable wins. Hopefully Frankfurt's legs are a bit heavier than BVB's and another comfortable win will be on the cards.

In general, the last two weeks were a mini-evolution for BVB. First they needed a scrappy win against bottom side Braunschweig with a lot of luck; after that came an awesome 5-1 drubbing against Bremen, which had a lot of style, and then came the first clean sheet of the year against Frankfurt in what was a focused defensive performance.

Now would be a good time to combine the appealing attacking football they showed against Bremen with the great defensive focus from Tuesday and make a statement on home ground.

All eyes will probably be again on Robert Lewandowski and Carlos Zambrano, who clashed several times on Tuesday. The hot-tempered Peruvian will most likely receive a warm welcome from the Sudtribune after becoming close friends with the Pole. But it would be for the best if both could behave on Saturday, as Borussia Dortmund cannot afford to have Lewandowski injured.

For me it will be much more interesting how big of a part the bad pitch in Frankfurt played in hindering some of BVB's great attacks, since now we actually have a direct comparison.

But most importantly, three points would guarantee a relaxed Saturday evening for BVB fans -- as is normally the case -- since this week's Bundesliga top match is between the two teams that sandwich Dortmund in the table: Leverkusen and Schalke. With direct opponents taking points off each other, joy will arise with a BVB win, or there will be regret without one.

The tough, depended life of a football fan, am I right?

Team News

Teams will probably stay more or less the same, as Klopp hinted. He was very satisfied with the performance of the eleven he fielded on Tuesday and he isn't famous for rotation anyway. But good news is on the horizon as Sven Bender and Marco Reus might make it into the squad this weekend, one week earlier than predicted. However, there isn't any positive news on Ilkay Guendogan. His back pain caused by an inflamed nerve still hasn't improved much and nobody can say when he will come back. He is in light running training so far.

But the lot that have stayed healthy exuded much positivity in recent weeks. As mentioned above, the mini-evolution also counts on individual basis. Henrikh Mkhitaryan looks like a different player after his two goals against Bremen, Nuri Sahin is finally back to his old 2010-11 form and Lukasz Piszczek looks like he never was gone.

Funny what a tad of confidence and rhythm can do to sportsmen -- a lot of positives that hopefully bear another positive result. After three away games the anticipation for a home game is immense. Klopp said that the players feel the same way and hopefully that will show on the pitch. So let very recent history repeat itself and blow the last doubts away that Borussia Dortmund is back on track.