Borussia Dortmund rediscover form to sweep aside Bremen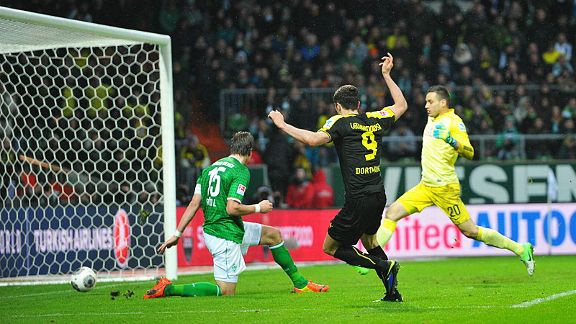 GettyImagesRobert Lewandowski scores in Dortmund's rout of Werder Bremen.
Referee Gunter Perl blew the whistle at 90 minutes dead. No injury time. It was mercy, as Borussia Dortmund swept aside Bremen with a 5-1 rout at the Weserstadion. A comfortable win, which will do a lot of good for BVB. But one has to feel a bit of sympathy for Werder Bremen, as they really tried at the beginning.

Aufbaugegner

Aufbaugegner is a nice German footballing term. It means "build-up opponent". It refers to an opponent that makes it easy for you to win and builds up confidence and self-esteem when you are on a bad run of form. In this case, Werder Bremen were just that for Dortmund.

After the dirty and scrappy win in Braunschweig, where a lot of luck was needed in the final seconds to not concede the equaliser against Eintracht it was much needed for Dortmund. It felt comfortable, but it certainly wasn't easy.

In the initial stages of the game, Werder Bremen were quite motivated and played overly physically to set the tone and make an early mark. It took the Westphalians a while to find a way into the game and to find a clear pass to unlock the Bremen defence, which never looked compact or settle at any point in the game. Typical for Bremen of course. But Werder's attack wasn't really creating any danger either, which gave BVB enough time to find their rhythm.

It took 25 minutes, then it took a somewhat individual effort from Robert Lewandowski, who curled a shot around a defender from the left side of the box. Werder goalkeeper Raphael Wolf had no chance to save it, as he saw it too late.

Magictaryan

The game had a few more nervy moments for Borussia Dortmund, but the goal provided a bit of the confidence that Dortmund were so desperately looking for. Although Henrikh Mkhitaryan did miss an open net -- from a very narrow angle -- and for a player of his quality he should have done better.

It is probably safe to say that Mkhitaryan is the player who struggles the most when confidence is low and I feared that miss would be piling on the self-made pressure, which hinders him so very often.

But the 41st minute changed everything. It was Mkhitaryan who skipped sideways past three defenders and hit a low shot into the bottom left corner of the net, having put a defender and the goalkeeper on the wrong foot. A beautiful goal, that was so, so important for the young Armenian.

Psychologically very important, for the reasons I've just mentioned, but it was also the first two-goal lead for Dortmund since November; a new feeling of security.

Namaste!

Dortmund made it 3-0 just after half-time, to effectively make the game safe. Another feel-good factor, as it was finally a goal from a corner. Usually they go in at the other end for BVB.

It was Manuel Friedrich who tapped it in and who got the nod ahead of Marian Sarr. It's a nice little story for Friedrich to score a Bundesliga goal, when he was on his way to play football in Thailand before Klopp re-installed him out of his almost-retirement.

His goal set the tone. And Borussia Dortmund found themselves again, as they played some very sexy and flowing football -- something that has been missing for the past few months.

The fourth goals was evidence of visually pleasing football. A nice backheel from Marco Reus to set up Mkhitaryan for his brace. Just a brilliant flowing move, with a beautiful finish. It's worth looking for highlights of the game just for that goal. A few more chances went astray as Dortmund rediscovered the confidence to press higher up the pitch.

In the final minutes Lewandowski also scored a brace, as he rounded the keeper and cheekily nutmegged the defender on the line. Cool, finish. Cool game for Dortmund.

Just one minor blip; three minutes before the end Werder Bremen scored a goal, which means BVB couldn't manage a clean sheet for the 11th game in a row. But one can look past this, as it was a goal with the game already over and didn't really mean much.

With momentum to Frankfurt

First back to back wins for Dortmund since match day 11 -- which speaks volumes about its importance -- and now the crucial weeks start for BVB. The cup game on Tuesday in Frankfurt will be a tough test, but the cup is the only competition left where a trophy is realistic, so BVB will field their best eleven.

How much the Bremen win is worth can only be measured if the next games are successful as well. Hopefully this was the beginning of a very much needed winning streak in the fight for direct Champions League qualification.