Must-win game for BVB against Werder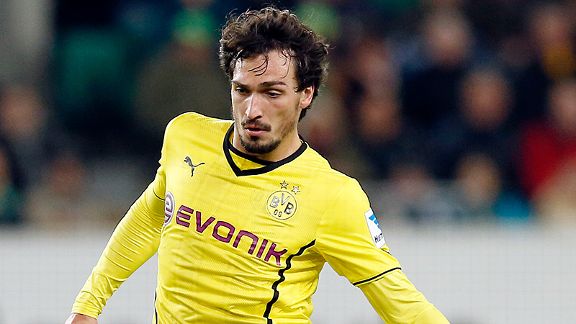 AP Photo/Michael SohnBorussia Dortmund will have to face Werder Bremen without the services of injured defender Mats Hummels.
Borussia Dortmund travel to the Weser-Stadion to play Werder Bremen on Saturday afternoon in a Bundesliga game that has leaves little room for excuses should they not come home with three points in the bag. There are numerous reasons why Borussia Dortmund simply cannot afford to lose.

- Honigstein: Injury-hit Dortmund desire return to past glories
- Report: Hummels suffers new ankle injury

1. Weak Werder

Robin Dutt's side have only won one game out of their last eight, although it was an honorable 1-0 win against Bayer Leverkusen. Overall though, they simply have failed to impress.

The struggle of Werder Bremen seems to be the balance between offense and defense, which makes them also hard to predict. Their games are either goal fests -- with them usually on the conceding end -- or complete snooze-fests without much action, like the recent scoreless draw with Eintracht Braunschweig. Bremen have the lowest amount of possession on average (42.2%) and the second worst goal difference with minus-17, which has them in a real crisis. It is the worst Werder side in years and they don't seem to be improving. They are in twelfth position, but make no mistake; they are only three points away from a relegation spot, leaving them in a dogfight to avoid the drop.

Juergen Klopp predicted it to be a "Kampfspiel" -- a game that is overly physical and gritty after Werder Bremen were rather bodiless and outplayed by a potent Augsburg side which resulted in a harsh ticking-off by the manager.

More worries come for Dutt as Santiago Garcia is out for the game; the hot-tempered left back would have been just the right player for a gritty Bremen side, but due to his suspension, he will be replaced by Lukas Schmitz, who will struggle against Pierre-Emerick Aubameyang's pace.

In other words, we will probably see the more boring Werder Bremen, but one can't possibly know for real.

"We want to create problems for Werder, which they cannot solve with just a fight," Klopp said. And Bremen should be scared, as Dortmund evolved into their bogey side during the last few seasons. Werder have only won one out of the last eleven games against Dortmund and have lost the last five games in a row, conceding eleven and scoring one. That should be enough reason as to why Borussia Dortmund should beat this opponent.

2. Confidence

Yes. It is still an issue. The win against Eintracht Braunschweig was the first step in the right direction, but self-belief isn't completely restored. Werder Bremen might just be the perfect opponent. This could well be the case for Marco Reus as the midfielder has been struggling for form, but one feels that a goal is all that is needed for him to get his swagger back. Luckily, Bremen are his favorite, with six career goals against them.

But sadly, there is more bad news for Borussia Dortmund. Mats Hummels, whose return was so desperately awaited, is injured again after being back against Braunschweig. He sprained his ankle against Fortuna Dusseldorf in a practice match held at BVB's training ground on Tuesday.

"Mats brings back assurance and stability to the team," was the overall analysis of his teammates last Friday evening after the 2-1 win over Braunschweig -- a statement that might now psychologically ricochet in the wrong direction, as Klopp once again deals with the injury headache that is his central defense.

Marian Sarr will probably get the nod ahead of Manuel Friedrich, as Werder Bremen won't test the Dortmund defense too much, with Werder too busy in their search for stability at the other end. A clean build-up in play is most important and the youngster deserves another chance to make up for his mistake that lead to the second goal that Dortmund conceded in the last game of the Hinrunde against Hertha Berlin.

It will also be interesting to see if Klopp already has enough confidence in Milos Jojic, Dortmund's latest addition. So far, Klopp has been very impressed with him. "He looked already assured during the 45 minutes he played against Dusseldorf, although he only had one training session beforehand. He hardly lost possession or misplaced a pass. I'm delighted that we could already see some of his qualities he has shown in Belgrade."

Certainly something to look forward to.

3. Gaining points

With Gladbach playing against Leverkusen, there will definitely be at least one of Dortmund's two direct opponents who will drop points. Dortmund simply have to take advantage of that.

Furthermore, Schalke will play against an in-form Hannover side, as well as Wolfsburg going head to head against Mainz. Every rival contender for the Champions League spots could drop points, so this match day just might be designed for Dortmund. But first, they have to do their job and beat Bremen.