BvB's search for lost serenity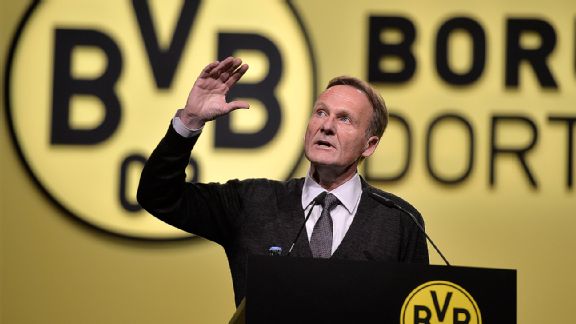 AP Photo/Martin MeissnerBvB CEO Hans-Joachim Watzke's recent comments about Bayern were ill-advised and made the club look unduly lacking in class.
Borussia Dortmund have won the highly esteemed Sport Business award 2014 for their marketing campaign "From Dortmund with love.", which they initiated around the Champions League Final, but at the rate they are going, they won't win it in 2015.

"Bayern want to destroy us!"
One sentence, recently uttered by Borussia Dortmund's CEO Hans-Joachim Watzke, that caused quite the stir. It inherits his frustration of Bayern's purchases of BvB players and the negative consequences that come with it for the Westphalians.

Recent weeks haven't been easy for Dortmund. Results haven't really gone the injury plagued side's way, but letting your frustration out on Bayern isn't the right way to vent. Even though a great deal of Dortmund supporters will agree with Watzke and say "That's how Bayern has successfully been dealing for decades." But is it just so easy to blame everything on Bayern and their malicious intent?

Do Bayern Munich want to "destroy" Borussia Dortmund? Maybe. Is there any hard evidence to it? No.

Of course it is very convenient for Bayern to cherry-pick the talents of their opponents before they can pose a real threat in the long-term.
Building a successful and highly competitive squad takes time, usually more than you get -- BVB is just finding out the hard way -- but first of all Munich just want to strengthen themselves. Weakening their putative rival is just a nice secondary effect for them.

There are two sides to be regarded. On the one hand, the closer a team gets to tighten the gap to FC Bayern, the more likelier the Southerners will miss out on titles or Champions League money -- the further another Bundesliga team goes, the smaller the cut -- and making the maximum amount of revenue is just as much in Bayern's interest as it is for any other football club.

On the other hand, a weak or one-sided Bundesliga means lower interest, which then again means lower revenue in the long term. But at the moment the league is booming and with new much improved overseas TV deals starting in 2015, it should become more competitive by international comparison.

And one must not forget that the players Borussia Dortmund cannot hold onto go abroad if not to Bayern -- with the exception of Mario Götze.

So the bottom line is while it's very much okay to dislike Bayern Munich's behavior and strategies, the dislike will never be a rational one.

Time to change it!

At this point, rational behaviour is what we should expect from club officials. Borussia Dortmund has been very successful in recent times on -- but also very much off -- the pitch by creating a great image around the club. It is, of course, easier to stay relaxed during times of great success, while Bayern's officials come along in a grumpy mood.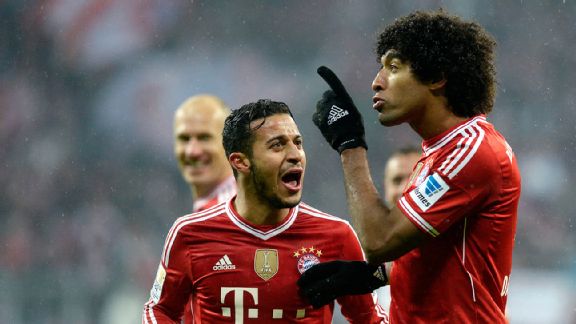 Christof Stache/AFP/Getty ImagesThe key to Dortmund's continued success is to stop focusing on Bayern and instead concentrate on their own performances.

With the new recognition gained worldwide comes greater attention, which has to be nurtured with care. Dortmund's CEO did say that whatever Bayern Munich is doing is very much legitimate, but that "side note" has been lost in translation. Nobody really knows what Watzke really said in the interview with Die Welt, but the headline stands. It is sending out all the wrong signals from BVB and makes the club more susceptible for critics.

Besides it opens up little skirmishes between club officials that aren't helping anybody. By pointing the finger, Watzke comes across petulant and teary, when he should come across calm and in a good spirit. The message should be "now more than ever!"

In the recent years, Borussia Dortmund's officials have handled the issue of the growing rivalry between them and the Bavarians very well. They hardly spoke about them and only lauded the club by the Isar for their great work with every chance they got.

So it's time again to let Bayern Munich be Bayern Munich and focus on self-promotion instead. Borussia Dortmund is still an awesome club with a lot of great attributes -- with or without the likes of Götze and Robert Lewandowski. Their struggle to establish themselves as a Bundesliga powerhouse is still on course and exciting to follow.

It is of course a tough task to stay competitive and qualify for the Champions League while being deprived of key players every season. But the core of the team will also stand in 2015 and it will be exciting to see how Borussia Dortmund will cope -- so exciting that Jurgen Klopp has already extended his contract until 2018.