Aubameyang's brace saves Dortmund three points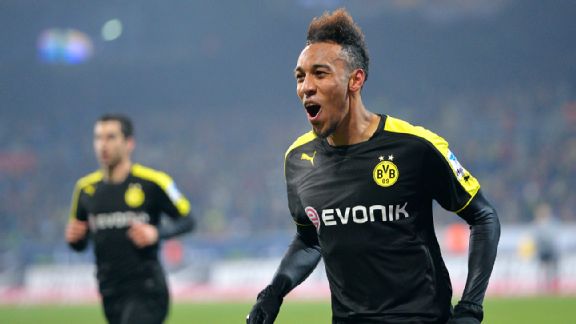 Stuart Franklin/Bongarts/Getty ImagesPierre-Emerick Aubameyang helped Dortmund snap a three match winless streak.
Borussia Dortmund grinded out a sweaty 2-1 win in Braunschweig on Friday night. Pierre-Emerick Aubameyang's brace saved the day for Juergen Klopp's side who needed a lot of luck as Braunschweig had enough of chances to get a point at least. In the end, it was more relief to get the three points than anything else.

- Report: Braunschweig 1-2 Dortmund

Confidence restored?

This game was all about regaining confidence for a team that had only won one out of their last seven games before the match. But did it work out?

Glass half-full: The first thirty minutes were dominated by the team in yellow, unfortunately, this particular time the team in yellow was Braunschweig, who were aggressive, agile and thinking quicker. The first chances came from great Gegenpressing -- in Dortmund style -- but luckily Braunschweig did not have enough individual quality to make anything of it. Up until the 31st minute, the game was extremely edgy at best -- a lot of passing going astray, not much precision and not many tools to play around Braunschweig's pressing.

But then, finally, a goal! And it was not just any goal, but a goal from open play, with a beautiful flowing combination that Aubameyang just had to put his head to.

From then on, it went better for Dortmund: they controlled most of the game without creating too much, but it looked much more calm and stable on the pitch. Mats Hummels' return played probably a part in this, as his passes to open up the play almost always found a teammate.

Just a little more edge

The second half was very nerve-wracking to say the least.

This is not what I meant by 'Hexenkessel' in my preview, when Benjamin Kessel scored his first Bundesliga goal from a poor corner attempt that somehow missed everyone -- except for Kessel, who stuck his foot in. 1-1 -- here we go again, was the dominant thought. It just seems impossible for Dortmund to hold onto a lead nowadays, God forbid extending a lead that could make life a bit easier.

But the equalizer shook Dortmund only for so long, as Aubameyang scored the winner just ten minutes later with a clean strike with his left foot in the low bottom corner, leaving the goalkeeper for dead.

It was a nice goal that again restored some of Dortmund's earlier gained momentum. Momentum is a nice thing, isn't it. You always think it will be in your way forever, when you have it. And just after two goals out of barely three chances, one could almost think this was one of the rare days where die Schwarzgelben would take their chances -- almost.

And this is why confidence is maybe only partly restored. Marco Reus and Henrikh Mkhitaryan were the main culprits in another chance-wasting festival. They both looked already a lot better than in previous matches, but just that little edge and self-believe that makes the difference was missing. One could see how both got more and more frustrated with every scuffed opportunity. Mkhitaryan, who was nicknamed Magictaryan after his great performance in the Revierderby could be dubbed as Mis-hit-taryan. When the Armenian popped up in front of the keeper, he just struck the outside of the post in a situation he usually would score from blindfolded and with headphones on.

Klopp took both Reus and Mkhitaryan into his arms to help out with a few warm words, but both are really desperate to score and the longer it takes, the bigger the problem for Dortmund.

And just like that momentum swung the other way again. Braunschweig left alive, with nothing to lose and suddenly forcing their way into Dortmund's penalty area again. In stoppage time they were just inches away from equalizing as Ermin Bicakcic's header just bounced off from the inside of the post into Roman Weidenfeller's arms.

A win is a win

This is what you call "winning ugly", I suppose. But heart muscles may act sporadic in those final scenes. There are a few positives to take away from that game. Aubameyang is one of those. He now sits tied with Robert Lewandowski at the top of the scoring table -- at least overnight -- but with far less playing time than the Pole. It is good to see that Dortmund still has one reliable source to get goals from. Especially good news, as Aubameyang will be a regular part in this team now after Blaszczykowski's season ending injury. Dortmund had to battle hard for those three points, but maybe it was good enough to pull the wagon out of the dirt and slowly get it rolling again.

I will now lean back and enjoy the rest of the Bundesliga, without any stress as Borussia Dortmund did their job and got the much needed win.