Jojic signing rings true with BvB's philosophy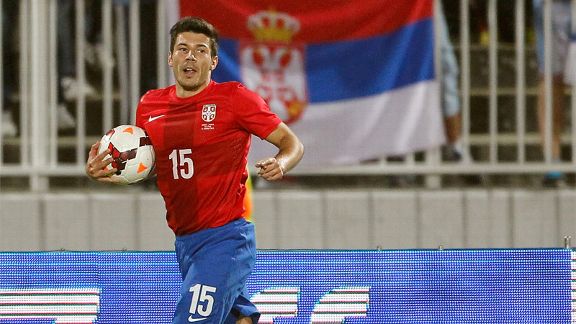 Srdjan Stevanovic/Getty ImagesMilos Jojic could be BvB's next star thanks to Jurgen Klopp.
Jurgen Klopp was talking about Borussia Dortmund's latest addition when he was saying "I know what we are doing and accordingly my mood is good." He was speaking of Milos Jojic, the 21-year-old talent from FK Partizan is the latest signing and a promising at that. He went over to the Westphalians for a fee slightly over two million euros and subscribed to a four-and-a-half-year stint at the Signal Iduna Park.

The Serbian midfielder, who already played for the senior national team and even scored a goal in his first appearance against Japan, is one of the rough gems that Klopp could cut into a diamond as he did with several others.

Jojic was recently voted player of the year in the Serbian SuperLiga. In 15 appearances this season he scored six goals and provided seven assists. He played already a key part in the Partizan midfield and has been on the list of several soccer clubs including Bayer Leverkusen, VfB Stuttgart and Inter Milan, but his agent is former Borussia Dortmund player Miroslav Stevic, who might have played a role at steering his client to the Ruhr-based side.

A bit of an awkward side-note: Milos Jojic has sympathies for FC Bayern Munich and his role model is Toni Kroos, which is probably why he also wore the number 39 at Partizan on his back. A cynical mind could suggest that he sees Dortmund as his stepping stone to the Bavarians, but for that to happen he must be successful at BvB first.

Jakub Blaszczykowski's replacement?
Yes and no. Milos Jojic was on Klopp's wishlist -- it's possible that a transfer was already planned for the end of the season -- but with the news of Jakub Blaszczykowski being out for the rest of the current campaign at least, Dortmund had no choice to react at short notice. Even if it is just for the sake of depth and having a few more options.

Not only will Blaszczykowski's injury have played a role in this seemingly spontaneous move, but also that of Ilkay Gundogan, whose return is still somewhat questionable due to the bronchitis he picked up during the winter break that has set him back quite severely on the road to fitness.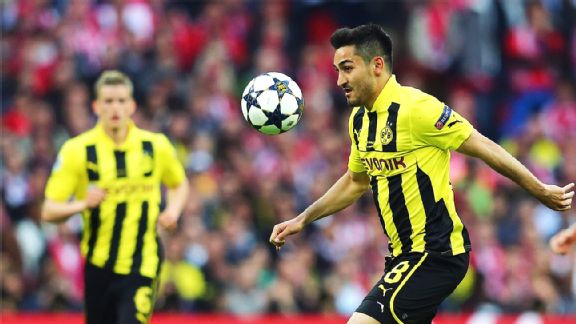 Alex Grimm/Getty ImagesGundogan's chances of a return this season are increasingly uncertain.

Apart from that Gundogan has been suffering from spondylosis, a disease that throws up a lot of question marks and can be chronic. With the acquisition of Milos Jojic, Dortmund now have further insurance in case of more setbacks for Gundogan.

Gundogan's deputy?
Toni Kroos is not Jojic's role model by coincidence. He is at home at the so called "number 8," serving as the offensive part of the double pivot. Like Kroos, he can also play upfront as the number 10 behind the striker.

Jojic is a deal for the future -- as BvB CEO Hans-Joachim Watzke underlined again, he is unsure if he will be able to keep Gündogan by extending his contract. Otherwise Gundogan will be sold this summer.

Just like Gündogan, Jojic's main attributes are the short passes that speed up play and his great pressing resistance; the Serb has quick feet on the ball and can turn on the spot with ease. Combined with a good vision he has the skill set to become a great player and with his eye for goal he might even be a complete package -- but let's not get ahead of ourselves.

That said, his description fits exactly the kind of player Borussia Dortmund need. With the long absence of Gundogan, the side has been missing a man capable of linking defense with offense. Dortmund have looked awfully incoherent recently, failing to create much from open play.

Of course it remains to be seen of how much help Jojic can be an immediate impact; he will probably need time to adapt to the league and Dortmund's playing style. But he can be good enough for a late substitution and a few sparks from week to week. Having quality on the bench is becoming more and more important while the club are fighting in three competitions.

So in the short term the transfer makes a lot of sense. But also in the long term, the transfer speaks for Borussia Dortmund staying true to their philosophy of buying young talents and molding them into great players. There is no guarantee that it will work again, but "Jojic Who?" was a popular reaction from many Dortmund fans after the transfer came to surface, similar to former "Kagawa who?" and "Lewandowski who?" statements in the past.

Milos Jojic is an exciting talent and it will be interesting to see if Borussia Dortmund can continue such intelligent decision-making on the transfer market.

Welcome to Dortmund, Milos! Have a great and successful time!