Memo to Sterling: Sign the contract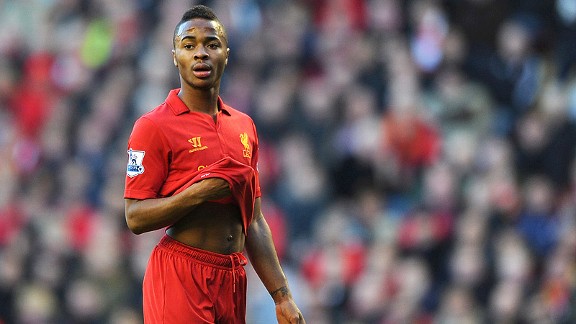 Chris Brunskill/Getty ImagesAt 18, Raheem Sterling should be concerned with his development as a footballer, not a bigger payday.
When Ryan Giggs broke into the Manchester United side, Sir Alex Ferguson directed him to Harry Swales, one of football's first super-agents. At 65 and in semi-retirement, Swales took the youngster under his wing and protected him from the vultures and hangers-on. Swales guarded his client so well that 21 years later, he's still playing for United, albeit at a rather more pedestrian pace. Raheem Sterling should give Swales a call. Even at 86, he would still be able to deliver the three words of advice that the youngster most needs to hear: "Sign. The. Contract."

You can understand why Sterling's representatives are playing hardball with Liverpool. They're agents, their primary concern is opening an artery and sucking the blood straight out of ... I do beg your pardon ... their primary concern is securing the best deal for their client. But the best deal isn't necessarily the most lucrative deal.

At just 18 years of age, what Sterling needs is stability and trust, playing time and protection. Yes, it's frustrating to see Stewart Downing shanking crosses into the Mersey and then picking up a reported 80,000 pounds at the end of the week, but it's not as frustrating as kicking your heels in the stands at Stamford Bridge or shivering inside a gigantic coat on the Manchester City bench. Sterling really couldn't be at a better club.

In 2009, Rafa Benitez overhauled Liverpool's youth system and brought Frank McParland back to head the academy. Under McParland, the youngsters are carefully cultivated, not just as footballers, but as men. They don't scrub boots anymore, but they are sent out into the community to old people's homes and hospitals. They're drilled in the history of Liverpool and constantly reminded what it is to represent the club. When they make the jump to Melwood, as Sterling now has, the care continues. After so much upheaval, Liverpool are settling down again and Sterling is surrounded by people who care about him and want him to develop on all fronts. In 1991, United were far from the global goliath they are today. They hadn't even won the league since 1967. But Swales knew that they were the right club for Giggs.

Sterling is a glorious footballer, the kind of player whose footwork has even neutral bottoms shuffling to the edge of their seat in anticipation. He terrifies defenders when he runs at them, he never hides from confrontation, he isn't easily bullied and he wants the ball, even when the team is losing. In recent weeks, he has shown a growing awareness of the movement of his teammates and an increasing ability to find them with clever, short passes. He is the most promising player at a club that has had to adjust its expectations since its snout was hauled of the Champions League cash trough in 2009.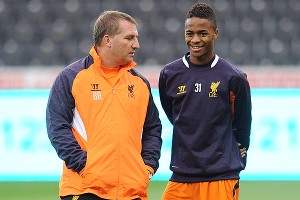 Andrew Powell/Getty ImagesIn Brendan Rodgers, Sterling has a manager who can sharpen his talents without burning out.
But Sterling isn't yet so good that he should be holding Liverpool to ransom.

A move elsewhere might bring in more money. Manchester City certainly has been casting envious glances in his direction. But if Sterling has any sense, he'll cast a glance at Scott Sinclair. The 23-year-old can usually be found sitting on the bench looking glum.

Talented young English footballers have a tendency to take one of two dark paths. There is the ill-lit Michael Owen Avenue, where too many games and not enough rest leads to diminished pace and effectiveness. Sterling, as I wrote here in September, is particularly vulnerable to this. But there is also Gascoigne Lane, where an early exposure to wealth and fame blows your mind to smithereens. Putting an 18-year-old boy on a multimillion pound contract is dangerous. There will be plenty of time to earn that money later. His priority now is making sure that he builds on his talents, that he continues to learn his game. Football is littered with English players who learn a trick or two and then sit back, content to glide through without extending themselves. It would be an enormous shame for Sterling if this is to be his fate.

If Swales was representing Sterling, he would have secured him a sensible contract, with incremental raises to bring him in line with his teammates in the the coming seasons. His primary concern during those negotiations would have been ensuring that his client was happy, that he was looked after and that he was at a club where he could make the most of his undoubted potential. Sterling should ask his representatives what their primary concern is.

Iain Macintosh is the UK Football Correspondent for The New Paper in Singapore and the co-author of "Football Manager Stole My Life" from @backpagepress. You can follow him on Twitter at @iainmacintosh.