Moyes' misery continues, Sherwood impressing, Wenger's fall
It's not funny anymore, is it? Look at David Moyes. Look at that face. Look behind those sad blue eyes at the rivers of eternal pain that flow in his soul. Seriously. Who laughs at that?

I'm looking at you, Liverpool fans.

This has long rumbled past the point of being funny. What we're watching now is one man flounder. His life's work, his ambitions, his hopes and his dreams, they've all been set ablaze in front of the watching world while Mick Hucknall warbles a sympathetic dirge from the directors' box. It's horrible, and if you laughed when Fulham equalised in the 95th minute, you're a bad, bad person.

Yeah, we're all bad, bad people.

But how do you solve a problem like Moyes? The sack would be the easiest answer, but it's also the most expensive. With over five years of his contract remaining, it would cost approximately 25 million pounds to pay the man off. It would also set a precedent that would haunt his successors. Sacking a manager before the end of his first season? That's the sort of thing Chelsea do.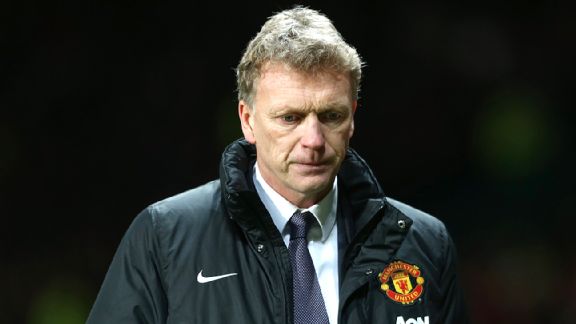 John Peters/Getty ImagesManchester United continue to struggle under David Moyes and the Red Devils morale continues to decline.
But can you really justify keeping him? The football is terrible. It's just a succession of crosses fired in like an artillery bombardment. On Sunday, United came very close to releasing a cross every minute of the game, much to the delight of the Fulham defenders who cheerfully headed the vast majority of them away. Yet there's no target man. Manchester United would actually be 10 times as effective a footballing force if they had Andy Carroll in the team, and that's the most unlikely sentence I've ever typed.

Every time you think Moyes has hit rock-bottom, the floor gives way and he plunges down another level. There are collapses in form. Late goals. Injuries. Napoleon once said that he didn't want good generals, he wanted lucky ones. He'd have had Moyes shot on the first morning just to be on the safe side.

The situation is almost irredeemable. Barring an unlikely Champions League win, and I think we all know that Olympiakos are going to go through on away goals after a cataclysmic last-minute error from Chris Smalling, United are playing for Europa League football.

And as amusing as this is to non-United supporters, there's one man out there who's going through his own personal hell.

***

"Come to the ball! Come to the f---ing ball!" bellowed Tim Sherwood like an unnecessarily aggressive fairy godmother. And, after almost an entire half of standing around watching Everton play, Tottenham finally decided to come to the ball. And then they won the game. Things sure have changed around here since Andre Villas-Boas left.

Watching Sherwood manage Spurs was supposed to be like watching someone drop a packet of Mentos in a bottle of coke. There should have been a moment of eerie silence, a loud bang and then a prolonged search of the neighbourhood for missing fingers. After all, he has no experience, he has made no secret of his disregard for tactical analysis, and he has a temper like a grizzly bear who's been on hold with a foreign call centre for over an hour and has just been cut off.

But since Sherwood usurped Villas-Boas, there has been no explosion. Tottenham's win over Everton on Sunday was his sixth victory in nine games. He's picked up 20 points from a possible 27. Sure, his team were annihilated by Manchester City, but for most of the season, everyone was annihilated by Manchester City. Tottenham were seventh when Villas-Boas was dismissed. Now they're fifth, and they're just three points away from a Champions League spot.

"I want to play with risk," he said afterward, perhaps unwittingly explaining some of his lineups. But it's working. The points keep rolling in.

No one knows how he's doing this. Maybe even Sherwood doesn't know how he's doing it. But doing it he is.

***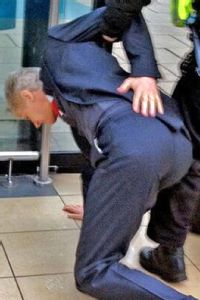 Daily MirrorA photo of Arsene Wenger falling at Liverpool's Lime Street Station.
Kicking a man when he's down is bad enough, but taking photographs of him seems particularly unfair.

Poor Arsene Wenger, humiliated enough by his Arsenal side's pitiful efforts at Anfield, capped off his day by stacking it on a wet floor at Liverpool Lime Street Station. This should hardly need saying, but the correct procedure when a 64-year-old man slips on a wet floor is to make sure he's OK and then help him up. It is not to take photos of him and post them on the Internet.

That fall must have hurt, too. Wenger is almost 2 metres tall (just above 6 feet). Any kind of fall from that sort of altitude is going to sting.