Chelsea's hiring of Benitez may be a shrewd move
On the face of it, putting Rafa Benitez in charge of Chelsea is the worst idea in football since those two burglars broke into Duncan Ferguson's house without first making sure that he'd wasn't home. In true Benitez style, let's talk about facts.

FACT: Chelsea supporters HATE Benitez. He repeatedly criticised their club and its ideology when he was in charge of Liverpool. He called Didier Drogba a diver and he twice prevented them from reaching the Champions League final despite finishing 37 points (2005) and 15 points (2007) behind them in the league. Almost as if he was doing it on purpose just to spite them.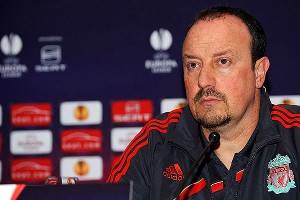 Andrew Powell/Getty ImagesFact: During his time at Liverpool, Rafa repeatedly criticised Chelsea and once called Didier Drogba a diver.
FACT: He is an arch-tactician. He can't walk past a table in a restaurant without rearranging the cutlery into a more effective position. Chelsea players don't like to be micro-managed. Remember what happened when Phil Scolari tried to mess with their marking? Carnage. Remember Andre Villas-Boas? Carnage

FACT: He is intoxicated not so much by power but by the pursuit of autonomy. Benitez wants the freedom to determine his own future. He wants to coach, he wants to select, he wants to buy and he wants to sculpt the future to his own intricate preferences. Roman Abramovich, on the other hand, runs Chelsea as if it's his own game of Football Manager. He's even employed his own personal scout. What could possibly go wrong, eh?

But for all of those booming portents of doom, there's a small part of me that thinks this might actually work out nicely for both parties. And if it does, it will be precisely for the reasons listed above.

Roberto Di Matteo was out of his depth. He struggled to co-ordinate the exciting half of his team with the boring half. Yes, Chelsea were wonderful when they broke forward, but at the back they were a mess. Primarily, this was because, as had happened on his watch at West Bromwich Albion, the two 'defensive' midfielders afforded only occasional protection to the back four. John Obi Mikel had a nasty habit of trotting forward and Ramires wasn't always able to cover for him because he liked to scamper up as well. Di Matteo believed in a degree of positional freedom. Benitez will not tolerate that kind of new-age hippy nonsense. Benitez doesn't care if a team is exciting or dull, he only cares that it wins. Chelsea supporters may despise him and everything he stands for now, but if he can stop them shipping silly goals and find a way to reignite the pilot light in Fernando Torres' soul, they'll soon come around.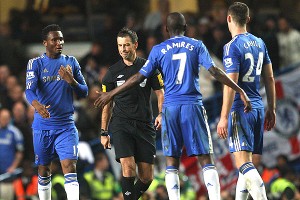 John Peters/Getty ImagesWhile Chelsea looks good going forward, they are a mess at the back. Benitez might be the man to fix that.
Chelsea need to be tinkered with. Di Matteo's success in Munich does not necessarily vindicate his abilities as a manager. That win was the less the natural conclusion of tactical genius and more the result of a phenomenal and wholly unexpected human effort, like a mother lifting an overturned car to save her children. It's exceptional, we salute her strength, but in a repeat scenario, she's not necessarily the one we'd choose to do the heavy lifting. Benitez can make Chelsea a better team. He won the Champions League with Djimi Traore, Igor Biscan and Milan Baros. After that, frankly I don't think there's much he can't do.

When Benitez left Liverpool, he was shattered. He'd fought a bitter civil war with the club's ruinous owners and it had taken its toll. He should have taken an extended break then, not jumped into the impossible position of trying to replace Jose Mourinho at Internazionale. But he's done nothing more strenuous in the last two years than a bit of blogging. He's fresh and he's ready to restart his career. He doesn't need to fight the owner here because he knows that there's no point. This is a short-term gig, so he's unlikely to start faxing Abramovich blueprints for a new youth academy. There's no reason for a power struggle.

Obviously, there are three rather major caveats to all of this. Firstly, he must pray that the fans don't raise merry hell on Sunday and jeer him throughout the game. He'll be fatally compromised from the start if that happens. Secondly, he needs to win the players over to his way of thinking, and that won't be easy. New ideas aren't always welcome at this club. Thirdly, he needs Abramovich to support him in the transfer window. "I asked for a sofa and they bought me a lamp," complained Benitez towards the end of his time at Valencia. There is no need for more lamps at Stamford Bridge. Another defensive midfielder would be nice though.

Chelsea are only four points off the top of the Premier League and neither Manchester United nor Manchester City look like runaway leaders. It may be beyond Benitez, and indeed anyone, to rescue their Champions League campaign, but it doesn't take the most vivid imagination to see him challenging for the title. It's only four points. If everyone at Chelsea is prepared to pull in the same direction, this could be a very shrewd move. But that's a very, very big if.

Iain Macintosh is the UK Football Correspondent for The New Paper in Singapore and the co-author of "Football Manager Stole My Life" from @backpagepress. You can follow him on Twitter on @iainmacintosh