MLS Miami will need results, not Becks' star power, to succeed
It is a curious anomaly that, despite being rich, good-looking and talented, David Beckham is still extremely popular in the UK.

We're a snide and dark-hearted lot over here, probably because of all the rain. Usually, we have no hesitation in hauling our heroes off their pedestals and beating them senseless with their own egos. But as Beckham sat in the Miami sunshine, looking so immaculate that MLS commissioner Don Garber must have hated every minute of sitting next to him, it was hard to feel any ill will toward him.

Beckham's almost supernatural likability is the reason that this venture -- Beckham officially exercising his option to purchase an MLS expansion side in Miami on Wednesday -- has every chance of getting off the ground.

People want to be associated with him, they want to be seen with him, they want to know how to line up their pocket square like him. His team will not want for sponsors, and any concerns over planning permission are likely to be assuaged when he drifts into the town hall like a summer's breeze and starts shaking hands.

"What's that? We'll have to knock down an old folks' home to build your stadium? That's fine! Hey, for you we'll knock down two! Now can we just get a photo together?"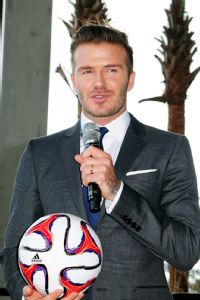 Vallery Jean/FilmMagic/Getty ImagesMLS in Miami won't be able to rely on David Beckham's charm forever, the team's success will determine its future.
It's all very exciting, even if so many questions remain unanswered. What will the stadium be called? Will there be two of them, one for the senior side, one for the youth team? The Golden Bowls, perhaps? What will the team be called? Miami Spice seems to be the favourite choice of Internet wags and the world would certainly be a more wonderful place if that came to pass. As an experiment, let's agree here and now to simply assume that's what they will be called and see if it sticks, eh?

Miami is not known for its love of sport, as both the NFL and NBA franchises there have encountered problems, but marketed well, the Spice could attract a modest, but dedicated following. Between the Miami metro area and nearby Fort Lauderdale, there are more than 550,000 residents and that's not including the surrounding counties of Greater Miami. Doubters have also pointed to the failure of the Miami Fusion (1998 to 2001) as a portent of doom, but soccer is far more popular in the U.S. now than it was in those days. Plus, the Fusion played in Fort Lauderdale, and this time location shouldn't be an issue.

- Report: Beckham reveals Miami franchise
- Vote: Can Beckham help MLS?

Have no doubt, Miami Spice will be backed, sponsored and, if Wednesday's news conference is anything to go by, comprehensively covered by the international media as they come to fruition. For everything up to the opening day celebrations, Beckham is the perfect figurehead.

The problems will come later, long after the ribbons have been cut and the ticker tape has been swept away. For obvious reasons, Beckham isn't going to actually play for Miami Spice and, unless he makes a dramatic career change, he isn't going to coach the team, either. So what's the lure when the initial buzz has died down? If a Beckham looks awesome in the boardroom, but no one is around to see him, does he really look awesome?

Somewhere at the end of all of this, Miami Spice will be just another football team and their success or failure in the city will largely depend on how they perform on and off the pitch. Miami Fusion's demise was attributed, in part, to a lack of identification with local residents. The club would be well advised to keep ticket prices extremely low and build loyalty before building revenue.

While Beckham is reasonably well connected in the game, that is hardly a unique selling point. There are plenty of agents who boast just as impressive contact books. Perhaps his presence will carry a little weight with former teammates, but given that no date has been set for this team's entry into MLS (reports suggest 2016 or 2017), most of them will probably be former footballers by the time the Spice play their first game. Ultimately, of course, footballers will play for whoever offers them the most money. Even Beckham's stardust won't change that.

When the foundations have been laid down for this club and the sponsors are in place, the most important decisions will be the identity of the sporting director, the coach and the level of funding for scouting and coaching. Again, Beckham is no more an expert than any other former player, particularly on local matters. But these are the nuts and bolts of every self-sustaining football club. On that first day, representatives from every media outlet in the world will want to be there to applaud Beckham for saying "passion" a lot and to ask him where he bought his suit. After that, Miami Spice are on their own.

In the UK, where our love remains strong, we'll keep an eye out for their results. We may even stay up and watch them play once or twice. But it's in Miami itself, on the training ground and in the streets, where the battle to establish this club will be won or lost. And Beckham, good-looking and charming as he is, can only achieve so much.