Liverpool revival owes much to Daniel Sturridge's maturation
There was a moment, shortly before half-time in Liverpool's clash with West Bromwich Albion on Sunday, where the difference in Daniel Sturridge was captured in a single passage of play.

The 24-year-old forward cut in from the left flank, clattered towards the goal and then slipped the ball low across the six-yard box, where Luis Suarez lurked silently like a shark near a popular beach resort. A year ago, that ball would have left a dent in the advertising hoardings along the upper tier. But on Sunday, Sturridge chose to share it. On this occasion, the Baggies survived. But it was a close-run thing.

Even in an underwhelming team performance, the partnership between Sturridge and Suarez still brought a goal, a fortunate outcome given the present that Kolo Toure gift-wrapped and laid at Victor Anichebe's feet in the second half. Liverpool might not have a defence fit to sustain a title challenge, but they're certainly not lacking anything up front. While much of this is down to Suarez, whose performances in spite of his failure to secure an exit from the club have been inspirational, it is the transformation in Sturridge that really raises the eyebrows.

If that first-half moment sums up Sturridge at Liverpool, no performance sums up Sturridge at Chelsea quite like the display he gave in an extraordinary League Cup clash with Manchester United in October 2012. Granted the central role he maintained would allow him to maximise his positives, he gave a display that highlighted only his negatives.

- Jolly: Costly carelessness
- Usher: Reds fail to take advantage
- Kelly: Tensions exaggerate deadline day failures
- Report: Toure howler hurts LFC
- Highlights: WBA 1-1 Liverpool (U.S. only)

Time after time he would zero in on goal, ignore the increasingly desperate howls of his teammates and unleash shots that whistled harmlessly over the bar. One attempt at a Cruyff turn ended with Sturridge and the ball running in opposite directions, and there was an awkward moment when an attempt to take down a glorious pass from Victor Moses ended with the young striker skidding along the turf on his face.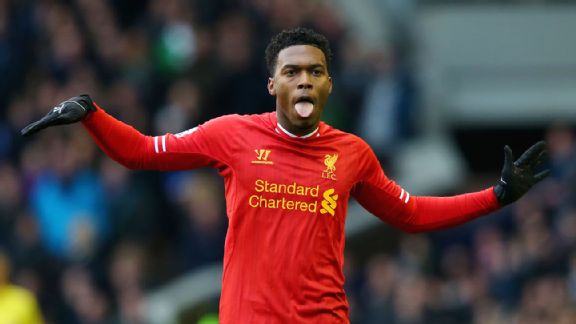 Alex Livesey/Getty ImagesSturridge's form and growth has been a real asset for Liverpool.

Sturridge scored eventually, in the first half of extra-time, but he would never score for Chelsea again. He started just one more game before the Blues cut their losses and allowed him to join Liverpool.

Most observers, this one very much included, considered it a trip to a last-chance saloon, albeit a well-established one with a nice trophy cabinet. Sturridge's talent had never been in doubt. A child could have told you he was a talented footballer. It was always his attitude and his ability to play as part of a team that was the problem. Under Brendan Rodgers -- some sources had suggested he was highly dubious of Sturridge's suitability -- Sturridge has matured beyond recognition. There are still the occasional moments of selfishness, but now they only serve to remind you much he has changed.

Suarez has played just as significant role in this as Rodgers. You can see how he encourages his younger partner, how he keeps making runs, how he is continually scanning the horizon for him. Frustrations tell from time to time, as they did against Everton last Monday, but that's only because expectations are so high.

Between them, the two men have scored 55 goals since Sturridge's arrival just over a year ago. While some of the best partnerships are formed between men whose differing attributes complement each other, like the powerful Alan Shearer and the sublime Teddy Sheringham, this version of the SAS are quite similar.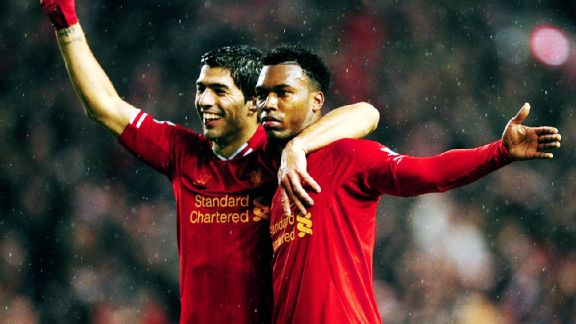 Laurence Griffiths/Getty ImagesWhat makes Suarez and Sturridge so interesting in tandem is that they're so similar as players. Yet it's working well for the Reds.

Sturridge is far quicker and Suarez far better on the ball, but they are two men you would expect to be better suited to serving alongside a bulky target man as opposed to another goal scorer. Both have an unquenchable desire for a goal, but both are prepared to sacrifice their own needs for their partner. It's really quite sweet.

Liverpool will not win the title this season. If they insist on making mistakes quite as horrific as Toure's clanger, they won't win it next season either. But no one should ever have expected anything different. You don't come back from four seasons outside the Champions League without significant investment these days. Until UEFA's Financial Fair Play initiative kicks in, if it ever kicks in, the only way back to the big time is through careful, patient rebuilding, through bringing in tainted players and helping them to fulfill their potential.

In Sturridge, Rodgers has the perfect case study. A few more like him, and it won't be long before Liverpool are challenging for major honours once again.