Light at the end of the tunnel for Sunderland?
Whisper it, keep it between yourselves, but something strange is happening in the North East of England. Against all odds and expectations, Sunderland, the club that so many people consigned to relegation back in October, are rising like a phoenix from the ashes.

With a narrow victory over Stoke City on Wednesday night, Gus Poyet's reinvigorated Black Cats clawed their way out of the relegation zone. They have momentum, they have a League Cup final against Manchester City in March and they go into this weekend's derby clash with Newcastle in uncharacteristically high spirits.

Not that they have required such advantages to beat their rivals in the recent past. Last October's victory at the Stadium of Light followed an almost heroically incompetent start to the season that had brought just a single point from eight games.

Six months earlier, Paolo Di Canio's side ended a nine-game winless run by pulling Newcastle's pants down and spanking them 3-0 in front of their own supporters. In fact, Alan Pardew's men haven't won this fixture in two and a half years.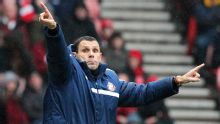 Lindsey Parnaby/AFP/Getty ImagesPoyet's side have lost just one of their last eight league games.
Poyet looked drained and disconsolate before Christmas as a run of six games without victory seemed to snuff out their brief recovery, but three league wins have followed since Boxing Day and Sunderland have lost only one of their past eight.

For the first time in two years, the players look committed and driven and they may yet complete a recovery that most would have thought impossible just a few months ago. Furthermore, if they can survive, perhaps they can finally begin to fulfill their potential.

- Randall: Home truths cannot disguise huge win
- Atkins: Sunderland's Scocco gamble

Sunderland are an odd football club. After being relegated from the Premier League with just 15 points in 2005-06, they have been consistently inconsistent since returning to the top flight under Roy Keane one season later.

Since then, only 11 points separate their best Premier League finish (47 points in 2011) from their worst (36 points in 2009). During this time, they have never won more than 12 games in a campaign and never lost fewer than nine.

Moreover, until this season, they had only once progressed further than the fourth round of a domestic competition. It hardly needs saying that you do not support Sunderland to bathe in reflected glory.

And yet so many people do support Sunderland: even in a season as miserable as this one, an average of 40,438 people turn up every league matchday in a region not necessarily known for its affluence. This is hardly surprising, though. Football matters there and battle lines are clearly marked in the North East.

Unlike their counterparts in Liverpool, Manchester or Birmingham, Newcastle and Sunderland are not forced to share a city. These clubs are separate entities, 13 miles apart. Passion breeds passion when there's no one else in town. Electrons ping off the side of the petri dish and react with one another, again and again.

This is the goldfish bowl that so many players have either embraced or bemoaned. But passion alone hasn't helped either club win anything since Sunderland's FA Cup triumph in 1973, or in Newcastle's case, since 1969.

The Magpies have had the better of it since those days -- the Kevin Keegan reign of the mid-1990s was a particular high point -- but Sunderland's high-water mark were consecutive seventh-place finishes under Peter Reid at the turn of the century. Could a cup final and a great escape galvanise the club?

Sunderland's response to Di Canio's recent media attack was certainly an encouraging sign. The Italian blasted the "cowards" in his squad, but the club fought back.

Emboldened like a former lover who has finally accepted that her friends were right about him all along, they responded with strength and dignity. No, their players were not cowards. Yes, they were proud of them and yes, by golly, they would be taking this to their lawyers.

Di Canio's appointment, and the astonishing decision to hand recruitment over to unheralded agent Roberto de Fanti, was a hideous mistake that could have, and still might, plunge Sunderland into the abyss. Fortunately, owner Ellis Short realised his error in time and, it should be noted, was man enough to accept responsibility.

Now the club must rebuild again, a process that was furthered on Thursday when Brighton's Liam Bridcutt was preparing to join his ex-boss. Poyet has done more than enough to win over the supporters and the fact the board has sanctioned the signing of one of his former players is an indication that he has won over them, as well.

A win on Saturday would, for a brief time at least, put them just four places behind Newcastle. While 2013 was an annus horribilis for Sunderland, 2014 looks like it will be a significant improvement.