Suggestions on how to improve modern football
Editor's note: Jerome Champagne launched his bid for the FIFA presidency this week, announcing, among other things, his support for a new "Orange Card." But why stop there? Iain Macintosh thinks outside the box.

Green cards
Let's not be so negative all the time. A yellow card is a warning. An orange card puts you in a sin bin. A red card is a dismissal. What about a card that rewards players instead of punishing them? What about incentivising sporting behaviour by granting players extra time on the pitch?

Kick a ball out of play to allow a wounded opponent to be treated? Green card! That's 10 seconds more of game time, and it's only for you.

Admit to the referee that the defender made no contact and it isn't a penalty? Green card! Another 10 seconds.

That's 20 seconds after the game for you to try to score and there's no one there to stop you. Unless someone else has been well behaved, in which case ... it's one on one! Or one on two, and so on and so forth. It adds a whole new dimension to the phrase "extra-time."

Tissue paper shirts
We're never going to get rid of shirt-pulling unless we're strong enough to impose effective and lasting measures. Also, you can't expect the referees to see everything, not at the speed the game is played at now.

What we need is indisputable evidence that a crime has been committed. And that's why we should make all football shirts out of tissue paper.

There are many benefits. At the first application of pressure, these things will fall apart in the hands of the guilty. No one will ever get away with a cheeky tug at a set piece again. They're cheaper to make, so fans won't have to spend so much to emulate their heroes.

The frequent removal of the shirts of powerfully built young men will bring new admirers to the game, while kit men around the world will be able to pack thousands in a hamper and still carry it off the bus with one hand.

Manager wild cards
It is pointless and silly to send a manager off during a game. It has no effect whatsoever. The shamed coach simply trots down the tunnel and reappears in the front row of the seats behind the bench or the director's box, quite at liberty to continue to pass instructions down to his subordinates.

In the future, if a manager makes so much trouble that the referee wants to send him off, the opposite should be applied and the misbehaving coach should be sent on. Imagine the joy of forcing Mark Hughes to haul off one of his strikers so that he can serve his penance on the pitch.

Imagine a furious Arsene Wenger forced to reprise his role as a mediocre right-back while Bacary Sagna watches in horror from the bench. And nothing, nothing in this world or the next, would be funnier than watching a raging Sam Allardyce back in the centre of defence.

Corporal punishment
There is no respect for match officials these days, and that's bad news, especially at the grass-roots level, where unpaid referees are routinely threatened and abused. The top of the game has a responsibility to set an example for those at the bottom.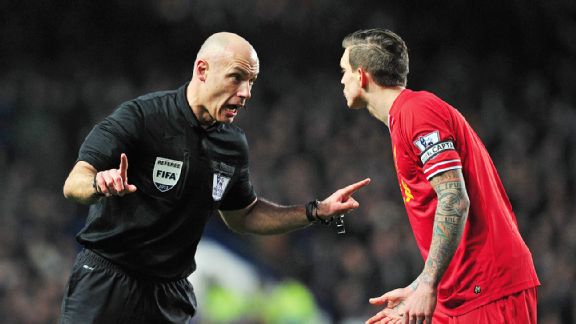 Glyn Kirk/AFP/Getty ImagesPlayers might think twice about harassing Howard Webb if he had a taser.

Well, if asking for respect hasn't worked, it must be taken by force. All match officials should be trained in unarmed physical combat or -- and this is the preferred option -- they should be issued with stun guns. Would Ashley Cole still be swearing at referees if he had once been punitively slapped across the face so hard that Howard Webb's fingerprints were still visible three days later? Would Wayne Rooney be so keen to argue every decision if he knew that Mike Dean could fire a taser directly into his nipple from a range of 20 yards?

I think we all know the answer.

Extra-time multi-tigers
A leading U.S. beer producer once jokingly suggested an extra-time, multi-ball period where drawn games were loosened up with the application of more balls. They were on the right lines, but dozens of balls pinging around really wouldn't make for good television.

What we need are extra-time multi-tigers. If you can't resolve a game after 120 minutes, release a tiger onto the pitch to ... erm ... create extra space in those crowded areas of the field.

Yes, the random, senseless and horrific human slaughter is a concern, but if there's one thing the world is not short of, it's people who want to play football for a living. If we did this with scientists, it would be a serious problem for the advancement of the human race. But these are footballers, so I think as a species we'll be OK.