The best of 2013: A sideways look at a year in the Premier League
Best foul: Luis Suarez

If we've learned anything from the work of George A. Romero, it's that you never, ever want to be the nearest person to the reanimating zombie.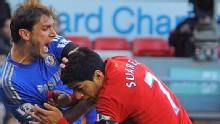 Andrew Yates/AFP/Getty ImagesSuarez's teeth meet Ivanovic's arm.
Poor Branislav Ivanovic. One minute, he was calmly marshaling Chelsea's back line, the next he had a frothing Uruguayan striker hanging off his arm like a crazed bullmastiff.

Credit to the Serbian, he knew immediately the implications of the attack. "Do what you know you must do," he ordered John Terry, as he handed him an iron bar and knelt on the ground. "Do what you would ask me to do to you."

Best red card: Youssuf Mulumbu

The best way to respond to a bully is by ignoring him. Unless you're Youssuf Mulumbu, of course, in which case the best way to respond to a bully is by drop-kicking a football at him from close range.

Down 3-1 to West Ham and with time running out, the West Bromwich Albion midfielder was fouled from behind by Gary O'Neil. Bypassing tiresome distractions like the referee's whistle, Mulumbu let the hate flow through him and dispensed his own form of justice.

It was an act so stupid that it screamed off the far side of the scale and reappeared at the other end as awesome.

Best entrance: Joe Kinnear

There are many ways of announcing your arrival at a football club: carefully managed interviews; short news conferences; even shorter press releases.

Not for Joe Kinnear. In a wide-ranging, late-night radio interview, Newcastle's controversial new director of football claimed credit for the signing of players who predated him at the club, pointed to the receipt of manager of the year awards he had never won and spoke of his part in the capture of Nazi Germany's famed "Enigma" code machine*.

And yet, for all the laughter, Newcastle ended 2013 just four points from a Champions League place. Masterstroke or coincidence?

* OK, he didn't claim that. But given another five minutes ...

Best exit: Sir Alex Ferguson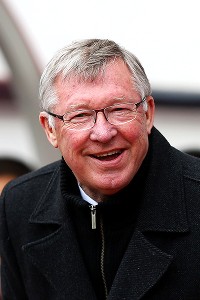 Clive Mason/Getty Images"Of course they're going to miss me!"
They knew it would end one day. It had to: Not even the darkest night can last forever. And yet when that finale came, no one even dared believe it was true.

Across England, from the lush, green gardens of Kent to the foreboding peaks of the Pennines, referees held each other close in the gloom of dawn and whispered, "Is it over? Is it really, really over?"

It was. After almost 40 years of shouting, screaming and passively aggressively checking his watch, Sir Alex Ferguson had retired. Finally, English referees could live in peace and harmony.

Best accident waiting to happen: Paolo Di Canio

Even if you ignored the jackbooted elephant in the corner of the room, Sunderland's decision to hire Paolo Di Canio was insane.

Not only was his greatest managerial achievement the capture of the League Two (England's fourth tier) title with a well-funded Swindon, but this was a man whose style had been prophetically described as "management by hand grenade" by his former employer.

Sure, we've all wanted someone to walk into the dressing room and scream at underperforming footballers, but it's a technique that brings ever diminishing returns.

Oddly enough, players don't like being publicly blamed for everything that goes wrong. Given that, the only surprise of Di Canio's 13-game reign was that it lasted so long.

Best Larry David moment: Roy Hodgson

If you were England manager, how would you convince Chris Smalling to pass the ball to Andros Townsend? By telling him to pass the ball to Andros Townsend? By drawing a diagram of him passing the ball to Andros Townsend and repeatedly banging his head off it? Through the medium of interpretative dance?

Or would you tell him an aged NASA joke that ends with the gloriously inappropriate line, "Your job is to feed the monkey"? Poor old Roy Hodgson. He never meant to cause offence. Indeed, Townsend didn't actually take offence. But someone in the dressing room did ...

Best job interview: Alisher Apsalyamov

No one is suggesting that Cardiff's former sporting director Ian Moody was so good at his job that he was unsackable, but if you're going to ax your manager's closest ally, you have to replace him with someone good.

What owner Vincent Tan needed was someone with a proven eye for a player, knowledge of developing markets and lengthy experience of dealing with the sharks who really control the movement of footballers.

Instead, he hired his son's friend, 23-year-old Alisher Apsalyamov, who had previously been at the club on work experience. That must have been one hell of a job interview.

Sadly for the young Kazakh, Tan failed to include the question, "Do you have a valid work permit?" in his careful vetting process and Apsalyamov was forced to leave.

Best PR: Hull's owner

Public relations are a tricky business, especially in football. Most professional English clubs have been in existence for more than a century and supporters are rightly defensive of their traditions.

Thus, if you want to drop the word "City" from their name and replace it with something like, oh I don't know, "Tigers," they will get upset. They will chant, "City 'til I die!" And you will have to respond with tact and sensitivity.

Or, like Hull City owner Assem Allam, you can just announce frankly that those fans "can die whenever they like," and carry on regardless. Ha! Put that in your pipe and smoke it!

Best interspecies bout: Fan vs. horse

"Did you enjoy the match, Barry, love?"
"Not really, pet. We lost 3-0 to Sunderland."
"Aw, Barry, love. I'm so sorry. I hope you didn't take it to heart. You know that temper of yours can get you into trouble. You didn't do anything silly, did you?"
"I might have lost my rag a little, yes."
"Oh, Barry. What did you go and do this time?"
"I'd rather not say, pet."
"You can tell me, Barry. I'm your wife. You can tell me anything."
"Well ..."
"Yes?"
"I punched a police horse full in the face."
"My mother was right about you."