Iain Macintosh's English football Christmas list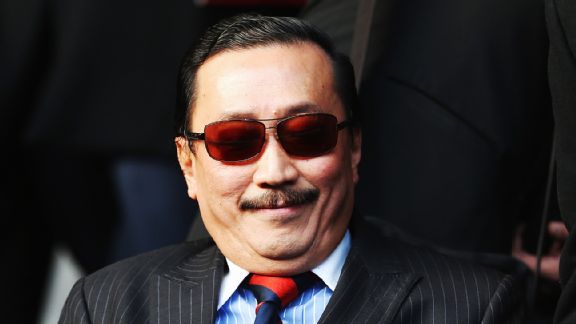 Clive Brunskill/Getty ImagesIf Vincent Tan just wants a toy, perhaps we should give him one.
'Twas the night before Christmas, and all through the house, not a creature was stirring except for Iain Macintosh, hunched over his desk, frantically scribbling a last-minute list for Santa Claus on behalf of various Premier League personalities.

Vincent Tan: A new toy
It's clear that owner Vincent Tan doesn't want a proper football club; he just wants a toy. So why not give him one?

In the dead of night, sneak out the Cardiff players and staff, Malky Mackay very much included, and replace them with some volunteers from the nearest pub. Every match day dress half of the volunteers in red, the other half in the shirts of the scheduled opposition, and then play out a game. Tan knows nothing about football. He'll just think the attendances have dropped a bit. In the meantime, Mackay's Cardiff and their long-suffering supporters can continue unmolested at a stadium down the road.

Tim Sherwood: A new stress ball
Tim Sherwood is clearly desperate to prove himself as a Premier League manager. After all, he appears to have won the job purely because he asked Daniel Levy so many times that the Spurs chairman cracked and shouted, "All right! Take the job, just leave me alone!"

But can he cope with the mental pressure? After his first game against West Ham, he told reporters that he "wasn't used to sleeping two hours a night, waking up and thinking about footballers." That doesn't sound healthy. Let's buy Sherwood a top-of-the-range stress ball and see if he can squeeze it down into a warm paste by March.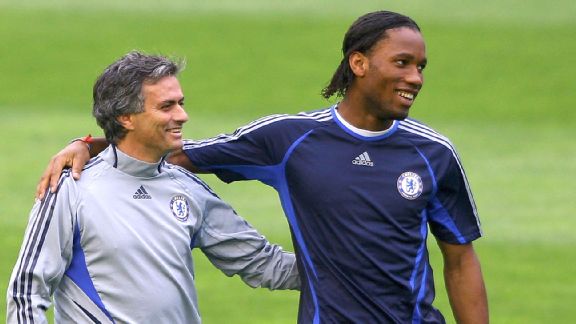 Stu Forster/Getty ImagesIf only Jose Mourinho had a striker at Chelsea that was as good as Didier Drogba ...
Jose Mourinho: A new striker
When Jose Mourinho first arrived at Stamford Bridge he found Didier Drogba there waiting for him. Motivated and adored by his manager in equal measure, Drogba was less of a striker and more of a magic hammer, capable of smashing down any defence. What the likes of Emmanuel Adebayor or Andy Carroll can do when they're in the mood, Drogba could do on a weekly basis.

Now Mourinho has Fernando Torres, who is less of a magic hammer and more of a feather duster. You can have all the attacking midfielders in the world, but unless there's someone up front either finishing chances or creating the room for chances to be finished, you won't win much.

Andre Villas-Boas: A new agent
Since leaving Porto in 2011, the man once known as Europe's hottest young manager has worked for two of the most impatient men in football and paid a predictable price.

It was never going to succeed. Roman Abramovich and Daniel Levy like quick points and shiny prizes. Villas-Boas likes experimental tactics and grand plans. What he really needs is a nice, patient club with an eye on the future, a board of directors who understand that football is an imperfect science where time is your friend, not your enemy. What he'll probably get is Paris Saint-Germain.

Roy Hodgson: A new hope
When England do well in international tournaments, it's usually prompted by the arrival of a wonder boy. In 1990, Sir Bobby Robson had Paul Gascoigne. In 1998, Glenn Hoddle had Michael Owen. In 2004, Sven-Goran Eriksson had Wayne Rooney.

Who has Roy Hodgson got? Well, the brightest light in the darkness is Ross Barkley, currently pulverising Premier League midfields for Everton. This may not go down well on Goodison Park but Hodgson would do well to steal Barkley away, wrap him in cotton wool and hide him in a Thames-side warehouse until June.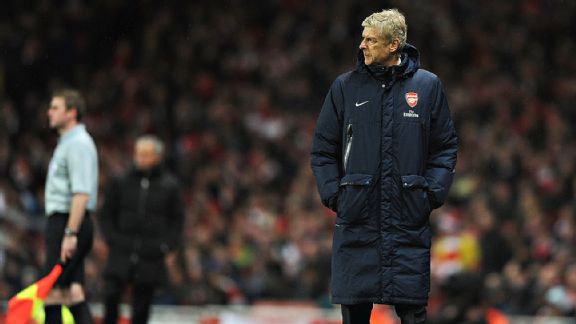 Stuart MacFarlane/Arsenal FC/Getty ImagesArsene Wenger's been upstaged by his coat on a number of occasions. Can someone please help him out?
Arsene Wenger: A new coat
No club is more aware of the dangers of catching a chill than Arsenal. After all, it was pneumonia that did for legendary manager Herbert Chapman at the age of just 55. But there's such a thing as being too careful. Wenger doesn't wear a coat -- he wears a duvet with a zip on it. To make matters worse, it's a duvet that apparently requires an operating manual.

There are many fashionable men's coats on the market. There are professional stylists who can provide guidance. With all the money at the club, surely Arsenal can do something about this?

Sir Alex Ferguson: A new job
Retirement is a dangerous concept. The human body doesn't adjust well to a lifetime of stress followed by an abrupt stop. With that in mind, it might be a good idea if we found a little job for Ferguson that might act as a sort of nicotine patch for the withdrawal symptoms. It's been 28 years since the Scotsman managed in a World Cup, and any nation suffering performance anxiety (I'm looking at you, Mexico) would surely love to avail themselves of his services.

It's either that or he sees out retirement by shouting at paperboys and tapping his watch at his wife.