New Suarez deal could push Liverpool over the trophy hump
Football supporters can be a cynical bunch, forever determined to sniff out every trace of cloud in their silver linings, but there is no way that even the most miserable Liverpool fan can be anything other than utterly delighted this weekend. The news that Luis Suarez has signed a new long-term deal with the club is as much of a boost to their season as a nuclear fusion reactor would be to a family car. This one event could propel them faster and further than they ever believed possible.

It's not just a signing. It's a statement delivered through a megaphone from the top of the bell tower. Liverpool, believed by almost everyone to have slipped out of relevance, can demonstrably keep their star players. Liverpool, believed by almost everyone to be little more than a Premier League surprise package, could be real contenders for silverware.

Expect the agents who control the destiny of the world's best players to have pricked up their ears and taken note. Liverpool is no longer a destination for "nearly" players. Not as long as Suarez stays.

- Report: Suarez signs new deal
- Whalley: Luis-led Reds must deliver

Yes, there are caveats. While full details of the contract remain unconfirmed, it would be astonishing if there was no release clause for Suarez should Liverpool drop out of the top four by season's end. It was humiliating enough for agent Pere Guardiola to have left one out of the previous contract; it's inconceivable that he would be stupid enough to make the same mistake twice.

Suarez isn't staying on Merseyside because he's had an epiphany; he's staying because he thinks he can win things. And no wonder, given some of Liverpool's performances this season.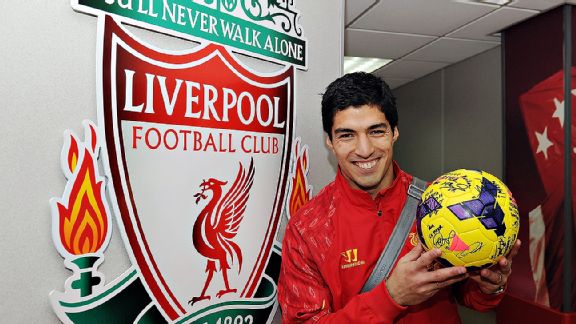 John Powell/Getty ImagesKeeping Luis Suarez has a positive impact on Liverpool's future.

Many neutrals, this one very much included, didn't believe this day would ever come. Mind you, many Liverpool supporters didn't believe this day would ever come either. Some of them tore off their Suarez shirts and set fire to them when their hero made it clear he was determined to leave this past summer.

It was, after all, a truth universally acknowledged that a single footballer in possession of a contract with a non-Champions League club must be in want of a contract with a Champions League club and must be able to secure one by throwing his toys out of the pram.

Since the Bosman ruling liberated players in 1995, chairmen have grown accustomed to the sight of their employees stamping their feet and holding their breath until the boardroom agrees that a big transfer fee now is much better than no transfer fee later.

Only John W. Henry didn't hold with that theory. As far as he was concerned, he owned Suarez until 2016 and unless someone agreed to hand over a cheque for, so it is believed, 70 million pounds, Lucky Luis wasn't going anywhere. In Brendan Rodgers, he had a manager smart enough not to alienate Suarez unnecessarily, because as far as Rodgers was concerned, Suarez was an important player and important players play. And nothing could have been achieved without the professionalism of Suarez himself, who has never given anything less than everything he has to offer. All three, for different reasons, should be extremely pleased with themselves.

Suarez is never going to be loved by everyone. His refusal to apologise to Patrice Evra looms over everything he does like a storm cloud over a picnic; some people choose to ignore it and enjoy their sandwiches, some people simply can't relax until it goes away. Evra claimed that Suarez repeatedly racially abused him. Suarez claims that he used the word "negro" once in a conciliatory manner, something the Football Association called "unsustainable and simply extraordinary" shortly before banning him for eight games.

For others, Suarez's conduct during games is too much to bear. The Uruguayan has a disciplinary record as long as Peter Crouch's socks for simulation, ungentlemanly conduct and, in the case of Otman Bakkal and Branislav Ivanovic, light cannibalism. Yet, in all but the latter category, he is hardly a novelty.

The facts are this: During a season in which he was predicted to sulk and agitate, Suarez has fought and prospered. He has scored 17 Premier League goals, enough to already put him joint sixth in last year's leading scorers list. That's an extraordinary feat even before you mention that he didn't play his first league game until Sept. 29 and it isn't even Christmas yet. He has only failed to score in three of his 11 Premier League games. Lionel Messi and Cristiano Ronaldo operate on another plane of existence, but beneath them Suarez has to be counted as one of the best of the mortals.

You may not like him and you may not respect him but if you support any team other than his, you would be wise to fear him. For the foreseeable future, he isn't going anywhere.

Liverpool, on the other hand, could be going all the way to the top of the table.