Who's to blame for Spurs' strife? Try Daniel Levy
In the last days of Sven-Goran Eriksson's reign as England manager, the Swede's icy demeanor began to rub some fans the wrong way. Eriksson, you see, did not shout and swear when he lost. He did not throw his arms into the air in rage. Instead, he suffered the slings and arrows of outrageous fortune with the face of a beleaguered currency trader, watching in silent frustration as the yen slips slightly below expectations.

"He doesn't care!" roared those supporters. "What we need is a manager who shows passion." They would have loved Tim Sherwood.

- Delaney: New manager, same result
- Fitch: Sherwood fails to convince
- Report: Hammers dump Spurs from cup

Facing West Ham on Wednesday in his debut performance as Tottenham's interim manager, Sherwood entered the arena with the nonchalant, almost contemptuous swagger of a young PE teacher ready to put a pack of trembling and timorous juniors through their paces. Unlike his predecessor, Andre Villas-Boas, there was no designer suit and no sign of a notepad. Instead, Sherwood came clad in sportswear, stared with only fleeting interest at the phalanx of photographers, and then slouched in his seat on the bench as if he'd rather be at home watching the television.

It was all a charade.

Within seconds of the first whistle, Sherwood was up on his box-fresh white trainers, prowling the technical area. He shouted, he swore, he waved, and when chance after chance after chance was spurned, he pirouetted on the wet ground, face contorted in despair. There can be absolutely no suggestion that Sherwood lacks passion. He is a passion silo, packed with gallons of emergency passion in the event of some kind of global passion shortage. But will passion alone be enough? The answer, of course, is no.

Passion can only ever be the sizzle. The sausage itself must be a complex mixture of tactical acumen, physical training, talent identification, man-management and, increasingly these days, public relations.

It is, of course, far too early to judge Sherwood on all of this. The poor man only took the job this week, and late Tuesday night he didn't even know if he'd still have it at the weekend. Given the profound disappointment caused by this result, he was wise to take nothing for granted.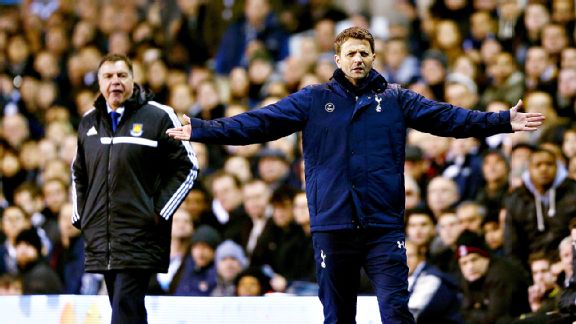 Paul Gilham/Getty ImagesTim Sherwood gave a good showing as Spurs' interim boss, gesturing and commanding from the sideline. But it won't last based on Daniel Levy's whims.

Sherwood certainly made an ambitious play for the position. Short of changing the colour of the kits, there was very little else he could have done to further differentiate himself from Villas-Boas. Out went the patient 4-2-3-1, out went the high line, out went the inverted wide men. In came the most orthodox of 4-4-2 formations, a backline tethered inside its own half, proper old-fashioned wingers and crosses whipped in ceaselessly from the flanks.

For a long time, it worked well. For a short, but altogether more critical time, it did not. West Ham adapted, evolved and responded. There was just a hint of the passive-aggressive in manager Sam Allardyce afterward when he said that he expected Spurs to protect their lead and, when they did not, he "exploited the gaps they left behind."

Welcome to the big time, Tim.

Sherwood's explanation for the collapse was a concern, not in what it revealed about his own philosophies but what it revealed about the philosophies of the club.

"I think, to be honest, they ran out of steam," he said afterward. "They're fit enough to play a certain way, but I wanted to change the way we played. I asked them to play a little more gung-ho and up-and-at-'em."

It is alarming that Tottenham, working hard to lift themselves into the elite of European football, have put themselves in a position where the tactics of the technical coach are so different from the tactics of the former manager that the players cannot cope with the change. Sherwood and Villas-Boas worked together for 18 months, and in all that time it appears their beliefs were incompatible. This, it hardly needs saying, is not how the likes of Barcelona and Bayern Munich do it.

And herein lies the problem. Tottenham chairman Daniel Levy is very good at making plans but not so good at sticking to them.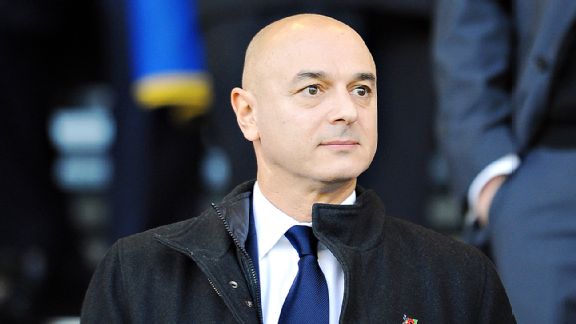 Chris Brunskill/Getty ImagesDaniel Levy's indecisiveness is perhaps the real culprit in Tottenham's inability to move forward.

After Martin Jol was dismissed in 2007, Levy wanted a successful foreign manager to work under then-director of football Damien Comolli and lead Spurs to the Champions League. Juande Ramos was duly swiped from Sevilla.

But less than eight months after winning the League Cup, the Spaniard was kicked to the kerb after a dreadful start in the league. Out went the continental management structure and in came Harry Redknapp, the 4-4-2, a blank clipboard and smiles on faces. Levy soon had the Champions League football he wanted, but a year after reaching the last eight of Europe's most lucrative competition, he booted Redknapp out, as well.

Levy wanted organisation and planning again. He didn't want smiles on faces; he wanted strict micromanagement. In came Villas-Boas. Back came the director of football. And then, after a promising start, Levy sacked the manager for his failure to immediately integrate seven new signings into his team.

With Sherwood, Spurs are back to 4-4-2, back to intensity, back to getting the ball wide, back to getting crosses in. But how long will this last? How long before Levy sets out on a different path?

It is becoming increasingly apparent that the real problem at Tottenham doesn't sit on the bench. The real problem is in a much more expensive seat, in a far loftier position in the stadium. The real problem is that Levy cannot make his mind up.