The end might be nigh for Sam Allardyce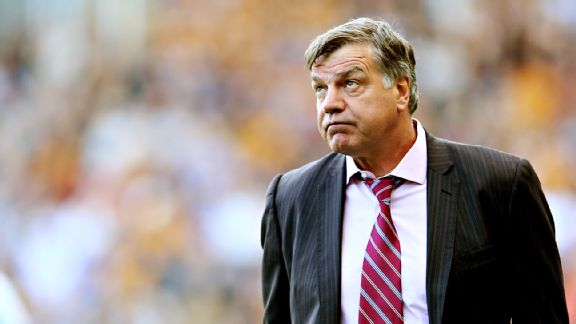 Matthew Lewis/Getty ImagesThe pragmatic Sam Allardyce has always preferred points over panache, but a lack of wins has him in real trouble.
There's a good chance that Saturday will be Martin Jol's last game in charge of Fulham. Another defeat, a fifth in a row in the Premier League, would surely be the end of the Dutchman.

But if Fulham actually win and Jol is spared, what will it mean for the manager of the team he defeats? At West Ham United, just 18 months after he guided them back to the top flight in the first attempt, it seems that time is running out for Sam Allardyce.

West Ham are deep in the red. In March, the Mail on Sunday revealed that they had been forced to "mortgage" future TV revenues in a bid to manage their finances. In the summer, vice chairman Karren Brady admitted that their whopping debt (70 million pounds) must be paid off before they move to the Olympic Stadium in 2016. That's going to be a difficult enough task in the Premier League, where the cash trough is overflowing with foreign TV rights. But if the Hammers are relegated this season, it will be practically impossible. The pressure is building.

Saturday's game may not be one for the purists. Take their 4-1 win over Crystal Palace out of the equation and Fulham have scored only seven goals in 11 league games. West Ham have scored only twice in the five matches that followed their 3-0 thrashing of Tottenham Hotspur. All things considered, this could be like watching two blind men swinging punches at each other from opposite ends of an aircraft hangar.

Fulham's fans have long prophesied this deterioration, but West Ham's supporters are still a little taken aback at their own collapse in form. Having finished 10th last season, a relegation battle was not supposed to be on the agenda. Nor was it as recently as Oct. 6 when they pulled Tottenham's pants down at White Hart Lane. That evening, Allardyce sat in front of the press and proudly blew three choruses of "For I'm A Jolly Good Fellow" on his trumpet, and with good reason.

But then it all went horribly wrong. Just two points from a possible 15 have seen the Hammers plummet down the table at an alarming speed. In the meantime, Sunderland and Crystal Palace have won three games between them, not enough to repair the damage of a terrible start but sufficient to at least restore a little hope.

West Ham's principal problem is strikers. Put simply, they haven't got any. Andy Carroll is on the long-term injury list, Carlton Cole is out of shape, and Modibo Maiga might just be the most ineffectual forward since Stuart Pearce threw David James a number nine shirt and told him to "mix things up."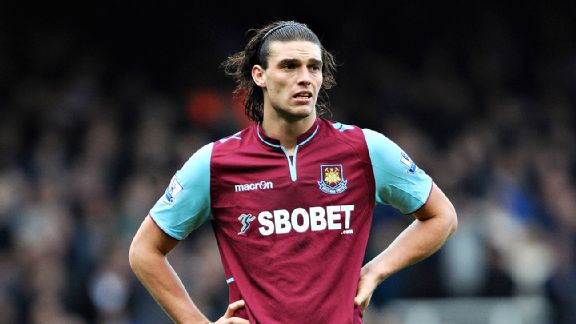 Steve Bardens/Getty ImagesAllardyce put a lot of trust in Andy Carroll to lead the line, but steady injuries have left the Hammers chronically short up front.

The Carroll conundrum is fascinating. While there is no doubt that the big Geordie performed well on loan at Upton Park last season, it should have been obvious from his history that it would be unwise to place the hopes of an entire campaign on his shoulders alone, not least because he was injured when West Ham signed him. Carroll has the potential to be an all-conquering target man, but he can't conquer much when he's up on bricks.

Allardyce didn't know that his big-money signing would be out for this long -- no one did -- but he should have known enough about his fragility to sign a proven backup. Instead, as recently as Aug. 31, he was still insisting to the press that Carroll wasn't injury prone at all.

Carroll, who shares an agent with Allardyce, is reported to be rehabilitating in Belgium and Holland but is still some way from full fitness. Next week, he'll return to London to begin running again. Allardyce will have to pray that he's not too late because the supporters are losing patience.

There is a pact that must be made between supporters and their club when Allardyce appears. For as long as possible, supporters must accept that you cannot have both points and pretty football. And Allardyce likes points. The problems start if the points dry up and the fans are left paying a fortune to watch big men kicking the ball really hard and screwing up meticulously prepared set pieces. That's what happened quickly at Newcastle, and it's what appears to be happening now.

Allardyce has two games in the next four days -- this clash with Fulham and an awkward-looking trip to Selhurst Park versus Tony Pulis' Crystal Palace. They will determine his fate. If he doesn't win at least one of those games, he's in serious trouble. From somewhere in that unbalanced squad, he needs to find some goals. West Ham simply cannot afford to be relegated.