Quiet build-up to a meeting of high flyers
Has a clash between the Premier League leaders and the team in third place ever been so low-key?

So little was expected of Arsenal's game against Southampton that neither of the British television rights holders chose to screen it, opting instead for the Merseyside derby and Chelsea's visit to West Ham. When Arsene Wenger's pacesetters take on Mauricio Pochettino's surprise package, the only British supporters legally allowed to watch, unfortunately, will be the ones present at the Emirates Stadium.

Yet this is easily the most important game of the weekend. It is a chance for Arsenal to put their title challenge back on track after the disappointment of defeat to Manchester United at Old Trafford. More than that, it's a chance to find out just how good Southampton really are.

- Cross: Wilshere needs careful handling
- Rann: Saint Lallana Brazil-bound?

Pochettino's side have been beaten just once in the league this season, a 0-1 defeat at Norwich that seems to have been an inexplicable aberration rather than an accurate reading of their strength.

Since then, they have conceded only three goals in eight games, beating Liverpool and drawing with Manchester United in the process. They play with such pace and verve that it's not that hard to imagine them adding Arsenal's name to that illustrious list.

Not even a year has passed since Pochettino's controversial appointment yet he has transformed the Saints beyond recognition. The sacking of his predecessor, Nigel Adkins, a man who had just led the club to back-to-back promotions, was a repulsive act, but it's hard to argue that the end has not justified the means. Adkins was a likeable coach whose place in Southampton's history should never be forgotten, but Pochettino has taken them to a new level.

Southampton's good start has been built on a pressing game, a high-intensity invasion of personal space that forces mistakes out of even the best players. Rather than tormenting their opponents individually, Pochettino's players attack in packs, snapping at ankles until they steal back the ball.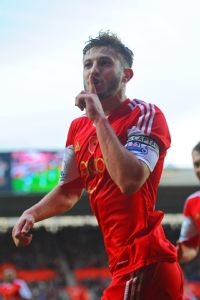 Mike Hewitt/Getty ImagesAdam Lallana's form this season has inspired Southampton and earned him an England debut.
That relentless team ethic is evident in the way they go forward too, breaking with speed and with support. Jay Rodriguez and Adam Lallana, both of whom debuted for England last week, are tireless creative forces, while players like defender Dejan Lovren and midfielder Morgan Schneiderlin are simply indomitable.

Arsenal, it was established in the past, did not like it up them. Sam Allardyce's Bolton Wanderers were one of the first teams to routinely utilise the refined and delicate strategy of clattering anyone wearing a red shirt, and they were certainly not the last.

Wenger has always bemoaned this as unnecessary thuggishness, perhaps not realising that teams bereft of regular Champions League revenue cannot easily afford the kind of players who could hope to match the Gunners pass for pass. Time and time again, his young side would flinch and fail.

But this Arsenal are different. They don't wilt in the face of aggression as easily as they used to, and a foolishly conceded goal is no longer the harbinger of a ghastly mental collapse.

Per Mertesacker, vanquisher of England in midweek, is finally carrying the authority expected of a man his size and, while Laurent Koscielny's red card for his national team was disappointing, the partnership with the Frenchman is one of the strongest in the Premier League. Only two teams have conceded fewer than Arsenal this season. Unfortunately, one of them is Southampton.

The Gunners, of course, have their own attacking strengths. Mesut Ozil, assuming that Wenger has retrieved him from the large hole in which he hid at Old Trafford, has had an invigorating effect on the players around him.

A return to form -- and he should be fresh, having been rested by Germany in midweek -- would give Southampton a problem for which they might not be able to provide a solution.

For both clubs, this is a crucial examination, a chance to prove to cynics that their new aspirations are not unrealistic. When the season began, neither could realistically believe that they would be in this position, but the funny thing about success is that it only creates a hunger for even more success.

Having started so well, neither team will consent to taking it easy now.