Don't let Michel Platini ruin the World Cup!
There are many reasons why Michel Platini's plan to expand the World Cup is a bad idea, chief among them is that it is Michel Platini's plan. It's nothing personal; I'm just not sure that there's another human being out there who is worse at organising competitions.

It was Platini who hit upon the idea of replacing the UEFA Cup with the Europa League, a competition that is just like the Champions League but without any of the glamour, excitement and prestige. While a normal person might have pushed for a competition with its own identity, like a giant unseeded knockout tournament, Platini tried to one-up a lager with a shandy.

In its original incarnation, the Europa League had eight groups of five with teams playing each other only once, their home and away fixtures chosen arbitrarily. Genius. In both versions, the entire group stage is rendered pointless by the policy of dropping Champions League failures into the knockout stages.

- Report: FIFA VP intrigued by expansion
- Story: Platini calls for bigger WC

Since 1996, the European championships have often been more exciting than the World Cup. With only eight of 16 nations progressing to the knockout stage, every game counts and there aren't many whipping boys to smooth the way. There are just 31 fixtures in the entire tournament; it's swift, it's punchy and it's fun. So naturally, Platini has decided to change it.

In 2016, 24 nations will trudge through 51 games, many of which will be utterly pointless. Of the 24 qualifiers, 16 will progress to the knockout rounds. Four of them will have finished third in their four-team pool, quite possibly without winning a single game. This is the tiresome format that was introduced at the 1986 World Cup, something you would expect Platini to remember, given that he actually played in it. Even FIFA eventually recognised the flaws in the system, shifting to a more balanced -- though still undeniably hefty -- 32 nations in 1998. And now Platini wants to change that too.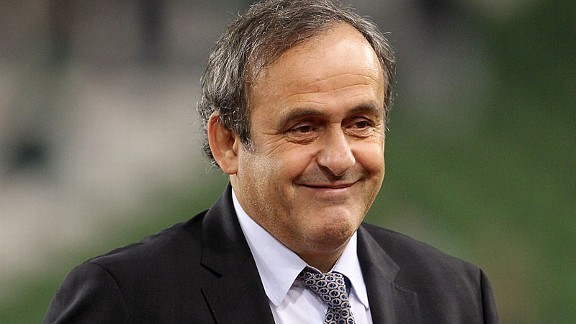 AllsportMichel Platini is really good at ruining football tournaments. We can't let him destroy the World Cup purely to help his personal ambitions.

Platini claims that the motivation behind his idea is that it will "make more people happy," but this is the kind of one-dimensional, emotive pap that wouldn't fool a small child. If 40 teams make people happy, why not have 60 and make them really happy? Hell, why not have all 209 nations there and send the planet into serotonin-charged convulsions? Because it's nonsense, that's why.

More teams won't make people happy -- it will make people bored. Sport is only exciting when it is tense. There must be risk, there must be danger, there must be something to lose. The only way a four-team group becomes a more exciting five-team group is if the fifth team is better than the others, but how can that be the case? Are we going to discover hidden islands where they cracked tiki-taka in the 1960s and have since developed styles of play more exciting than anything we can imagine?

The introduction of Venezuela or Scotland will not unduly concern Brazil or Spain. Throw a smaller fish into the pond and it will be gobbled up by the big fish. We're not making the football better; we're making it longer. And that doesn't make me happy.

But then, Platini's motivation was never to make people happy. Platini's motivation is to run FIFA. He believes that he will win the support of more nations if, firstly, he gives them a chance to reach a World Cup and secondly, if he squeezes more money out of that World Cup. The dramatic increase in fixtures will force up the price of TV rights and advertising revenue. Making people happy, or making football exciting, has nothing to do with it.

You only have to look at the disastrous ICC Cricket World Cup of 2007 to see what happens when you over-stretch a competition. That godforsaken dirge lasted six weeks, took in 51 games over two group stages and then a brief knockout, by which point the few remaining supporters there were begging for salvation. Viewing figures were low, seats went unsold in their thousands and the competition still hasn't recovered. In sport, as in so much else, more isn't necessarily better.

Platini has ruined the UEFA Cup and he is about to ruin the European championships. He must not be allowed to ruin the World Cup as well. It takes a hell of a candidate to make Sepp Blatter look like the sensible option for the future of world football, but even Blatter wouldn't try and pull a stunt like this.