Sturridge selfishly striking out for Chelsea exit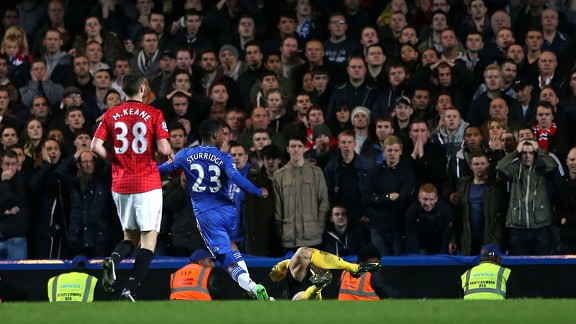 PA PhotosSturridge celebrates his goal as Chelsea beat Man United 5-4 in extra time
He may have scored the critical fourth goal, but this was not a night to savour for Chelsea's Daniel Sturridge. Granted the central role that he has coveted since arriving at Stamford Bridge, he offered up a performance that highlighted far more of his negatives than his positives. Rumoured to be on the move in January, on the evidence of this, it's hard to see how it will be anything other than a step down.

Sturridge took his goal superbly, showing the deftness of touch and instinctive finishing for which he has long been renowned. Had it not been for his shortcomings, he could have taken many more. There were moments of slapstick, such as the time he ran on to Victor Moses' exquisite pass, took a touch, stumbled and skidded along the wet turf on his chin. There were moments of clumsiness, such as his attempted Cruyff turn that saw him go one way while the ball went the other. Both were relished by the United fans who told him he was a "City reject," but they were of no real importance next to the bigger issue; his extraordinary selfishness.


- Lythell: Blues' comeback felt like vintage Utd
- Blues bounce back to oust United
-- Brewin: Goals and ghouls galore at Chelsea

Selfishness is an important trait for a striker. Without it, you are Peter Crouch, or an Arsenal player. The very best strikers have been single-minded, ruthless and greedy. But there is a line. Toward the end of the first half, Sturridge found himself running off the back of the pitch, out toward the edge of the penalty area. It was the perfect time for a cutback, or for stamping the ball dead and trying to beat a man. Instead, Sturridge looked at an angle tight enough to terrify Marco van Basten and thought, "I'm having that." His shot rocketed into the upper tier of The Shed.

Suitably embarrassed, he faded from sight, caught on the wrong side of an epic tussle with Michael Keane. But after the goal, Sturridge's ego returned with reinforcements. He'd pick up the ball wide, cut in, wonder why four screaming men in blue shirts were waving at him and then absently smash the ball over the bar. That kind of shtick can cost a chap his place in a new-look, free-flowing, all-singing, all-dancing team of potential champions. Indeed, given his lack of starts this season, it already has.

It's quite a fall from grace for a man who was once thought of as the future of English football. The young Sturridge was so highly rated that he was offered his first commercial endorsement with EA Sports at the age when most of us were still playing their products with our friends from school.

He broke into the Manchester City first team in 2007, scored his first goal a year later, won the club's young player of the season award the year after that and then promptly fell out with manager Mark Hughes and scarpered to Chelsea. Reports suggested that Sturridge, who had scored a grand total of four league goals for City, demanded £50,000 a week from Hughes, who was entirely unimpressed by his audacity and told him where to go.

After a messy tribunal, he moved to Chelsea, where his cocksure attitude caused immediate problems with senior players who actually could walk about as if they'd won everything. While he has offered examples of his quality, notably at international level and for Andre Villas-Boas in his brief happy period at Stamford Bridge, the impression remains that his attitude is less than the equal of his ability.

Roberto di Matteo was unwilling to ponder Sturridge's future. "I get asked about the speculation, but I'm happy with him," he said after the game. "He scored a good goal and he had chances for others. He's our striker and as far as I'm concerned, he is a part of my team."

Nevertheless, the rumours that he will leave for Liverpool in January continue to circulate. There were suggestions that Brendan Rodgers was less than enthusiastic with reports of Sturridge's character in the summer, but with Fabio Borini injured and not exactly impressing when he's fit, cover is urgently required.

Liverpool will be less choosy in the next transfer window. Perhaps Rodgers, regular worshipper at the church of Barcelona, can finally convince Sturridge that he'll be twice the player if he can share the ball with his teammates from time to time.