High drama as England face Poland to reach the World Cup

England play Poland at Wembley on Tuesday with a place at the World Cup at stake. But this is not the first occasion that the two nations have met in times of high drama. Let's look back at five crucial clashes.

Oct. 17, 1973: England 1-1 Poland
The parallels are startling. Almost 40 years ago to the day, England played Poland at Wembley, knowing that a victory would secure a place in the 1974 World Cup. England, despite an earlier defeat away in Chorzow, were comfortable favourites. Too comfortable, in fact. Brian Clough, analysing the game for British television, described Polish goalkeeper Jan Tomaszewski as "a circus clown in gloves," and even reassured viewers after a goalless first half that "the goals are going to come." And he was right. Poland scored shortly afterward. England equalised through an ill-gotten penalty, Martin Peters later admitting to a dive, but just couldn't find the winner. Tomaszewski, dismissed as a clown, had the game of his life. The goal couldn't have been any safer had it been bricked up. It was the end of the line for England and for their World Cup-winning manager, Sir Alf Ramsey, who was later sacked.

- Brewin: Time to drop England duo?
- Hodgson: Future rests on Poland clash

June 11, 1986: England 3-0 Poland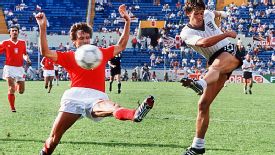 GettyImagesGary Lineker scored a hat trick against Poland in 1986.
Thirteen years later, England met Poland in another must-win game, this time in Mexico in the group stage of the 1986 World Cup. Bobby Robson would go on to lead his nation to the semifinals of the 1990 World Cup, but a defeat here would have brought a premature end to his international career. England had lost their first game to Portugal and had been held to a goalless draw by Morocco in a bad-tempered encounter that saw Ray Wilkins sent off for throwing the ball at the referee. Fortunately, Robson had a secret weapon: Gary Lineker. The 26-year-old Everton striker rattled home a first-half hat trick to save the day. England would go on to reach the quarterfinals where Diego Maradona's Argentina would so controversially end their summer. Lineker, however, won the tournament's "Golden Boot" and signed to Barcelona for 2.8 million euro.

Nov. 13, 1991: Poland 1-1 England
Another decade, another crucial clash with Poland. This time, instead of having to win, all England had to do was avoid defeat. Thus, with crippling inevitability, Graham Taylor's men duly went a goal down in the first half. Taylor had endured a difficult succession to the throne, replacing the suddenly popular Robson at a time when so many key players were reaching the end of their careers. But Taylor's refusal to pick the still-willing Peter Beardsley or Chris Waddle did not endear him to either the press or the fans. In their place, men such as Andy Sinton, Andy Gray (not that one) and Geoff Thomas toiled fruitlessly. Luckily, Taylor could still count on Lineker, and it was he who struck with 12 minutes to go. England qualified for the 1992 European Championships, but were eliminated in the group stage. Taylor's subsequent failure to qualify for the 1994 World Cup cost him his job.

March 27, 1999: England 3-1 Poland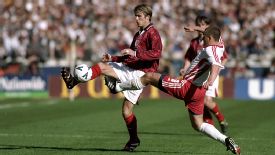 GettyImagesDavid Beckham is challenged by Rafal Siadaczka of Poland at Wembley in 1999.
When Glenn Hoddle talked himself into an untenable position while losing to Sweden and dropping points at home to Bulgaria, the nation needed a hero. They got Kevin Keegan. Looking back, it's hard to know why everyone was so keen on the idea of dropping a prickly, tactically limited manager into such a high-pressure role. Nevertheless, his first game went extremely well. Had England lost, they would have been in serious trouble. Instead, they romped to a 3-1 victory inspired by a Paul Scholes hat trick. The future looked bright. "Played one, won one," Keegan joked afterward. "Maybe I should quit now." England won just one of their next four qualifiers, against Luxembourg. They qualified in second place, nine points behind Sweden, and were eliminated in the group stages the following summer. Maybe Keegan had a point.

Sept. 8, 2004: Poland 1-2 England
Having impressed at the 2004 European Championships, England were expected to easily qualify for the 2006 World Cup. They were not expected to throw away a two-goal lead in their opening game in Austria. David James, at fault for the critical equaliser, was slaughtered by the press afterward, and the England squad travelled to Poland in a foul mood. Once again, they found themselves in dire need of a win against their old rivals. They got it, thanks to an own goal winner from Arkadiusz Glowacki, but it did little to improve the mood in the camp. Furious that the media had written them off after a single game and that their teammate had been so mercilessly criticised, the England players refused to speak to the press after the game. This was the beginning of the end for the Eriksson era.