Controversial Wilshere just acting his age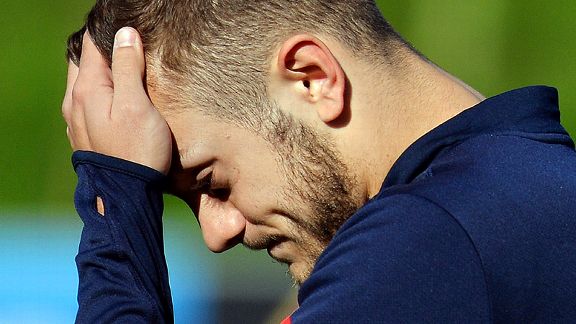 PAUL ELLIS/AFP/Getty ImagesJack Wilshere is in hot water after being caught smoking by tabloids and making controversial comments on who should play for the England national team.
This has been a tough two weeks for Jack Wilshere. First came the picture of him puffing on a cigarette. Then came the remarks on nationality that led to a very public exchange with England cricketer Kevin Pietersen and have seen him painted as anything from a jingoistic pub bore to, as at least one person insisted to me on Twitter, an out-and-out racist.

Let's deal with the cigarette first. Smoking is bad, m'okay? Apart from the obvious fatal side effect, it diminishes lung capacity and slows the flow of blood around the body, which is hardly ideal for a box-to-box midfielder. You know that. I know that. But I had one last night, and maybe you did, too. If any of you managed to get to 21 without doing something harmful, then you have my full written permission to shout at him. The rest of us will have to accept that Arsene Wenger has dispensed a telling off, Wilshere has listened and the matter is closed.

Hopefully, Wilshere has dispensed a telling off of his own, reminding whichever PR wazzock represents him that the general public are not morons. They are unlikely to accept that Wilshere was merely holding the cigarette as a prank, as they tried to have us believe. Never mind the fact that this excuse is unlikely to work on your mother when she spots you with one outside school. It doesn't even sound like a particularly funny prank.

- Cross: Rating Wilshere's season
- Mangan: Patience needed with Wilshere

Which brings us to the awkward question of nationality, a complicated issue that has tied many of the UK's best sports writers in knots all week. These writers are usually over the age of 40, university educated and paid to encapsulate major issues inside 600-word columns. A few of them are so articulate that they are paid to go on television and radio and encapsulate major issues into short sound bites.

Wilshere, as we've established, is 21. He kicks a ball for a living, and he's very good at it. He left school early at the age of 15 because he was already representing the Arsenal under-18 squad. It is entirely possible that he spends his down time reading broadsheet opinion columns, digesting the works of Noam Chomsky and debating global politics in North London coffee shops, but he's certainly never mentioned it on Twitter.

When he responded to a reporter's question about the possibility of Belgian-Albanian teenager Adnan Januzaj representing England, he answered honestly, saying that he felt, "the only people who should play for England are English people."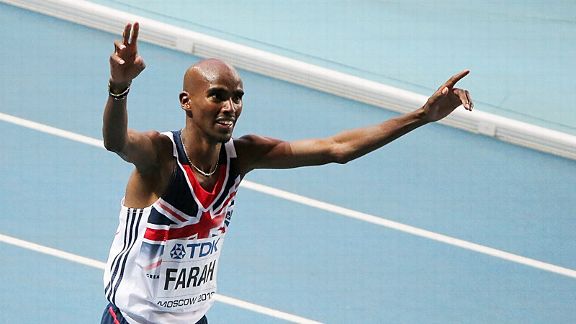 LOIC VENANCE/AFP/Getty ImagesMo Farah, one of England's most successful athletes, is a direct contradiction of Jack Wilshere's statements.
This is a sentiment that would meet with approval from many sports fans. After all, what is the point of international sport if not to test one nation against another? If our sporting federations swoop for "foreign" talent then the international game becomes little more than an extension of the club game, a pursuit of success for the sake of success, rather than the pursuit of unifying national pride.

Of course, that's not how the story played out because, as you'll have noted when you read the quotes, there is an unwitting echo of ugly nationalism in his words. "England for the English" might be a broad sporting sentiment shared by many journalists, but there are few who would have phrased it quite like that. This is because journalists have time to write and rewrite their words and because those words go through subeditors who make sure that they don't read like fascist literature before publication. Wilshere didn't have that safety net. He had a room full of journalists holding dictaphones. And, as can't be repeated enough, he is 21 years old.

The saddest aspect of this story is that Wilshere probably left the room thinking that he'd given some positive quotes. In another era, his rallying cry of, "We are English, we tackle hard, we are tough on the pitch, we are hard to beat" might have led the back page, accompanied by a picture of Wilshere dressed as Richard the Lionheart. But we live in a very different time now.

Wilshere was foolish to expand upon his point, laying down apparently arbitrary timescales for attaining "Englishness." The immigration success story that is Olympian Mo Farah, born in Somalia and raised in England, should have prevented that.

He was foolish to respond to Pietersen's jibes without first asking for advice, though preferably not from someone who would have told him to pretend it was a prank. Cricket has a far more complicated relationship with nationality, and Wilshere is best off out of it.

He was foolish to blame the affair on "poor journalism" as well. Firstly, because the question was valid. Secondly, because his words were faithfully recorded and reproduced, and, thirdly, because there is a certain breed of journalist that treats celebrity accusations of bad practice as a faux pas akin to sleeping with his sister and never calling her again.

But why would Wilshere know any of this? He's 21. He plays football for a living. He answered a question honestly, and you don't have to read very far between the lines to see the point he was making, albeit in a particularly clumsy fashion. Athletes are not noted for their ability to concisely articulate issues like transient national identities and how they correlate to an increasingly commercialized sport in a brutal and cynical media environment.

The sad thing is that the next time someone asks Wilshere a question, he'll probably just mumble a one-word answer and then slip away. And this, of course, will be the moment when we ask ourselves where all the characters have gone.