Time to move on, Fernando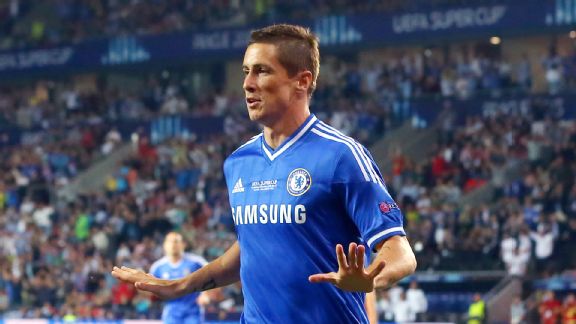 Alexander Hassenstein/Getty Images
Fernando Torres might never live up to his 50 million-pound price tag at Chelsea, but he's finally showing signs that he might be able to make a full recovery elsewhere.

There were flashes of brilliance in his cameo against Fulham, and more during his excellent display against Swindon. Something still glows in the embers of his career, but he might have to leave Stamford Bridge before the flames burn brightly again.

You can see the path of his career in his face. At Liverpool, Torres looked like a 12-year-old girl who had just been bought a pony. Shortly after joining Chelsea, he looked like a 13-year-old girl who had just been told that her pony has broken a leg and that no, Fernando, you can't put a pony on crutches. After almost three years at Chelsea, he looks like a woman whose heart was once broken by the sound of a vet's shotgun, but who shaved her head and found solace in the armed forces even if she did "see things" while she was out in the Middle East.

Jose Mourinho has told reporters that he is impressed with the way Torres has applied himself this season. But he also gave the clearest sign that the Spaniard is only ever going to be a stopgap.

"Liverpool was more running into spaces and the way here is more the ball at his feet with small spaces to play in. Fernando is not naturally a skilful, creative player, but he is a good player, a good professional and it was a good surprise for me the way he worked very hard," Mourinho said.

It's a warm review, a protective review, but it is hardly an endorsement of his long-term prospects. For all of his efforts, Torres just doesn't fit the template.

Mourinho knows, as Roberto Di Matteo did before him, that Chelsea are never going to play the way Liverpool played when Torres looked like the most clinical striker on the planet. At Anfield, 69 percent of his goals were derived from quick, defence-splitting passes. At Chelsea, they don't do that. They prefer to weave steadily through the defence like a motorcycle courier in heavy traffic.

Against Fulham, Torres worked hard looking for space. Against Swindon, Torres not only did a goal, albeit from close range into an empty net, but turned provider as well. His pass for Ramires' goal was delectable. There was also a run towards the end of the game that brought back warm memories of his golden years at Liverpool in the way that he evaded defenders by simply ignoring them. He is not yet a spent force.

What he really lacks, of course, is that touch and ruthlessness in front of goal. There was a time when it hardly seemed worthwhile watching Torres when he was one-on-one; your time would have been better used by simply pre-emptively noting that a goal had been scored. Released into his hunting ground, his mind would clear, his body would shape and then the ball would zip into one corner while the goalkeeper fell to the other. Now, more often than not, he looks for the pass. That touch and ruthlessness come with confidence, and confidence comes with regular football in a team that suits you.

There is a chance that Mourinho is pulling Torres' strings, as he did with Karim Benzema at Real Madrid. Frustrated that he wasn't allowed a new striker, he told reporters that he would have to get on with it, announcing that "If I can't hunt with a dog, I'll hunt with a cat." Benzema, entirely unamused to be labelled as a cat, swiftly grew a mane, redoubled his efforts and became a lion. But it doesn't feel like Mourinho is trying to coax out a reaction from Torres, and it certainly doesn't look as if Torres can actually work much harder anyway. It just seems that he's not right for the role.

Torres has been guilty in the past of allowing financial considerations to blind him to the realities of his plight. In his own book, he admitted that he was superstitious about his football boots and hated having to change them when the supplier had a new model to showcase. What he should have done was tear up the contract, write off the money and play in whatever boots he liked. But that would have cost him money.

If he leaves Chelsea, it will cost him money too. No one is going to match those kind of wages after three years of disappointment. But if Torres wants to become one of Europe's top strikers again, if he wants to play with a smile on his face again, he really should consider a move. Mourinho certainly won't stand in his way.

He has it; it still burns within him. He can still be a top player. But he'll never get to show it at Chelsea.