Spirited Arsenal playing as if anything is possible
Already, this has been a season of contradictions in the Premier League, where the games seem to be punctuated by the noise of one collapsing myth after another.

Jose Mourinho will re-energise Chelsea! Not yet, he hasn't. Stoke City are hoofball merchants! Ah ... not anymore, they're not. And now, the final indignity: Arsenal are mentally frail and need 20 chances to score! What's that? Oh.

It could hardly be said that Arsenal offered a vintage performance away at Marseille on Wednesday night. Their passing was off, their movement was awry, Mesut Ozil and Jack Wilshere seemed to be in each other's way, and had lolloping man mountain Andre-Pierre Gignac been able to tie Marseille's impressive buildup play together, they might have been down by two goals at halftime.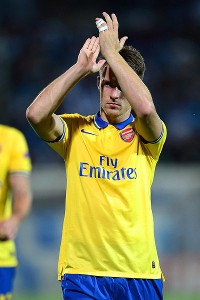 Jamie McDonald/Getty ImagesAaron Ramsey and Arsenal have found a sense of spirit, but there is still work to be done.
Instead, this decidedly un-Arsenal-like performance ended with a decidedly un-Arsenal-like result. They won. On every occasion that someone messed up at the back, someone else was there to repair the damage. Far from requiring repeated runs at Steve Mandanda before even threatening a goal, Theo Walcott and Aaron Ramsey ruthlessly took their chances when they came. Then at the end, when Jordan Ayew's penalty suggested something extraordinary might happen, Arsenal barely even blinked in surprise before calmly holding out for the three points.

All across the team, young players whose potential had been called into question are rising up to prove their critics wrong. Kieran Gibbs has been in exceptional form of late. Wilshere is as yet somehow uninjured. Aaron Ramsey is scoring so freely that if that myth about the link between his goals and the deaths of celebrities was true, the gossip magazines would be gossip pamphlets.

Speaking as someone who loves Arsene Wenger but has reluctantly written him off on record at least three times now, there's something noble about this sudden turnaround. There is little evidence on paper to suggest that Arsenal have what it takes to finally end that trophy drought, even with Ozil, but there they are on grass stringing six consecutive wins together in all competitions.

Ozil is, of course, a wonderful signing. Not only is he one of Europe's best footballers, which really should be one of the first things you look for in a player at this level, but his arrival signifies a new mentality at the club. For the first time in years, season-ticket holders are looking at the huge gap in their bank accounts and are content with the knowledge that the money has gone to something other than Arsenal's debt repayments. There is a sense that the boardroom and the supporters' associations actually have the same objectives in mind for once.

But there is still so much to do. For another £20 million, not a huge sum given the improved terms of those TV deals, the rest of the squad could have been boosted as well. Enough deadwood was cleared from the wage bill to free up room for a spare defender, another defensive midfielder who can tackle and, of course, a striker.

Careering into a long season with only one senior centre-forward seems a little unwise, rather like taking a toddler to the shops without a spare diaper; you might get away with it, but the chances are that this story is going to have a messy ending. Olivier Giroud is not immortal, and all evidence suggests that he can be brought down quite easily, even with conventional weapons.

At the other end of the pitch, Wojciech Szczesny shows no sign of shrugging off the strange funk that enveloped him over a year ago. Once one of the most promising goalkeepers in the Premier League, now he seems in such a rush to prove that he is a decisive man of action that he recklessly charges off his line, spreading panic. His generally excellent handling makes up for that, but you always wonder how far he is away from an accident.

Yet for all of that, this is the first time since 2008 that it's been possible to look at Arsenal as they pirouette around the park and imagine them to be contenders for silverware. For all the arguments over money, they now have something you can't buy: spirit.

With spirit, almost anything is possible. Spirit can take you through those grim winter months when the games come at you thick and fast, like Carlos Tevez's parking tickets. Spirit can make doubted players rise up and fulfill their potential. Spirit can help a team renowned for late collapses and individual errors shrug off its fears and stick two fingers up at the critics.

We're already reassessing so much in the Premier League. Perhaps it's time we reassessed Arsenal.