English arrogance standing in the way of success
You have to admire Greg Dyke's optimism. The new chairman of the English Football Association told reporters this week that he wanted the national team to reach the semi-finals of the European Championships in 2020 and to lift the World Cup in 2022. Bold words, especially when Roy Hodgson's team face a battle merely to qualify for the 2014 tournament.

Dyke has set up an FA Commission to investigate the reasons for England's shortcomings and to propose solutions that might stop people laughing when he says, "No, seriously, we really can win it in 2022."

He suggested a number of areas in which the English game had gone horribly wrong. Compared to other nations, for example, there are far fewer qualified coaches. England, according to Dyke, has just 1,161 coaches at UEFA A Level, compared to 12,720 in Spain.

He discussed the way in which English players are routinely pulled out of national youth squads for spurious reasons, compared with the European superpowers who will continue to field full internationals in Under-21 tournaments in an effort to ready them for the real thing.

Most of all, he lamented the lack of English players at the top level of the English game. In the 1992-93 season, the inaugural Premier League, 69 percent of the players in the starting lineups were English. Now that figure has dropped to 32 percent.

All of which are perfectly valid and intelligent responses to the problem. But Dyke completely ignored the ground-breaking, clear blue sky thinking first offered by former US star Alexi Lalas when he was asked for his opinion on England in 2010.

"Maybe they're just not very good."

Dyke made it abundantly clear that he was not firing the first shots in a war between his organisation and the all-powerful Premier League, but that is how it will be interpreted nonetheless. The implication that people will take is that had it not been for Peter Scudamore, sat on a throne of kitten skulls in his underwater base in the middle of the Pacific Ocean, everything would be fine. English players would sprout up through the cracks, institutionalised self-interest would fade and the national team would prosper once again.

But as Lalas said, maybe England just aren't very good. Maybe, when they have been very good, their performances haven't matched their potential. Maybe if expectations weren't so high that they inhibited performances they would be more successful. Maybe we're hearing hooves and shouting, "ZEBRA!"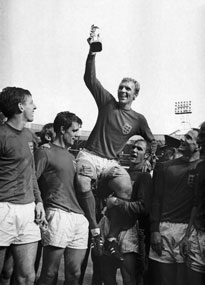 GettyImagesEngland have struggled to replicate their World Cup win in 1966.
Since lifting the trophy in 1966, England have won just five World Cup knockout games. FIVE! They beat Paraguay in 1986, Belgium and Cameroon in 1990, Denmark in 2002 and Ecuador in 2006. In the 1970s, an era fondly remembered as golden, England failed to qualify for either the 1974 and the 1978 World Cup. In the 1980s, save for a spirited display in Mexico in 1986, more ignominy followed. There was no Premier League, English players were abundant, and yet there was no success.

And then what of the "golden generation"? Regardless of your nationality or your club loyalty, only a fool would seriously suggest that the likes of Steven Gerrard, David Beckham, Michael Owen, Frank Lampard, Rio Ferdinand, John Terry and Sol Campbell were bad players. But they fell short in tournaments too, reaching "only" the quarterfinals in 2002, 2004 and 2006, failing to even qualify for 2008 and stinking out 2010.

A cautious observer might conclude that Sven Goran-Eriksson's consistent last eight finishes represented a natural high water mark for a nation with no real pedigree in international football. Instead, the consensus was that the Swede had failed and few tears were shed when he left.

A new pattern emerged post-Sven. A pattern of flat performances followed by forelock-tugging claims from players that they "had to take responsibility" for the results. But they never did. They just went out the next time, played badly, accepted notional responsibility for taking an hour to score against Andorra and the circle of ineptitude continued to spiral.

Even under the fearsome Fabio Capello there was an arrogance to England's play, matched only by the arrogance of their fans and media. When England scored early against the US in 2010, the commenter warbled, "It's easy!" It bloody wasn't. It ended in a draw. Even then, the English let themselves down, gleefully retweeting the New York Post's knowing headline, "USA wins 1-1" as if the sports desk at the Post didn't understand football, as if English superiority still held, as if the US weren't actually quite good at this game and were getting better all the time.

This was the group that the tabloid newspaper The Sun had mockingly described as "E(ngland), A(lgeria), S(lovenia), Y(anks)." It was anything but easy, and England only just qualified.

Dyke's intentions are good, and his energy is much needed. England does require more coaches, it does need to take youth football more seriously, and it is damaging to only have a pool of 30-40 viable players, especially in the self-proclaimed biggest league in the world.

But until the English address their own arrogance, on the pitch, in the press box and in the stands, you fear that nothing will really change. They are not as good as they think are. Perhaps they never were.