Mourinho attributes found in Lambert's Villa revival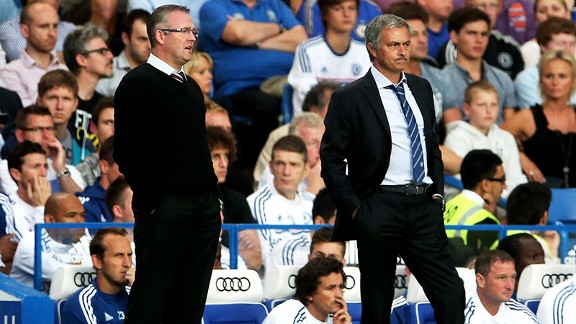 Scott Heavey/Getty ImagesAt first glance Aston Villa manager Paul Lambert and Chelsea boss Jose Mourinho may seem quite different, but in fact, they possess many of the same managerial characteristics.
Paul Lambert stared daggers at his notepad-wielding inquisitor. Denied at least a point at Stamford Bridge, furious at the referee's perceived failings, now he was being patronised.

Jose Mourinho had told reporters ten minutes earlier that Lambert's constant complaining reminded him of a younger version of himself. "He will change with time and experience," shrugged Mourinho, "... he is a young manager."

Lambert sat motionless as the quotes were recounted to him. For a moment, flames seemed to rage behind his eyes, but then he laughed it off and took it as a compliment. As well he should.

- Delaney: Tight win reveals glaring front man need
- Match report: Chelsea 2-1 Aston Villa

There are certainly similarities between the two managers, but they are by no means limited to touchline tantrums. Both these men rose to the top the hard way.

Mourinho, with no pedigree as a player, earned his reputation as a translator, a coach and an assistant manager. He recovered from the disappointment of an early dismissal in his first solo role at Benfica, won his spurs with Leiria and then rocketed through the stratosphere with Porto.

Lambert, a Champions League winner with Borussia Dortmund, had the pedigree but failed in his first posting at Scottish Premier League side Livingston and had to repair his reputation first at Wycombe, then Colchester and then Norwich.

Both men are pragmatists and have built their success on meticulous preparation, working tirelessly to seek any advantage, no matter how slight. Neither man is afraid to invoke the dark arts, with Mourinho happy to allow time-wasting and gamesmanship and Lambert content to sanction roughhouse spoiling tactics when the need requires. Arsenal's fans will testify to that.

But the attribute that most closely links the two is bravery. Mourinho's willingness to back himself and stick two fingers up at the world is well known, but not enough has been made of the courage that Lambert has shown at Villa Park.

When the Scotsman arrived at the club, the Villans were in turmoil. The wage bill was out of control, two seasons had been wasted under the stewardship of first Gerard Houllier and then Alex McLeish. The fans were beginning to vote with their feet. Lambert's mission had an extremely low probability of success. He had to quickly improve the team while drastically cutting the budget. Little wonder that many Norwich fans were baffled when he chose to leave the stability of Carrow Road.

Out went a stream of high earners, including Emile Heskey, Carlos Cuellar and James Collins. In came a selection box of low-profile Europeans, like Christian Benteke and Ron Vlaar, and lower-league chancers like Matthew Lowton and Ashley Westwood. Predictably, results fell off a cliff.

Aston Villa won only once in their first nine games and plunged down the table. After a shock 3-1 win at Anfield in December lifted them to 14th and hinted at a recovery, the wheels really came off and Villa nosedived. In consecutive league games they were beaten 0-8 by Chelsea, 0-4 by Tottenham and 0-3 by Wigan. They crashed out of the League Cup to Bradford and then the FA Cup to Millwall.

But throughout this grisly period, Lambert continued to defend both his players and his grand strategy. The supporters stood behind him all the way. At every level, the club was united in their belief that the excesses of the Martin O'Neill era and the mistakes that followed had to be paid for, that austerity was the only way back. And then Lambert led them into the light.

When Aston Villa came to the Emirates Stadium on Feb. 23, it was clear that something had changed. They were beaten, as you might expect, but not by much. All around the pitch, the players were transformed. The youngsters were blooded; the others had changed their attitude. Lambert had ridden out the storm. They won five of their final ten games and finished five points clear of the drop zone.

There will be no relegation battle this season. Even against an attack as star-studded as Chelsea's, even after shipping a morale-crushing early goal, Lambert's men obdurately held their shape. Gabriel Agbonlahor, once a flaky poacher, a sort of poor man's Theo Walcott, has become a 21st-century inside-left, breaking with phenomenal pace, but always remembering his defensive responsibilities. Fabian Delph, an apparently stalled talent, has grown into a skilful, intelligent and courageous central midfielder. Westwood, plucked from Crewe for £2m, will be linked with an England call-up if he continues to influence the central areas with such maturity. Heaven knows Roy Hodgson is short on defensive midfielders. And then, at the top of the pitch, there is Benteke, settled and happy again after withdrawing a transfer request.

Lambert is, to put it diplomatically, a demonstrative presence on the touchline. In the moments that followed Wednesday's late penalty appeal, he was so animated that there was a risk his head would fall off. But emotive displays are not all he shares with Mourinho. Like the Chelsea boss, he's a manager of exceptional ability. Villa may yet prove to be the surprise package of the season.