Seven burning Premier League questions
Will Liverpool retain Luis Suarez? Should they?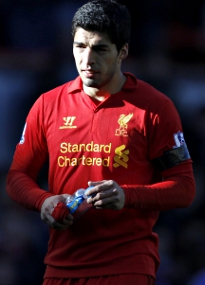 PA PhotosThe future of Luis Suarez will be a defining factor in Liverpool's season.
It was already hard to envisage Liverpool making a push for a Champions League, but how can they possibly do it if they lose their best player? On the other hand, how can they hope to challenge for the top four if the squad is compromised by uncertainty and polluted by an unhappy footballer? Even after reports from Uruguay suggested that Suarez will back down, it's hard to know what will happen next in this soul-destroying saga. Ian Ayre could be forgiven for hoping that Real Madrid give up on Gareth Bale and offer up a fee that will give everyone concerned an easy way out.

Will Newcastle self-destruct?

An unpopular chairman, a manager under pressure and a volatile director of football on record as having once said that he would only be a director of football if it meant he could undermine and replace the manager. What could possibly go wrong, eh? In times of tedium, Newcastle United have always provided much merriment for others. It's their fans you should feel sorry for and not for the first time. From the brink of Champions League qualification to this self-inflicted, dangerous uncertainty, you wouldn't treat a dog the way that this club treats its supporters.

How will Everton settle under a new manager?

For all that we have discussed the seismic changes at Old Trafford, very little ink has been expended on the changes at Goodison Park. Roberto Martinez is walking into a club that has been micromanaged to within an inch of its life by a living legend. He's going to have his work cut out proving himself to the fans and selling his ideology to the players. Arouna Kone is a fine signing, an industrious but deft forward who the supporters should immediately take to, but question marks remain over Martinez's ability to build a defence. This will be a tense season.

Have Norwich City really had the best of the transfer window?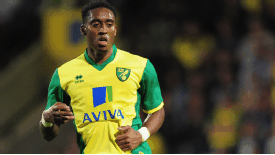 GettyImagesLeroy Fer looks the pick of Norwich's summer signings.
Chris Hughton has had a busy summer. The pick of his signings is undoubtedly the Dutch midfielder Leroy Fer, who came close to signing for Everton last season before a knee problem scuppered the deal. He looked fit enough this summer at the European Under-21 Championship and if he stays that way, Norwich have landed a very adept footballer. Between Ricky van Wolfswinkel and Gary Hooper, they should have at least one striker who can reach double figures, something the club sorely lacked last season. Look out, too, for Nathan Redmond, a small but tricky winger snapped up from cash-strapped Birmingham.

Can Sam Allardyce succeed with Stewart Downing and Andy Carroll?

Liverpool gambled £55 million on the idea that Stewart Downing's crossing and Andy Carroll's aerial ability was a winning combination. It didn't quite work out like that. At the end of their first campaign together, Downing had zero assists, while Carroll had just four goals. Now it seems that West Ham are about to repeat the wager, albeit at a reduced stake of £21 million. This time, however, it might just pay off. Sam Allardyce is a more formulaic manager than Kenny Dalglish and he has a long track record of repairing damaged reputations. This could be his greatest trick yet.

Can Swansea keep improving?

It was far from a relaxing summer break for Swansea. Open warfare between their board and Michael Laudrup's agent, combined with grumbles from the Dane about a lack of spending, suggested that a less than amicable split was forthcoming. Instead, the Swans settled down, reinforced their squad and kicked off their season with an impressive demolition of Malmo in the Europa League. But what happens next? A Newcastle-like collapse under the strain of European involvement or a push for the top eight? With signings like Wilfried Bony and Jose Canas, you'd bet on the latter.

Will Marouane Chamakh ever score again?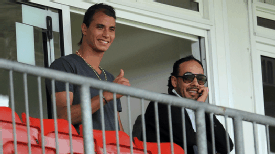 GettyImagesWill Marouane Chamakh be all smiles at Crystal Palace?
At Bordeaux, Marouane Chamakh was the spearhead of a title-winning team. Strong in the air, clever in his movement, deadly with his feet, he was on the hit list of some of Europe's biggest clubs. At Arsenal, despite an initially impressive start, he has carried all the threat of a very sickly gerbil. Farmed out on loan to West Ham in a bid to revive him, he barely got a game. He hasn't scored a league goal since Sept. 17, 2011. Can Ian Holloway do anything to revive his career or have Crystal Palace just signed a striker who is utterly beyond repair?