Mourinho and Chelsea: A match made in heaven
The boffins at Bloomberg have been stuffing their computers with statistics all summer and they've concluded that Chelsea will be the winners of this season's Premier League.

It's wise to be cautious with numbers in football, as the inherent chaos of the game has always created a firm barrier to logic, but on this occasion I think the boffins might have it right. Chelsea look well set this season.

- Greatest Managers, No. 9: Mourinho

While almost every other club has been beset by bad news, unsettled by scheming and undermined from within, Chelsea have sailed serenely through the summer. Manchester United's preparations have been overshadowed by another hissy fit from Wayne Rooney. Arsenal's supporters rumble ominously about a lack of spending. Tottenham are desperately fighting to keep Gareth Bale. Jose Mourinho, on the other hand, hasn't had a thing to concern him.

Of the big five, the only other club to escape the madness is Manchester City, who rather sensibly tied up all of their business weeks ago. But they have their own concerns. They have a manager who, as excellent as he is, has never experienced the Premier League and, for all of his achievements with Villarreal and Malaga, the fact he is without a major European trophy will be whittled into a stick and used to beat him after the first poor result. Mourinho, on the other hand, has little to prove to anyone.

Imagine how much he has enjoyed watching this transfer window. Imagine the grin spreading across his face as Rooney and Bale began their torturous campaigns for freedom. Liverpool are no longer his rivals, but you can guarantee he's relishing every moment of the Luis Suarez saga.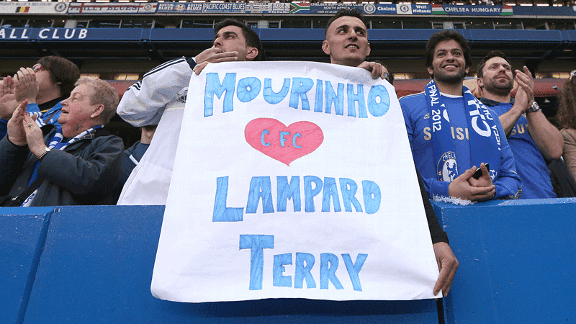 PA PhotosChelsea fans got their wish this summer as Jose Mourinho returned to be reuinted with former players Frank Lampard and John Terry.
Chelsea, by contrast, recruited quickly and smartly, and the only player whose future is in question is David Luiz. The Brazilian is a divisive figure, but whether you rate him or not, it's hard to argue that his departure would significantly damage the Blues. Either way, Chelsea appear adamant that they will not sell.

They've brought in Andre Schurrle and Marco van Ginkel, snapping up Mark Schwarzer for the squad and retrieving a tranche of talented youngsters from European loan spells. Sure, they could probably do with another striker, but they're hardly slumming it with Fernando Torres and Demba Ba. Throw them in with Juan Mata, Oscar and Eden Hazard and you have a terrifyingly well-stocked cupboard full of talent.

But the most important thing, the most compelling reason to believe that Chelsea will win the title, is the presence of Mourinho himself. You simply cannot understate the difference he will make to the mood around the football club. Finally, the supporters have a man they believe in.

They had high hopes for Andre Villas-Boas, but it quickly became clear that the appointment was destined for failure. They held Roberto di Matteo in deep regard, but even after the Champions League victory of 2012, there were lingering doubts over his ability at that level, doubts that were confirmed the following season. As for Rafa Benitez, he couldn't have been less popular without turning up in a Tottenham Hotspur kit.

You didn't have to spend very long in Stamford Bridge last season to know that it was never going to work for Benitez. You could sense it in the atmosphere. Whenever Chelsea scored, there was an inner conflict in the heart of every supporter. By celebrating a goal, were they not tacitly endorsing the former Liverpool manager? With every win, were they not being proved emphatically wrong?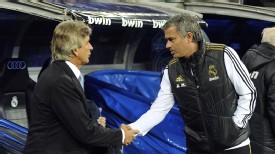 GettyImagesManuel Pellegrini was replaced by Jose Mourinho at Real Madrid; now the pair will do battle in the Premier League.
There will be no conflict this season. Though the more considered of Chelsea's supporters will recall how Mourinho's ego slipped its bonds toward the end of his reign, they are more than prepared to give him the benefit of the doubt. With league titles in four nations and Champions League titles with two clubs, he is arguably the greatest manager currently in the business. Add that to an expensively assembled squad with a fan base prepared to overlook any early slip-ups and you have quite the combination.

It's not foolproof, whatever the guys at Bloomberg will tell you about their algorithms. Chelsea's most generous supporter, Roman Abramovich, is still Chelsea's biggest problem. When you play the game of thrones at Stamford Bridge, you win the title or you are sacked.

But there's nothing so far to suggest that this will end in tears. After sacking a string of managers, Abramovich needs Mourinho. After his wings were clipped in Spain, Mourinho needs Abramovich.

By Jove, Bloomberg. I think you've got it.