Laudrup thriving in Swansea project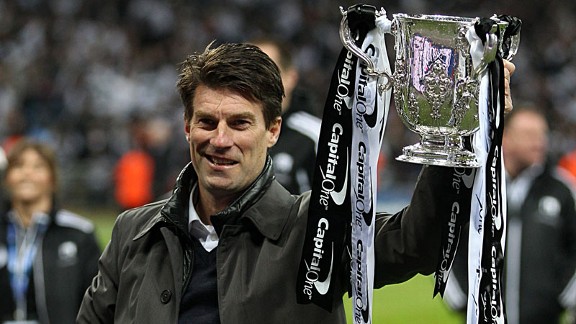 PA PhotosMichael Laudrup 's success at Swansea has encouraged him to remain in South Wales.
Paris Saint-Germain wanted him. Monaco wanted him. He was linked with both Barcelona and Real Madrid. With his reputation as both a player and a manager, Michael Laudrup could go almost anywhere in European football. But on Thursday night, you could understand why he chose to stay at Swansea.

There must be something immensely satisfying about managing this football team. Expectations are low, quality is high and Laudrup has a chance to build something very impressive in South Wales. Swansea play gorgeous football, they have accumulated a squad of technically accomplished footballers who seem eager to learn new tricks. Never mind the playthings of the rich and infamous, this is a 'project' for the purist.

- Laudrup still 'very happy' at Swansea

You could claim that this was "only" Malmo, but that would be as unwise as it would be disrespectful. The Swedes were fresh and focused, halfway through their domestic season and came into this game on a high having pulled Hibernian's pants down in front of their own supporters last week. You could claim that it is far too early to be excited about Swansea's prospects, given that they now face the kind of gruelling fixture list that did for Newcastle United last season. That would be fair, but only to a degree.

Swansea will know that anything above a relegation battle will constitute a satisfying campaign. They will know that upper mid-table would be a success. Above all, they will know that the difference between 8th and 16th last season was just eight points. There is no reason why the Swans can't secure a place in next season's Europa League without having to win a cup.

This hasn't been the easiest of summers for Laudrup. The first half of the transfer window was tarnished by a row between his agent and his paymasters, a dispute that ended with the banishment of said agent from the club. There was also the suggestion that the board were not moving quickly or emphatically enough to secure Laudrup's chosen targets. Given the calibre of clubs circling their manager, it's not hard to see why Swansea soon began to splash the cash.

"Yes, there were clubs, a couple of big ones as well, that wanted me," Laudrup said while on tour in Holland, a tranche of new players secure in his squad. "But it never became more than that. As I've said and confirmed many times, I wanted to stay."

Those new players certainly justified their manager's faith against Malmo. Wilfried Bony looked a little unwieldy at first, like a sledgehammer sticky-taped to the end of a sword, but he grew in confidence, scored two and made another, so we mustn't grumble. Jonjo Shelvey, wretched for England U21s in the summer, was excellent throughout, majestically swiping the ball around the pitch. At the back, Jordi Amat won the fans over as early as the 15th minute when he snuffed out a rare Malmo attack with a glorious block tackle on the hapless Magnus Eriksson.

Substitute Alejandro Pozuelo lashed home the fourth goal of the rout as full-time approached and, in his short time on the pitch, Jose Canas looked suitably smooth in possession.

They do things a little differently at Swansea. While other clubs have a tendency to fight over the most fashionable manager at the time, the Welsh club have risen through the divisions by choosing the most suitable manager at the time. Roberto Martinez, Paulo Sousa, Brendan Rodgers and Laudrup were all chosen not because they were flavour of the month, but because they could adapt and improve what was already in place.

That continuity has aided Laudrup, but he has made his own mark on the club. It's not just Michu, though we may have to wait a long time for a better bargain in the transfer market. Swansea are more clinical than they were under Rodgers, more confident that their means has an end.

He must have considered leaving in the summer, he'd be only human if he had. With their first major trophy, a ninth-place finish and a chance to play in Europe without the now-sealed back door of the Welsh Cup, it could easily have been interpreted as a high water mark for the club. Instead, he stayed and Swansea are all the richer for his decision.

It is, of course, highly likely that Laudrup will eventually move to pastures more glamorous, but there must be a part of him that would love to stay and see what he could do here over an extended period. There's something special happening in Swansea.