Scottish football in need of more than just rebranding with lions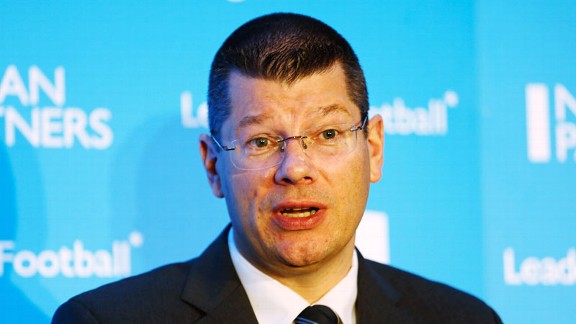 Tom Shaw/Getty ImagesScottish Professional Football League chief executive Neil Doncaster revealed the new names of Scotland's football divisions earlier this week.
You have to doff your cap to Neil Doncaster, chief executive of the newly formed Scottish Professional Football League (SPFL). He did ever so well to keep a straight face when he unveiled the new-look Scottish football league this week.

"A mountain of work has been done over the summer to get to this point," he said proudly.

From now on, he informed us, the Scottish Premier League will be known as the Scottish Premiership. The First Division will be called The Championship. The Second Division will be called League One and the Third Division will be called League Two.

A mountain of work, indeed. It must have been extremely taxing to look down to England and say, "Hmm ... let's try that, shall we?"

- New names revealed for divisions

Quite apart from the indignity of this corporate garbage-polishing, Doncaster's ploy isn't even necessary. The only reason the English second flight is called the Championship is that it is governed by the Football League, not the Premier League, and in spite of the obviously meritocratic structure of football since 1888, they didn't want to be seen as an inferior product.

The Scottish leagues, by contrast, are now all governed by the newly formed SPFL. They shouldn't need to pretend that their second division is their first division because they already own the real first division. It won't fool the clubs; it won't fool the fans, and if there's anyone in charge of a marketing budget who is stupid enough to be convinced that "League Two" is actually really good, they shouldn't be in charge of the marketing budget.

Doncaster may as well have just called them the First Division, Second Division, Third Division and Fourth Division. At least that way you might be able to brand Scottish football as something rather more authentic than the sanitised, advertiser-friendly piffle you'd find south of the border.

There was a new logo though; a big, proud-looking lion attached to the SPFL initials. Now, this is certainly advertiser-friendly. Everyone likes lions. Sadly, by Western reading practices at least, the lion is looking backwards, perhaps gazing longingly at Scottish football's past. You can't blame him really.

It's been obvious for several years that something was desperately required to reinvigorate the Scottish game, and let's hope Doncaster's plan works. Despite Celtic's heroics in the Champions League last season, the domestic game really is in appalling shape. Since the implosion of Rangers, Neil Lennon's side are effectively unrivalled in Scotland. A number of slip-ups gave the impression of a team trying their best to make it look interesting, but they still took the title by a whopping 16 points.

This is hardly an ideal situation for Celtic. For starters, it makes life rather boring, something reflected in the falling attendances towards the end of the season. More frustratingly, whatever they do on the pitch, they'll never be afforded adequate respect. Last season, Lennon was stunned to discover that not a single member of his title-winning squad had been included on the PFA Player of the Year shortlist. Without Rangers, it's just not as much fun.

In a desperate effort to keep up with the Old Firm, the other clubs have driven themselves to the brink of bankruptcy. Unlike the EPL, where billionaires from all parts trip over each other trying to secure a top-flight side, there's very little interest in the proud old names of Scottish football. There are no wealthy Arabs bidding for Heart of Midlothian. No rich Russians came riding to Dunfermline's aid.

To really reinvigorate the game, Doncaster would have to embark on a far more drastic cash redistribution plan than this one. With Celtic isolated and Rangers stripped of privilege, the time was right for everyone else to do something drastic and push for a completely equal distribution of domestic TV revenue. The big clubs would still have enjoyed the advantage of European earnings, larger fan-bases and greater match-day takings, but the smaller teams would have been given a chance to close the gap. By reducing the power of Celtic, you would all but guarantee that last year's European run, a far more impressive achievement than many would credit, would be the last for a while. But the league would be interesting again and perhaps, just perhaps, people would start watching again. That's how you secure big advertising deals; not with name changes and lions, but with a decent product. Inevitably, however, there was always too much self-interest for anything that radical to happen.

It was Scotland that gave the world entertaining football. Back in the embryonic days of the sport, they bucked the English trend of running with the ball like headless chickens and created the passing game, inspiring great European sides like Austria and Hungary. But if Scotland is ever to influence anything again, they're going to need a lot more than this lukewarm rebrand.