Di Canio's rebuilt Sunderland looms as biggest Prem unknown


Paolo Di Canio was mad as hell and he wasn't going to take it anymore. At the end of last season, Sunderland put in a rugged performance at White Hart Lane and lost only to a late Gareth Bale wondergoal, but it still wasn't good enough. Di Canio walked into his news conference and erupted, melting the paint off the walls and leaving 20 minutes of glorious rage on the Dictaphone of every reporter present. He was fed up of players skipping training, he was fed up with handing out fines, he was fed up with the laziness and the abdication of personal responsibility. But most of all, he was fed up with Phil Bardsley.

-- Danny Graham's chance to end ordeal
-- Are Americans like Altidore undervalued?

It was Bardsley who came to epitomise what Di Canio perceived to be the malaise at Sunderland. Pictures of the 28-year-old defender, flat on his back in a casino, covered in bank notes, signaled the end of the ex-Manchester United defender's career at the Stadium of Light. He hasn't been offloaded yet, but he will surely be out before September. While the rest of the Sunderland squad traveled to a training camp this week, Bardsley remained in the Northeast, training with the youth team.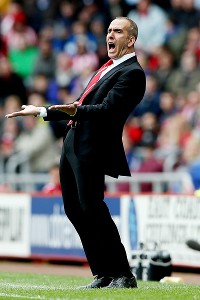 Scott Heavey/Getty ImagesPaolo Di Canio's authoritative personality will ultimately determine whether his new-look Sunderland sinks or swims.
This summer, Di Canio has moved quickly to rebuild the team according to his own design. In came hard-working French defender Modibo Diakite, hard-working French defender Valentin Roberge, hard-working Swiss midfielder Cabral, hard-working American striker Jozy Altidore and hard-working Italian winger Emanuele Giaccherini, and there are no prizes for spotting the pattern in the recruitment policy. With Arsenal goalkeeper Vito Mannone and a clutch of talented young footballers also arriving, Di Canio has practically signed a new team. Anyone who had the misfortune to watch Sunderland last year will understand why.

The Black Cats were abject last term. They were slow, they were stupid, they were uninspired and they were immensely fortunate to find three teams beneath them when the music stopped. Di Canio may or may not have bought better footballers this summer, but he will hope at least to have bought better professionals.

Di Canio is nobody's fool. He will know that this is a job that will define his career as a manager. He will know, too, that there are many who are hoping he will fail. At a traditionally working-class, left-leaning football club, his fascist past has left him deeply distrusted. And yet, in a funny kind of way, it is his adherence to a vaguely fascistic code that might save him.

For all of the controversy, English football has always had a secret love affair with a form of authoritarianism that runs dangerously close to fascist territory. The desire for centralised power is one reason strong personality managers like Bill Shankly and Brian Clough are deified while directors of football are viewed with suspicion, but it goes further than that. The veneration of the badge above all, the maxim that no one is bigger than the club, the guttural support for physical force, the adoration of the uncomplaining worker ... they're all fascist traits.

Many Sunderland supporters feel betrayed that their club has compromised its values in appointing Di Canio, but in a purely sporting sense this is a team that could do a lot worse than embrace a revolution built upon principles of strength and slavish devotion to the cause. This is a team that has looked short of fitness and stands accused of unprofessionalism. Surely, the bare minimum that Sunderland's supporters can ask is for the players to just turn up for training on time and put some effort in. If it takes a frothing, wild-eyed ideologue to make that happen, and he promises not to invade neighbouring towns, many supporters will deem it a price worth paying.

The concern is that Di Canio has neither the CV nor the personality to sustain performance levels. He has less than two years of managerial experience, most of which was spent in the bottom division. He may be able to motivate players in the short term, but can he keep them onside for the duration of the season and beyond?

Having watched that end-of-season outburst for themselves on the Internet, the players will be wary of their manager. They will know that he won't hesitate to hurl over the battlements if they let him down. They will also have noted his habit of referring to himself in the third person, a surefire sign that an ego has severed its own guy rope and floated off into the stratosphere.

With so much change at the top of the Premier League, the race for the title promises to be something special, but we may find the most intriguing story rather further down the table. Di Canio's revolution is either going to be a disaster or it's going to be the success story of the season.